News of Music Centre Ittervoort
Special pads, a unique experience!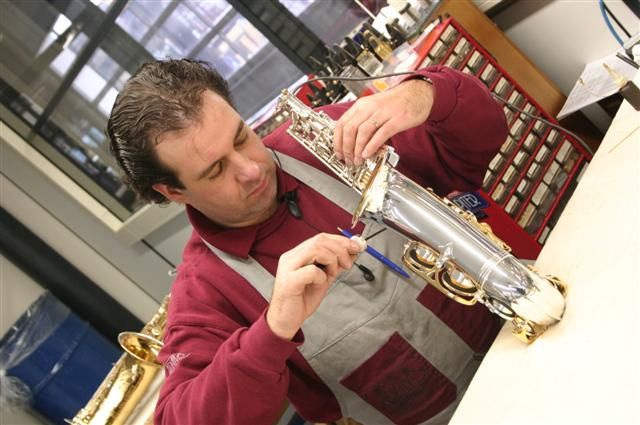 Every musician is looking for his or her own sound in an instrument. That is why a particular brand, type and features are opted for. In case of wood-wind instruments, there is another essential component that defines the sound: the pads. There are many different pads available on the market, and a lot of research goes into finding new possibilities to improve the sound and resonance of saxophones, clarinets and transverse flutes. On this page, you will find a number of pads with their specific features, including kangaroo pads, J.S. Gold pads, and Straubingers pads.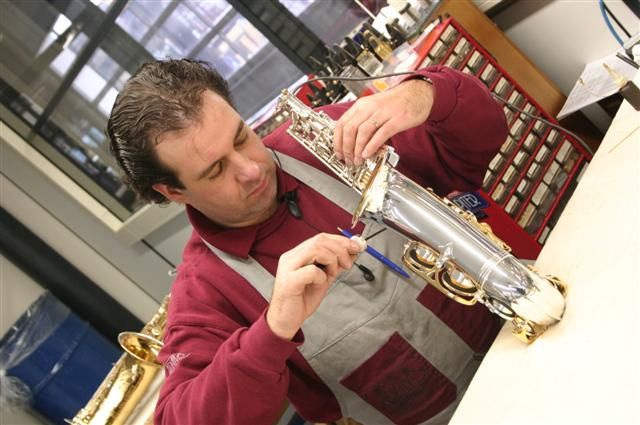 Kangaroo pads
The latest revelation in the area of pads for saxophones and certain clarinets are the kangaroo pads. These are available in a white variant and a black variant. The black pads are more lively and are suitable for big band, pop and fusion. The white pads have a warmer, rounder sound and are suitable for big band and all other types of music. Both variants can be used on all saxophones. In case of clarinets, only the white kangaroo pads can be used and these are only suitable for bass, contrabass and contralto clarinets.
In case of saxophones, the kangaroo pads can be installed as a standard with special, gold-plated wave resonators. This is also possible with clarinets; however, here you may also opt for plastic resonators.
Wide range of benefits
The kangaroo pads have a wide range of benefits. The first benefit concerns durability: kangaroo pads last a lot longer. To give an indication: a professional saxophone player who will normally have his saxophone revised every year or every other year, only needs to do this once every five years if he uses kangaroo pads.
An amateur musician who has his instrument revised once every five years, can now wait fifteen years. Although there purchase price is higher than ordinary pads, they will turn out more economical in the long run. In addition, kangaroo pads are not sticky and have a dense structure. Thanks to this dense structure, they have different acoustic qualities and a greater sound reflection. The special gold-plated wave resonators increase the contact surface to compensate for the lost area of the finger holes. This way, the overtones are reflected by the pads and resonators rather than absorbed. A saxophone or clarinet that has been revised with kangaroo pads will result in a much more open sound, an improved projection and homogeneity across the whole reach of the instrument. A very important thing to realise is that kangaroo pads are to be installed in quite a different way to regular pads. It is a much more labour-intensive process; a technique which the repairmen of Muziekcentrale Adams have learned in the United States.
J.S. Gold pads
J.S. Gold pads are suitable for hand-made, professional flutes and modern, professional saxophones. These pads ensure that the instrument forms a single metal tube, without any interruptions of any other (softer) materials. By changing the materials (cork and felt) the resonance of the total instrument is affected. That is why, during an overhaul with these pads, synthetic materials are used that have a denser structure and therefore reflect better than traditional materials. Another advantage of these pads is that they don't stick. The fact that the metal tube is not interrupted enhances the projection and ensures an even sound across the whole reach. In addition, J.S. Gold pads last a lot longer. By changing the materials (cork and felt) the resonance of the total instrument is affected. That is why, during an overhaul with these pads, synthetic materials are used that have a denser structure and therefore reflect better than traditional materials.
Experimenting
Muziekcentrale Adams' repair workshop has always been intensively researching and experimenting in order to achieve sound improvement.
Because relatively few developments have taken place in Europe over the past decades, Adams' repairmen visit the United States every year to stay ahead of the developments. Many top musicians in the United States are performing their own research and are subsequently modifying their instruments.
The sound improvements using these new pads are a part of these.
Straubinger
The last pads we will discuss are suitable for transverse flutes and clarinets. Adams' repairmen visited Straubinger to receive training about the installation of these pads. This is essential, because without the exact know-how, these pads cannot be responsibly installed. The Straubinger pads are made of a hard plastic and are installed in combination with compressed synthetic felt. On professional flutes with open valves, standard leak-proof bushings are mounted. The major advantage of Straubinger pads is that they are not sensitive to climatological conditions, such as humidity and temperature. These pads will always be one hundred percent the same, no matter what the humidity or temperature. They do not expand or shrink, and will not become spongy. These are the ideal pads for people who play on many different locations and under variable conditions.
Ample experience
Because Muziekcentrale Adams has one of the largest repair workshops in Europe, it goes without saying that we have an incredible amount of experience in the reconditioning of a wide range of wood-wind instruments. And our repair workshop has also built up ample experience in servicing instruments for musicians from across Europe and beyond, whereby the overhaul included these special pads. Saxophones have been overhauled for Tom de Vette (the Netherlands) and Laslo Dömötör (Hungary), clarinets for Karel Plessers (Belgium) and Kashiguchi (Japan). Contrabass clarinets for Geert Schrijvers (the Netherlands) and the Brass band of the German Bundeswehr. Flutes have been overhauled for Magdalena Martinez (Spain) and Stef Bazelmans (the Netherlands). If you have any questions concerning servicing, we will be happy to inform you. Please feel free to contact Muziekcentrale Adams, telephone +31 (0)475 56 07 00.
By: Erwin Pellemans & Frans Philippens
---