This content is not available in your language, it is displayed in Dutch.
Geschiedenis
André Adams, trompettist bij harmonie St. Michaël uit Thorn en dienstplichtig muzikant bij het fanfarekorps der genie, begon zijn carrière als reparateur blaasinstrumenten, waarvoor hij in Brussel (B) en Nauheim (D) opgeleid werd. Toen hij deze opleidingen met succes afgesloten had, begon hij als kleine zelfstandige bij zijn ouders in het schuurtje met het repareren van instrumenten. Vanuit het reparatie gebeuren kwam al snel de vraag of hij ook instrumenten kon verkopen. De klanten van Adams, muziekverenigingen en muzikanten, waren van mening dat waar instrumenten gerepareerd worden ook instrumenten gekocht moest kunnen worden. En vanuit die gedachte werd in 1970 de Thorner muziekwinkel: Muziekcentrale Adams een feit.
Perfecte combinatie
Dat deze formule een succes was, bleek uit de vele professionele blazers die de weg naar Thorn wisten te vinden voor een deugdelijk advies en een perfecte reparatie. André Adams zijn achtergrond was metaaltechniek. En met deze achtergrond vond hij ook de aanleiding om een pauk te maken. Want een pauk is perfecte combinatie van techniek en muziek, de ideale combinatie voor avonturier André Adams. De eerste pauken die werden geproduceerd, vonden al snel hun weg naar harmonieën en fanfares die tot de klantenkring van Adams Music Centre behoorden.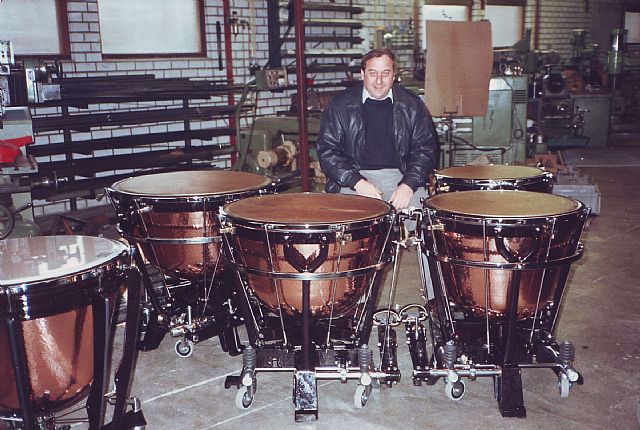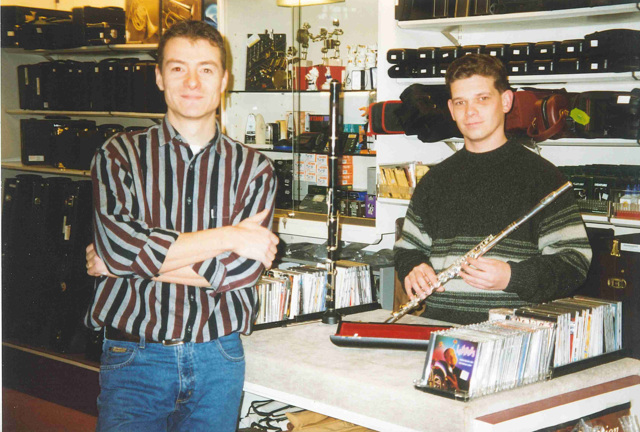 Adams in België
In 1975 werd te Hasselt een Belgisch filiaal opgericht om zodoende de vele Belgische klanten te bedienen. In 1989 volgde de verhuis naar een grote winkel te Diest en werd een Belgische NV in het leven geroepen. In 2010 volgde dan de oprichting van een tweede winkel, DRUMWORLD. Deze zaak lag schuin tegenover de andere winkel en was een speciaalzaak voor drummers en percussionisten. In de 'oude' winkel kon men terecht voor alle blaasinstrumenten en klassiek concertslagwerk.
De nieuwe winkel van Adams Music Centre te Lummen (voorheen Diest) is inmiddels uitgegroeid tot een gerenommeerde onderneming die vele Belgische beroepsorkesten, muzikanten, harmoniën, fanfares, muziekacademi en -conservatoria, handelaren en particuliere muzikanten tot de klantenkring mag rekenen.
Het succes van deze ook deze onderneming hangt onmiskenbaar samen met de visie en leuze van het bedrijf, zijnde: dé speciaalhandel voor blaas- en slaginstrumenten. Professioneel advies, een grote voorraad en eigen herstelafdeling zijn belangrijke troeven.
Samenwerking met professionals
Het schuurtje achter het huis bleek al gauw te klein en er werd grond gekocht waar Adams een woning, winkel en fabriek met een totale oppervlakte van 800m2 aan de Casino in Thorn bouwde. Pauken produceren bleek een goede zet. Vele beroepspaukenisten werden nieuwsgierig en gaven graag hun visie over de geproduceerde producten. De samenwerking met professionals heeft altijd een belangrijke rol gespeeld bij de ontwikkeling en perfectionering van instrumenten. Ook in het beginstadium leidde dit al snel tot betere instrumenten die via internationale muziekbeurzen wereldwijd verkocht werden.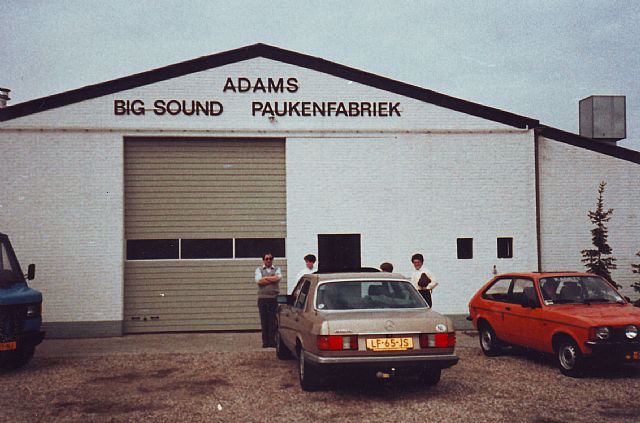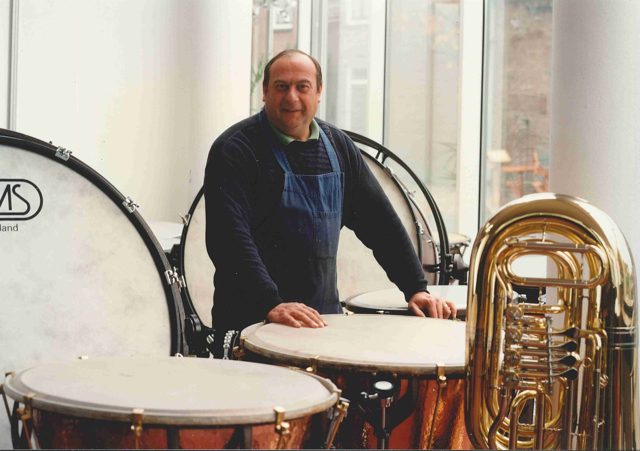 Nieuwste aanwinst
Het Adams concern is in enkele decennia uitgegroeid tot een toonaangevende, internationale onderneming die vele beroepsorkesten, beroepsmuzikanten, handelaren en vele, vele verenigingen en particulieren tot de klantenkring mag rekenen. De Adams Paukenfabriek produceert naast pauken ook marimba's, vibrafoon, xylofoons, concert bassdrums, buisklokkenspellen en klokkenspellen. Al deze producten worden door vele handelaren over de hele wereld aan de man gebracht. Maar ook in Limburg heeft Adams een gespecialiseerd bedrijf voor de verkoop van blaas- en slaginstrumenten: Adams Music Centre.
Bedrijfsfilosofie
Muziek speelt in het dagelijkse leven een steeds belangrijkere rol. Hectiek, stress en spanning moeten worden afgewisseld door ontspanning. En vele mensen vinden deze ontspanning in het samen muziek maken. De markt voor de verkoop van muziekinstrumenten wordt een steeds gespecialiseerder markt. Mensen willen een goed en betrouwbaar advies en willen in alle rust een instrument uittesten. En dat is exact de filosofie van Muziekcentrale Adams. Grote voorraden zijn belangrijk, instrumenten moeten worden uitgetest en vergeleken. Vandaar dat er voor elke muzikant gebruik kan maken van testruimtes. Naast grote voorraden levert Adams Music Centre een breed scala aan topmerken. Besson euphoniums en bassen, Edwards trombones en trompetten, Alexander hoorns en Powell fluiten zijn enkele merken die Adams Music Centre (vaak exclusief) voert.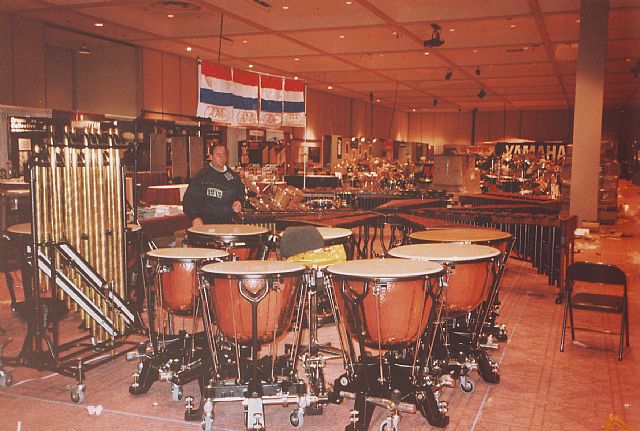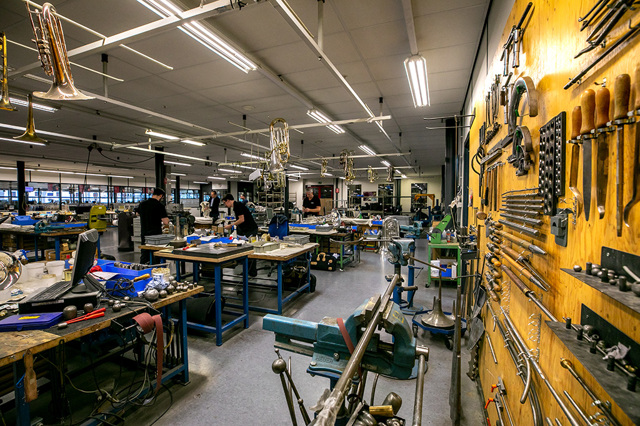 Reparatieatelier
Uiteraard is het belangrijk dat mensen zelf een instrument kunnen uitzoeken en proberen. Maar ook een goed en gedegen advies, reparatie en onderhoud staan hoog in het vaandel. Bij elke test moeten kleine aanpassingen gedaan kunnen worden aan de instrumenten zodat elke klant 100% tevreden is met zijn nieuwe of tweedehandse instrument. Adams Music Centre beschikt over een van Europa's grootste en meest uitgebreide reparatieatelier voor houten en koperen blaasinstrumenten. Regelmatig worden de reparateurs bijgeschoold door instrumentbouwers over de hele wereld. En of het nu gaat om het lopend maken van ventielen of een complete revisie van saxofoons of klarinetten waarbij het hele instrument uit elkaar wordt gehaald en weer als nieuw wordt afgeleverd, het gebeurt allemaal in de reparatieafdeling van Adams Music Centre. Mede door deze aanpak vinden niet alleen muzikanten in Zuid-Nederland, maar ook verenigingen en particulieren die vaak honderden kilometers verderop wonen hun weg naar Adams Music Centre.
Continue ontwikkeling
Research and Development gaat een belangrijke rol spelen in de toekomst van het Adams bedrijf. Onderzoek en vernieuwingen spelen ook bij muziekinstrumenten een steeds grotere rol. Muzikanten worden steeds kritischer ten opzichte van klank en bediening van het instrument. Deze verbeteringen en ontwikkelingen hebben in de afgelopen jaren veelvuldig plaatsgevonden. Adams is vooraanstaand als het gaat om hulpmiddelen om het spelen te vergemakkelijken. Steunen voor euphonium, hoorn, trombone en saxofoons zijn hier belangrijke voorbeelden van. Een ander belangrijk wapenfeit is de modificatie van instrumenten. Een geheime methode om de spanningen op te heffen die in een instrument bij de productie ontstaan door buiging en solderen. Door de Adams modificatie spreekt een instrument beter aan en verbetert de klank. Deze modificatie is op alle houten en koperen blaasinstrumenten toe te passen en wordt door vele beroeps- en amateur-muzikanten onderschreven.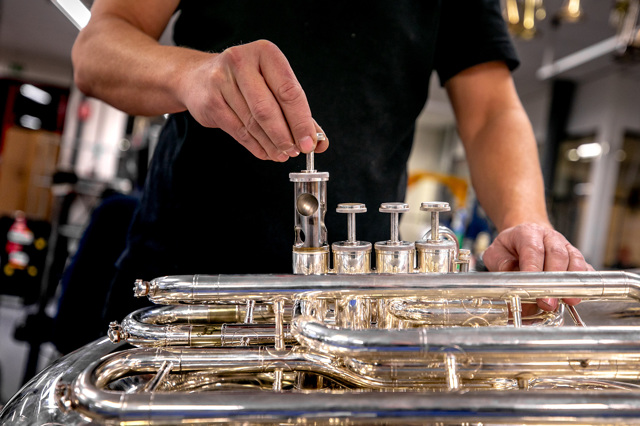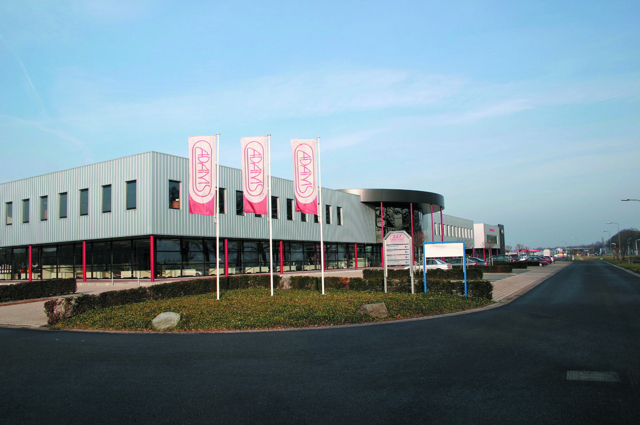 Europees centrum
Met de nieuwe showroom voor blaasinstrumenten, concert slagwerk, marching slagwerk en de reparatieafdeling ligt op het industrieterrein het gehele Adams imperium onder één dak. Een Europees centrum voor de blaas- en slagwerkmuziek zal zich hier vormen met alle denkbare faciliteiten voor de muzikant. Limburg is wellicht de muzikaalste provincie van Nederland en in het hart van Limburg staat het bedrijf Adams.
---