Marc Speetjens
Marc Speetjens is trumpeter with the Netherlands Philharmonic Orchestra and Netherlands Chamber Orchestra
During his training in Maastricht, Marc was appointed solo trumpeter of the National Youth Orchestra and two years later in the same position with the Schleswig Holstein Festival Orchester. With these orchestras Marc played under well-known conductors such as: Dennis Russel Davies, Herbert Blomstedt, Valery Gergiev and Dimitri Kitajenko.
During the study, Marc replaced with various Dutch orchestras such as: Brabant Orchestra, Limburg Symphony Orchestra, Gelders Orchestra, Radio Symphony Orchestra, Radio Philharmonic Orchestra, Rotterdam Philharmonic Orchestra and the Netherlands Philharmonic Orchestra/Nederlands Kamer Orkest.
At the Philharmonic Orchestra/Nederlands Kamer Orkest Marc won the audition for trumpet in 2002. Since then, he has been a permanent member of this orchestra with the tasks of playing large symphonic repertoire in the Concertgebouw and accompanying opera productions at De Nederlandse Opera Amsterdam.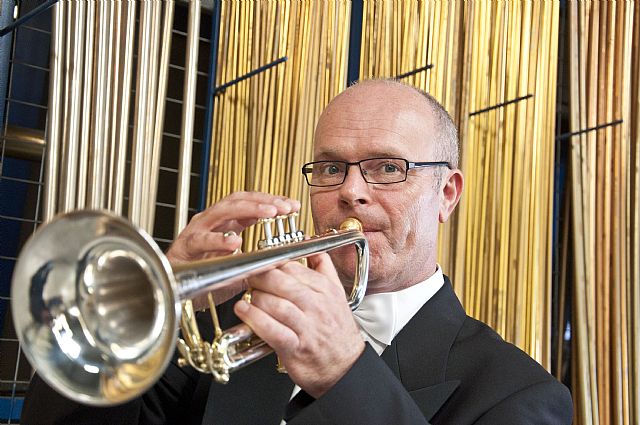 Adams A10 B-flat trumpet
During my purchase of the fantastic ADAMS C1-L Sterling Silver Bell I happened to take the ADAMS A10 B flat trumpet "off the rack" to bridge the time it took Miel to make some adjustments. You may know that feeling as a professional orchestra trumpet player , once on the C trumpet it is difficult to return to B flat trumpet. Where a C trumpet gives the feeling of certainty and great maneuverability, this is precisely the reason to leave the B flat trumpet, which is often stiff, less manoeuvrable and unwieldy. first play request on the A10 I was totally surprised. It was as if I hadn't given up my C trumpet but just kept playing on it. The instrument has such fantastic maneuverability that it almost feels like you're playing a cornet. And then the sound: what an incredible core in combination with the excellent tuning, top! It should also be mentioned that at ADAMS everything is possible.
When Miel was asked if he could make a variant with a Sterling Silver Bell for me, I was immediately answered. My proposal turned out to be a bull's eye. What a combination with my ADAMS C1-L Sterling Silver Bell. I immediately started playing the instrument in the opera (after rehearsing on C). The ADAMS A10 mixes fantastically (also in a group with C trumpets) and has a playing character that you enjoy. This beautiful trumpet is the asset to every trumpet player !A new era has dawned in which the best of all worlds is brought together in one instrument: ADAMS A10 B flat trumpet !!!
Marc Speetjens