Adams Concert Series Xylophone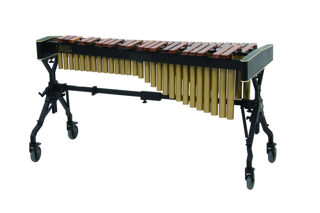 Adams Concert Xylophones offer the ultimate in both sound and quality. Its carefully selected Honduras Rosewood bars are manufactured slightly wider than standard. The 4 octave C-C range of the Concert Series Xylophone allows the performer to explore a wider range of repertoire than a 3.5 octave instrument. Concert Series instruments are designed to move effortlessly around the concert hall, and are also designed to be easy to pack into the optional soft bag set. Cases are also available for protection during transport.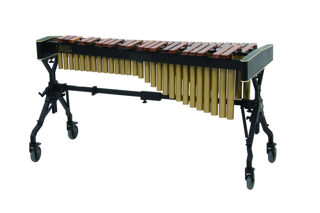 Alpha Tuning method
Graduated Honduras Rosewood bars
Available in Quint and Octave Tuning
Octave range: 4.0 (C4-C8)
Voyager frame system
Includes drop cover and 1 pair of XB6 mallets
Quint or Octave Tuning
The Honduras Rosewood bars of the Adams Concert Series Xylophones are available in two different tunings: quint and octave. Both ways have differently tuned harmonics, giving them a characteristic sound.

Quint Tuning
Quint tuning has a fifth tuned in between the fundamental and double octave for the short, penetrating sound that cuts through the largest ensembles. Quint tuning was the used on the classic American Xylophones of the 20s and 30s.
Octave Tuning
Octave tuning has the first overtone the two octaves above the fundamental for a clear and brilliant sound, and is mostly popular in Europe.
Keyboard
Adams Concert Series Xylophones are only available with Honduras Rosewood Bars. This is the best wood available for xylophones in general.
The high standard set by Adams Select Honduras Rosewood is the result of years of careful, intensive advancement. The clear, precise pitch of Adams marimbas bars begins with using only the best wood. Mr. Andre Adams and Mr. Frans Swinkels visited Honduran rainforests several times to select and purchase rosewood of a quality higher than was available ever before. Aged for eight years in a climate controlled room to ensure proper drying and moisture control, the bars are then meticulously tuned using a proprietary computer assisted tuning method. The newly developed Alpha tuning method allows Adams' master tuners incredibly high precision placement of overtones to create the best in tune bars, perfectly balanced and resonant throughout the range. This exclusive method allows Adams to tune the lower register of the marimba through a sixth overtone. These meticulous efforts create stable, in tune pitch that projects with fast, warm, and clear tone.
Voyager Frame
The Adams patented Voyager Frame System offers great durability and effortless adjustability to a wide range of playing heights. This feature is perfect for educational situations requiring use by many different size players. This same ultra smooth height adjustment system can also be found on the Endurance Field Frame.