E2 Euphonium
The Adams E2 euphonium is a real powerhouse. This wide built euphonium is made of heavier material, is equipped with a heavier valve block and a larger 310 mm bell with soldered rim.
The result is a handcrafted instrument that feels compact, extremely focussed, and with a lot of core at the moment you play it. If you are looking for a heavier and focussed instrument, the Adams E2 is definately your instrument.
Specifications E2 euphonium
Key: Bb
Bell & finish: Yellow brass, silver plated
Bell Diameter: Ø 310 mm (12.2")
Gauge: 0.80
Valves: 4 compensating valves (3+1), stainless steel with nylon guides
Bore: 1st, 2nd, 3th valve: 15 mm/ 4th valve: 16 mm
Trigger: Optional on main tuning slide
Waterkeys: 3
Case: Included (Adams/Marcus Bonna)
Extra: Maintenance kit (micro-fiber cleaning cloth, valve oil, slide grease)
Your choice of mouthpiece is extremely personal and very important for playing pleasure. That is why we do not supply a standard mouthpiece with our instruments.
The instrument is only available with a 0.80 gauge bell in both the standard Selected Model and custom built versions. The E2 has heavy caps and struts, four reinforced compensated valves and supports, and a 310 mm diameter soldered yellow brass bell for players who are looking for a heavier instrument. Because of the heavier weight, the instrument has more resistance than our other euphoniums.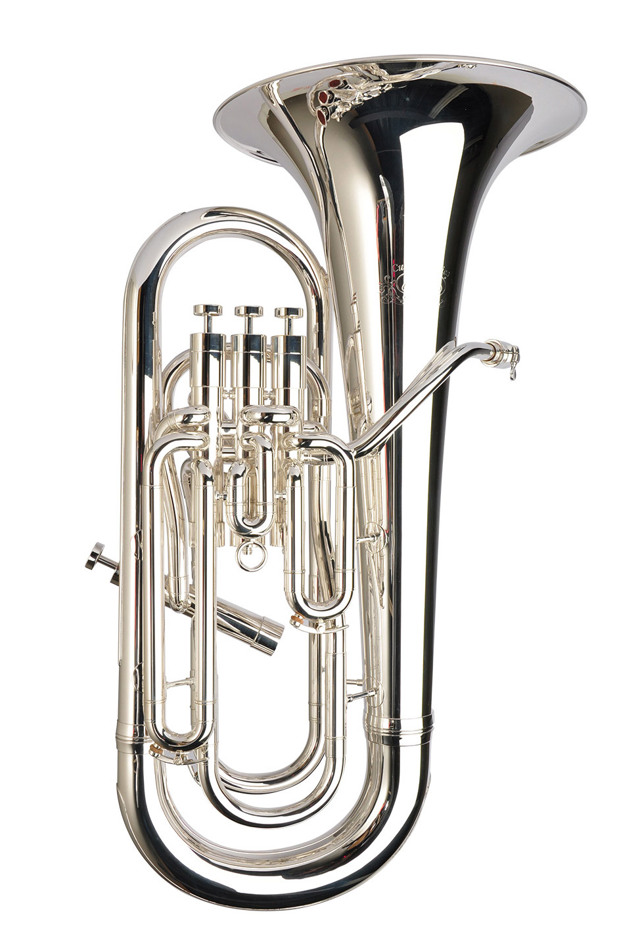 You are not average
Some people like a warmer sound. Some not. Some people have huge lung capacity. Some have not. Some people like engravings. Some do not. Some people need more playing resistance. Some don't. These are extremely personal factors that can affect an instruments design.
The Adams instrument builders like to go beyond expectations. With an in-house development and production, this means that we can fully customize your instrument. Compiled according to your personal preferences.
Do you want to know more about the Adams Custom instruments? Contact us and discover the possibilities.
More information about Adams Brass?
Adams delivers through an extensive network of dealers and distributors worlwide. Check out who to contact for further assistance in getting your new instrument.