This content is not available in your language, it is displayed in Dutch.
Hoe vind ik het juiste mondstuk?
Saxofoon- en klarinetmondstukken werken allemaal op hetzelfde principe. Een riet wat tegen een mondstuk trilt en zo een klank voortbrengt.
Het mondstuk bepaalt het geluid van het instrument en hoe gemakkelijk dit geluid gecreëerd wordt. Deze klank wordt gecreëerd door een aantal factoren: het materiaal, de tip of punt, de opening tussen het riet en mondstuk en het riet.
Er zijn een aantal verschillende materialen waaruit saxofoonmondstukken gemaakt worden.

Soort Mondstukken
Kunststof mondstukken zijn gericht op beginnende spelers omdat ze duurzaam en betaalbaar zijn, maar het geluid kan schel en ongefocust zijn.
Eboniet of hard rubber is een van de meest populaire materialen voor saxofoon mondstukken. Dit materiaal wordt het meeste gebruikt door klassieke muzikanten. Eboniet produceert een warme toon maar heeft minder projectie.
Verder is metaal een populair materiaal. Meestal wordt hiervoor messing of roestvrijstaal gebruikt dat verzilverd of verguld is. Deze mondstukken worden meestal door jazz-muzikanten gebruikt. Een metalen mondstuk is duurder dan de meeste ebonieten mondstukken. Metalen mondstukken geven een wat meer heldere toon en hebben een betere projectie.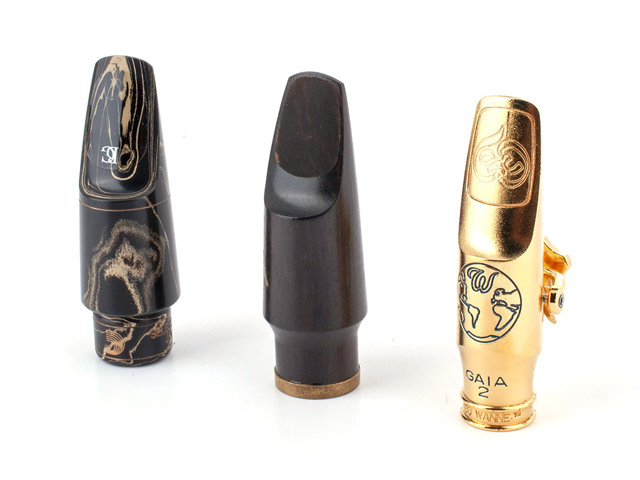 Tipopening
De tipopening van het mondstuk beïnvloed het gemak en de kwaliteit waarmee een toon gemaakt wordt. Tips worden vaak ingedeeld in twee categorieën: open en gesloten. Open tips produceren een helderdere toon maar zijn lastiger te bespelen terwijl een gesloten tip het minste weerstand biedt maar een warmere toon geeft. Over het algemeen geldt voor de breedte van de tip de volgende regel: hoe kleiner de tipopening, des te sterker moet het riet zijn. The facing van een mondstuk is het stuk dat afrond naar de tip. De lengte van de facing bepaald de reactiviteit van het mondstuk.
Als laatste geldt dat een mondstuk kiezen persoonlijk blijft en wat werkt voor de ene persoon zal misschien niet werken voor een ander. Beginnende muzikanten wordt aangeraden om te beginnen met een gemiddelde tip-opening, zoals de Selmer C* serie, en een riet van gemiddelde sterkte.