This content is not available in your language, it is displayed in Dutch.
Hoe onderhoud ik mijn saxofoon?
Hoe houd je je saxofoon in de beste condititie? Wat kan je zelf doen en wat kun je beter overlaten aan een saxofoon specialist? Hier kun je alles vinden over het onderhouden van je saxofoon. We hebben het over het in elkaar zetten van je saxofoon, het poetsen van je saxofoon na het spelen. En over wat je wekelijks, maandelijks en jaarlijks kunt doen om je saxofoon te onderhouden.
VOOR HET SPELEN
Ben er voor het spelen zeker van dat je handen en mond schoon zijn. Zeker je mond. Etensresten kunnen ervoor zorgen dat de polsters eerder gaan plakken en dat het instrument gaat ruiken. Verder kunnen etensresten ook tussen het mondstuk en riet vast komen te zitten en het riet beschadigen.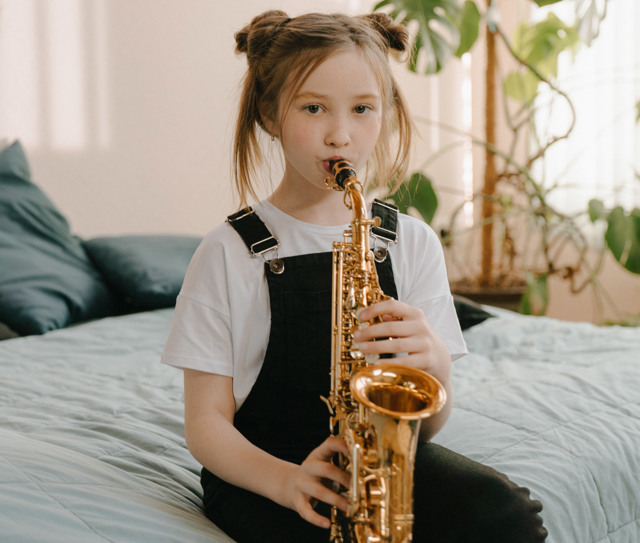 Mondstuk plaatsen
Zet eerst het mondstuk op de hals en dan pas de hals op de saxofoon, om schade aan de hals te voorkomen. Hou bij het afstemmen ook de saxofoon hals goed vast zodat deze niet kan verbuigen door de druk die erop komt wanneer je het mondstuk wilt verplaatsen.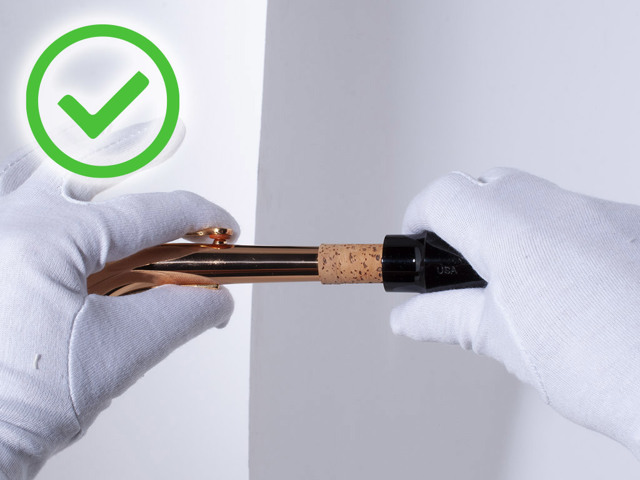 Gebruik de juiste techniek
Het mondstuk zet je op de hals door het recht tegen de hals te zetten en dan erop te draaien. Schuif het er niet op. Schroef het mondstuk tot ongeveer twee derde op de kurk. Loopt dit niet soepel? Gebruik dan wat kurkvet op de kurk van de hals.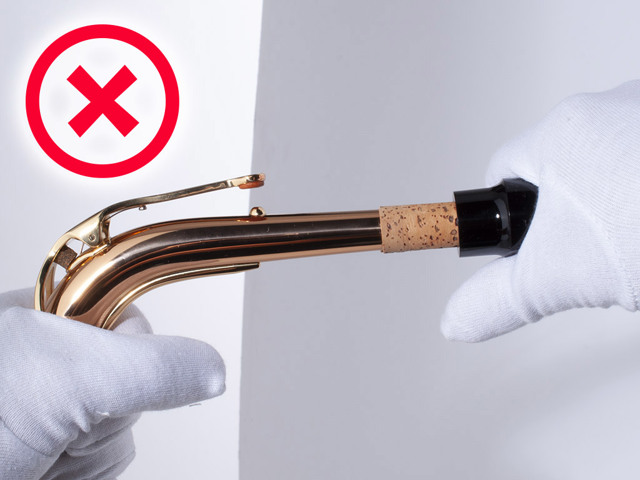 Hals plaatsen
Na het mondstuk op de hals te hebben gezet plaats je het riet en het ligature op het mondstuk. Op het mondstuk zit een lijn die gelijk met de bovenkant van het ligature moet lopen. De bovenkant van het riet moet gelijklopen met de tip van het mondstuk. Zet dan de hals op de saxofoonbody.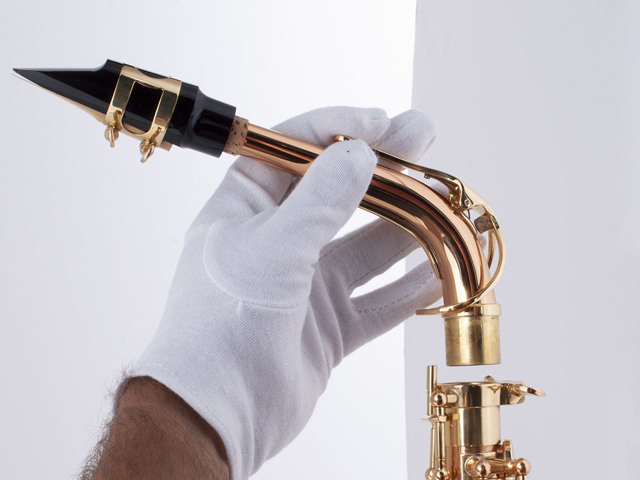 Saxofoonriem omdoen
Het volgende wat je doet is je saxofoonriem pakken en omdoen, zodat je je saxofoon meteen aan de riem kunt vast maken om vallen te voorkomen. Laat je saxofoon nooit alleen aan de riem hangen, de riem is alleen bedoeld als ondersteuning.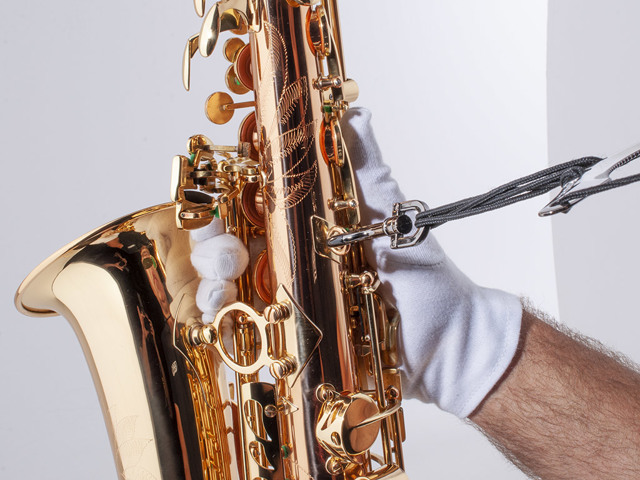 Inhoud koffer
Berg in het koffer alleen je instrument op. Voor je lessenaar en muziekstukken kun je het beste een apart vak of zelfs een aparte tas gebruiken. In het koffer horen alleen het instrument, een paar rieten, je saxofoon riem en je mondstuk te liggen.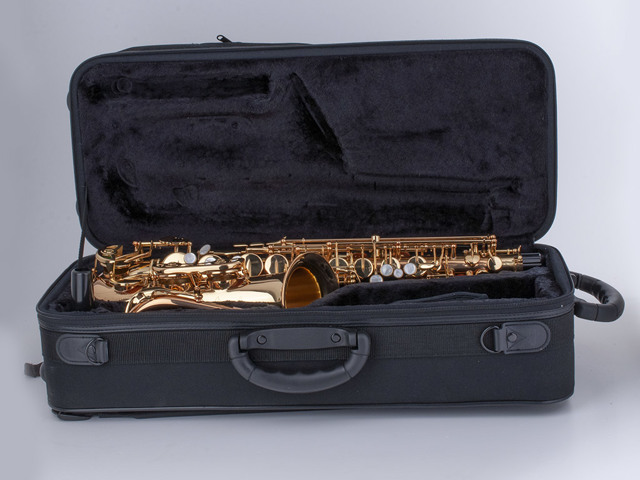 Na het spelen
Haal eerst de hals van de body en leg deze op een vlak en stabiel oppervlak. Doe dan het zelfde met de body. Haal nu het riet en de ligature van het mondstuk af. Ruim dan alvast de saxofoonriem, het ligature en het riet op en pak je wissers. Meestal heb je een wisser voor de body en een wisser voor de hals en het mondstuk, hier raden wij de A31 van BG voor aan. Voor de body moet je even kijken naar een geschikte wisser voor het soort saxofoon dat je speelt. We raden voor de body de wissers van HW aan, hier vind je de U-Ten voor tenor en de U-Alt voor de alt.
Voorkomen is beter dan genezen
Je hebt nu alles klaarliggen. Wanneer je nu in het instrument kijkt zie je vast wel wat druppels vocht zitten. Dit vocht bevat zuren en suikers die de groei van bacteriën stimuleren. Deze bacteriën kunnen ervoor zorgen dat de polsters gaan rotten en dus vervangen moeten worden. Door de suikers gaan de polsters ook eerder plakken. Haal de wissers door de hals, het mondstuk en de body. Het makkelijkste is dat je bij de grootse opening begint en naar de kleinste werkt. Haal de wisser 2 of 3 keer door het onderdeel wat je schoonmaakt. Als laatste veeg je het instrument aan de buitenkant schoon met een schone pluisvrije doek. Berg dan alles goed op.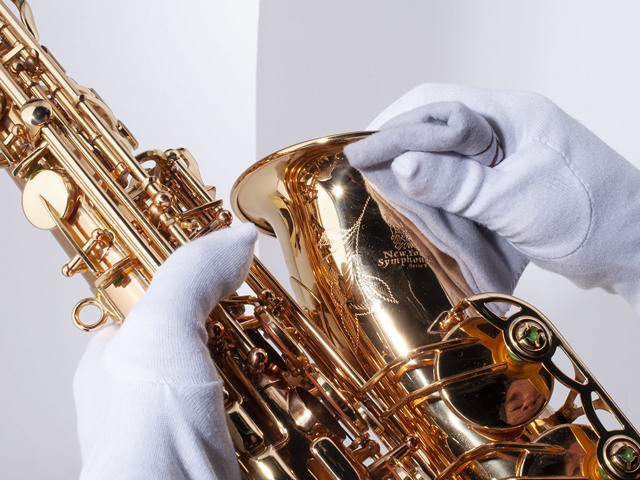 Wekelijks onderhoud
Zet het koffer thuis een keer per week een halfuurtje open zodat achtergebleven vocht nog kan verdampen.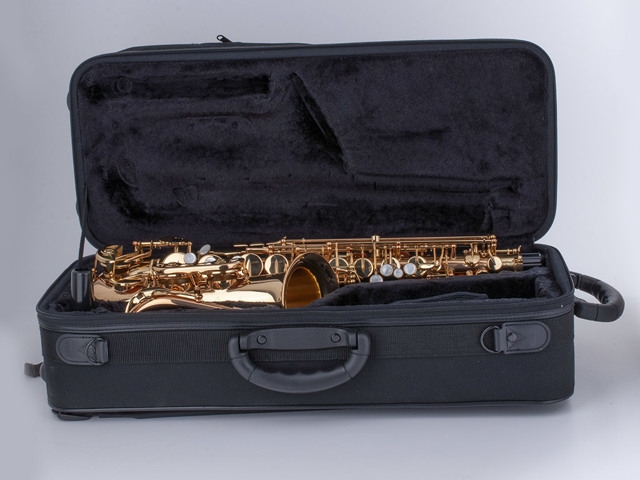 Jaarlijks onderhoud
De kleppen, schroeven en veren moeten van tijd tot tijd licht gesmeerd worden. We raden aan om dit te laten doen door een professionele reparateur. Je kan er ook voor kiezen om dit zelf te doen, hiervoor kun je het beste Key Oil gebruiken. Let erop dat de polsters niet met vet, water of olie in aanraking komen, dit kan ervoor zorgen dat de polsters hard worden en niet meer goed afsluiten.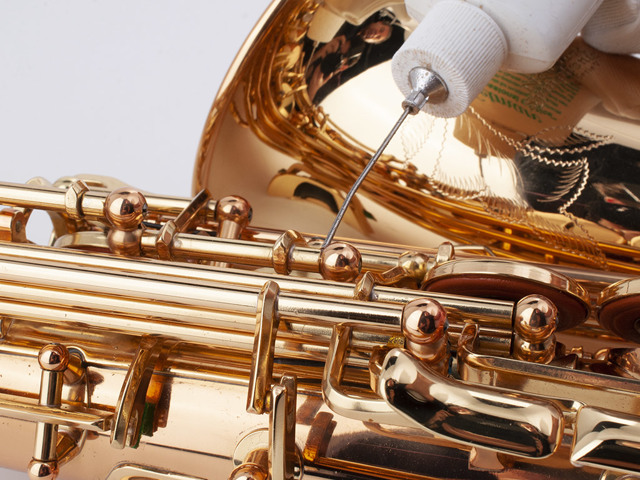 Tapkurk
De tapkurk moet, zodra de kurk droog is of het mondstuk niet meer soepel over de kurk gaat, worden ingevet met kurkvet. Dit zodat de diverse delen goed uit elkaar kunnen en niet vast komen te zitten.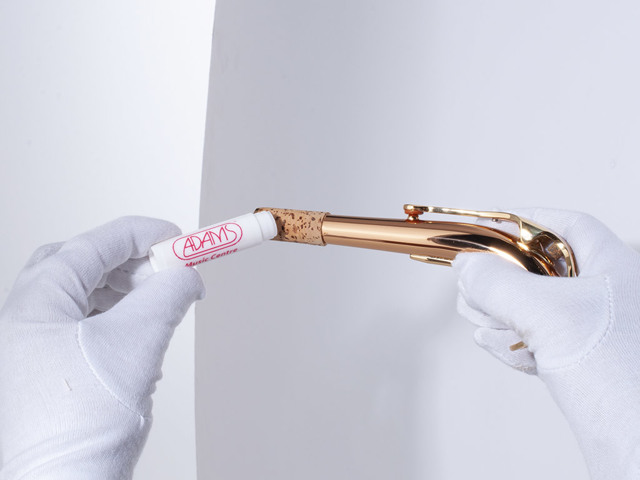 Plakkende polsters
Wanneer je last hebt van plakkende polsters, meestal is dit de Gis of de lage Cis op een saxofoon, kun je preventief powder paper gebruiken. Pak een velletje van het powder paper en leg dit tussen de polster en het toongat, met het poeder richting het polster. Sluit daarna de klep met een lichte vingerdruk en trek het velletje voorzichtig uit de gesloten klep. De Gis en lage Cis klep zijn gesloten in rust. Deze kleppen plakken daarom eerder. Hiervoor kun je Key Leaves gebruiken. Deze zetten de kleppen open en laat het vocht beter verdampen.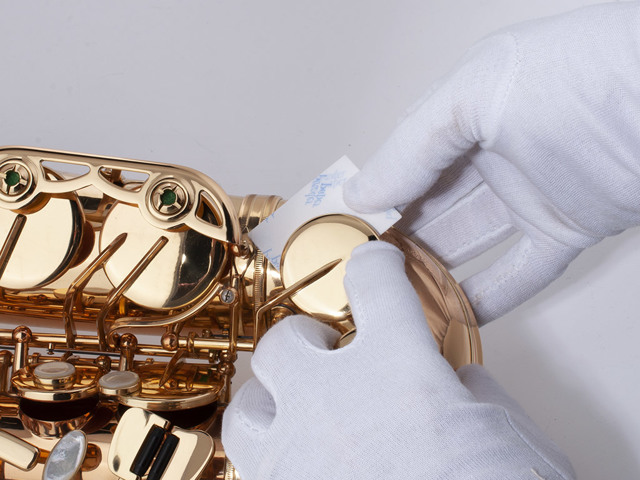 Reparatie of onderhoud
Breng je instrument een keer per jaar langs bij een gespecialiseerd reparatieatelier. Ga ook langs bij een reparateur wanneer je denkt dat je instrument niet lekker meer speelt. Deze zal dan je instrument even controleren om te kijken of er onderhoud nodig is. Ook zal bij zo'n bezoekje aangegeven worden welk onderhoud er in de toekomst nodig gaat zijn. Zo ben je altijd goed geïnformeerd en op de hoogte van de conditie van je instrument.