This content is not available in your language, it is displayed in Dutch.
News of Music Centre Ittervoort
Bijzonder instrument in de Adamsfabriek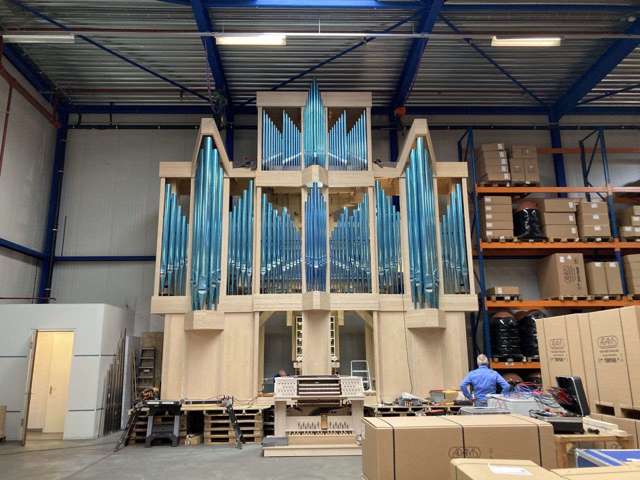 Een gevaarte van acht meter breed, acht meter hoog en vijf meter diep. Dat is het orgel voor de Vågsbygd kirke in het Noorse Kristiansand. Het orgel staat nu opgebouwd bij Adams Musical Instruments Ittervoort.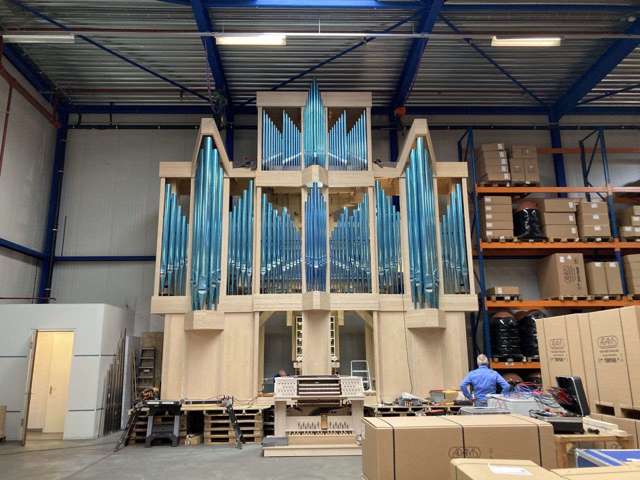 Het is een bijzondere klus, zelfs voor orgelbouwer Verschueren uit Ittervoort. Hun orgels staan door heel Nederland en België, maar ook in Duitsland en Spanje. Een klus zoals voor de kerk in Noorwegen krijgt het bedrijf maar eens in de tien tot vijftien jaar.
Past niet in werkplaats
Vanwege de grootte van het orgel, past het niet eens in de eigen werkplaats. Verschueren heeft daarom tijdelijk ruimte gekregen bij overbuur en instrumentenbouwer Adams. Tussen de pauken en bassdrums staat nu het acht meter hoge orgel. Met al zijn 2500 pijpen die via de speeltafel aan het voorfront bespeeld kunnen worden.

Ruimtegebruik
"Toen we ons hier gevestigd hebben, hebben we Adams gevraagd of we eens in de zoveel jaar gebruik mogen maken van hun ruimte. Gelukkig kan dat", zegt directeur Jeroen Zoutendijk van Verschueren Orgelbouw. "Het is namelijk heel mooi als we zo'n klus hier kunnen bouwen."
Klus van een miljoen
Het verzoek om een orgel te bouwen dat op maat gemaakt is voor de Noorse kerk kwam al in 2018. Pas deze week hebben de opdrachtgevers de kans gekregen om te zien hoe hun orgel er daadwerkelijk uitziet. Het gaat om een klus van bijna een miljoen euro.
Meccano-doos
Om verrassingen ter plekke te voorkomen, is het complete orgel nu alvast een keer opgebouwd nu. "Als er nog dingen aangepast moeten worden, kan dat het beste hier in de buurt van de eigen werkplaats waar we alle apparatuur hebben. Zo'n orgel is helemaal demontabel en net als een Meccano-doos kan het dan weer worden opgebouwd op locatie."
Niet te bespelen
Dat betekent niet dat het ook bespeeld kan worden in de loods van Adams. "wij zijn straks eerst zes weken bezig met het opbouwen van het orgel. En dan nog eens zes weken om de klank precies af te stellen op de ruimte. Dat zou hier vergeefse moeite zijn", aldus de directeur.
Vakantie Noorwegen?
Wie wil horen hoe het orgel klinkt, moet dus afreizen naar Kristiansand later dit jaar. Daar is het vanaf het najaar in bedrijf en dus in volle glorie te bewonderen.
Bron: 1Limburg.nl