The Percussion Collective
Robert van Sice met John Adams en première Seaborne
This content is not available in your language, it is displayed in Dutch.
Event of Music Centre Ittervoort
The Percussion Collective komt naar Nederland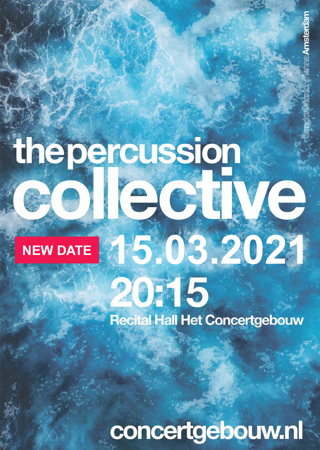 Maandag 15 maart 2021, Kleine Zaal Het Concertgebouw, Amsterdam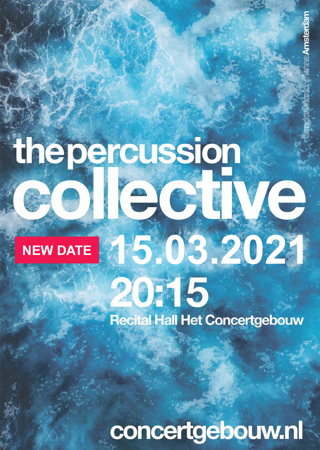 The Percussion Collective is opgericht in 2017 door artistiek leider Robert van Sice en een weergave van zijn creatieve visie. "Je zou ook kunnen zeggen dat we 20 jaar bestaan, zolang werken we al samen", zegt Robert. "Sinds ik 20 jaar geleden mijn Studio in Amerika opzette, zijn veel van mijn studenten aan een grote carrière begonnen; in kamermuziek, bij orkesten of als solist. Ze vertelden me altijd dat ze de Yale Percussion Group uit hun studententijd zo misten en eigenlijk iets vergelijkbaars in hun huidige, professionele leven wilden hebben. Daarom besloten we een all-star team van percussionisten op te zetten, om samen projecten te kunnen doen".
The Collective's eigen ervaring bepaalt hun benadering van opdrachtcomposities; een zorgvuldig proces van samenwerken met componisten die weten wat percussie is en echt gedreven zijn het muzikale potentieel van deze instrumenten te onderzoeken.
"Ik bewonder John Adams' Hallelujah Junction al jaren. We waren erg verheugd dat hij ons toestemming gaf het werk naar percussie te vertalen en beter nog, dat hij direct betrokken raakte bij het project. Alejandro Viñao en ik zijn al jaren bevriend en werken al jaren samen. Hij schreef met Stress and Flow een spannend en opwindend werk voor The Collective. De wereldpremière was in mei in New York en we vinden het geweldig! Op dit moment is zijn ambitie als componist om iedereen uit zijn stoel en aan het dansen te krijgen – en je ziet dat iedereen al in zijn stoel begint te bewegen tijdens het eerste deel van het werk. Het is zo levendig en nieuw maar je ziet de hand van de meester".
Seaborne is een moment van bezinning op onze oceanen en het kwetsbare onderwaterleven. Robert overtuigde zijn zoon, fotograaf Kjell van Sice, zich als filmer aan het project te verbinden.
In reactie op de muziek van Garth Neustadter filmde hij maandenlang in de wateren rond Hawaii en Mauritius en verbond deze krachtige beelden aan de muziek.
"Het is waarschijnlijk het beste werk waarvoor ik opdracht gaf sinds jaren", zegt Robert van Sice. "Ik heb nog nooit meegemaakt dat een werk voor percussie het publiek aan het huilen maakt. Het eerste deel gaat over het stervende koraalrif, het tweede over onze connectie met de oceaan en het laatste deel, met zijn diepzee beelden en Arvo Pärt-achtige geluiden is echt buitenaards mooi. Seaborne, een duet tussen componist en videograaf gaat over de mens van de oceaan laten houden. Nooit eerder hebben we het privilege gehad werken van dit niveau voor een publiek te brengen; werken die het publiek diep raken en hun verwachting over wat percussie betekent, hoe het kan klinken, ver te overtreffen. Het publiek wil werken horen die de nuance, klank, eigenheid en kleur van percussie weergeven. Ik denk dat dit ons moment is".
https://thepercussioncollective.com
Kaarten voor dit concert koop je HIER
---
---