This content is not available in your language, it is displayed in Dutch.
Le Monde Saxofoondag - Ittervoort
Saturday 4 November 2023 | 10:00 - 15:30 | MC Ittervoort
Le Monde Saxophones en Adams Music Centre organiseren op zaterdag 4 november een saxofoondag te Ittervoort, onder leiding van Werner Geboers en Ben Rodenburg. Deze dag is geschikt voor iedere amateursaxofonist die naast de harmonie en/of fanfare ook eens op een andere manier met de saxofoon in aanraking wil komen. Op deze dag zullen Werner Geboers en Ben Rodenburg in een informele sfeer de verschillende aspecten die bij het saxofoonspel van belang zijn bespreken. Onderwerpen zoals; embouchure, ademhaling, klank, intonatie, houding, techniek, samenspel, rieten, mondstukken, keuze van je set-up, zullen deze dag behandeld worden. Uiteraard zijn ook saxofonisten die op een ander merk dan Le Monde spelen, van harte welkom!
De deelnemers aan deze Le Monde Saxofoondag worden onderverdeeld in 2 groepen. O.l.v. Werner Geboers zal er een saxofoonorkest gevormd worden (van sopranino via sopraan-, alt-, tenor- en bariton- tot eventueel bassaxofoon). Werner Geboers heeft repertoire geselecteerd waarbij het accent ligt op de saxofoon in de lichte muziek. De bladmuziek krijgen de deelnemers na aanmelding toegestuurd, zodat iedereen zich thuis of op de les kan voorbereiden. De gekozen werken die gespeeld worden variëren van makkelijk tot pittig. Maar het zijn stuk voor stuk partijen die voor iedereen speelbaar moeten zijn. Extra aandacht wordt besteed aan de aspecten die in de lichte muziek van belang zijn: Klankkleur, timing, articulatie en een klein stukje improvisatiespel.
In een aparte ruimte zal Ben Rodenburg met deelnemers dieper ingaan op "Saxofoon in de popmuziek". Er kan gebruik worden gemaakt van nummers zoals:
We found Love – Rihanna
Sweet Lovin'- Sigala
This is what you came for – Calvin Harris
Hey Brother – Avicci
Deze nummers zijn op het YouTube Channel van Le Monde Saxophones te beluisteren, tijdens de workshop kan deze begeleiding gebruikt worden. Deelnemers zijn ook vrij om andere werken te kiezen!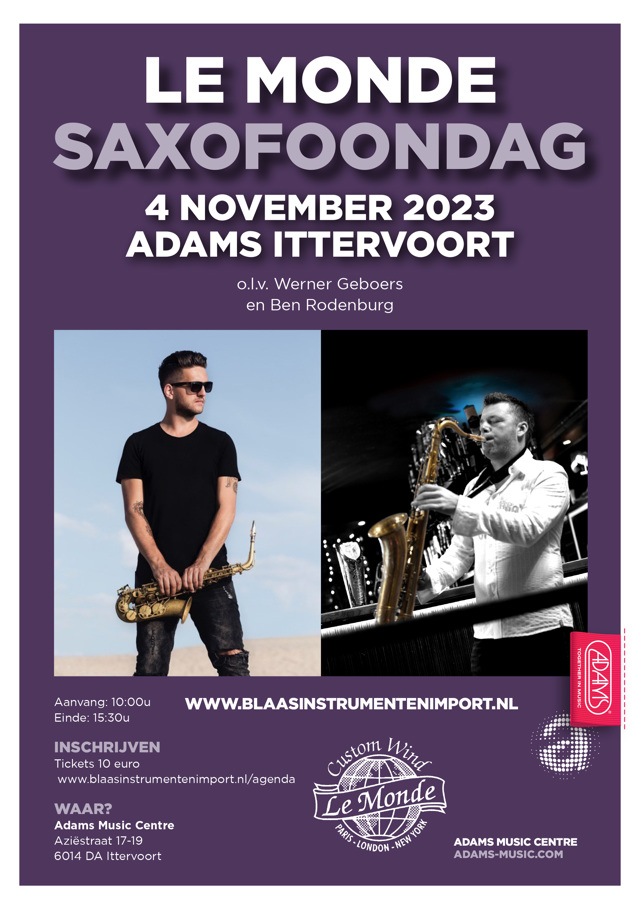 Aanmelden
De dag begint om 10.00 uur, rond 15.30 uur zal de dag afgesloten worden met een gratis toegankelijk concertje. Hierin zullen de deelnemers de ingestudeerde werken aan vrienden, familie en bekenden kunnen laten horen.
Het inschrijfgeld voor deze dag is € 10,-. De dag is inclusief lunch, koffie en thee!
Hey Brother - AVICII
Fantastische opname van Ben Rodenburg, op zijn Le Monde Satellite Altsax in Brass finish. Hey Brother is één van de werken die tijdens de Le Monde Saxofoondag - Ittervoort 4 november a.s. gespeeld zullen worden. Werner Geboers en Ben Rodenburg zorgen dat de gehele dag in het teken van de saxofoon staat, ongeacht welk model of merk je speelt. De speeltechnieken en het repertoire wat deze dag behandeld wordt, richt zich op de lichtere muziek.
Werner Geboers
Werner Geboers: Werner is geboren in het Noord-Limburgse Lommel (B). Op 9-jarige leeftijd blies hij zijn eerste noten en op 14-jarige leeftijd begon hij te studeren aan de muziekhumaniora van Hasselt met als optie saxofoon. Na zijn studies aan de kunsthumaniora ging het richting Leuven, waar hij, enigszins tegen zijn zin, klassieke saxofoon studeerde aan het Lemmensinstituut. Tijdens deze opleiding behaalde hij zijn Laureaats-en Meestergraadsdiploma saxofoon, optie klarinet en lichte muziek. Deze klassieke studies bleken echter de ideale basis voor zijn latere saxofoonspel, aangezien het instrument, technisch, niet veel geheimen meer voor hem had. Na zijn studies in Leuven studeerde hij lichte muziek (pop, rock, jazz) bij de gebroeders Vandendriessche waar hij eindelijk zijn "ei" kwijt kon. Momenteel is Werner actief als projectcoördinator van Musart, de kunsthumaniora te Hasselt, is muziekproducer in zijn eigen opnamestudio, en is dirigent van de K.H. Sint-Laurentius te Bocholt. Als uitvoerend musicus was Werner Geboers actief met verschillende formaties, zowel in het klassieke als het lichtere genre, waaronder: het BRT-Filharmonisch orkest en The Golden Bisband. Werner maakte, gedurende 8 jaar, deel uit van de vaste begeleidingsband van Gunther Neefs en verzorgde concerten met o.a.: Toots Thielemans, Lee Towers, Johny Logan, René Froger, Will Tura, Sandra Kim, Jo Lemaire, Helmut Lotti, Katrina &The Waves, The Magic Platters, Clouseau, Scala, The Fortunes, The Three Degrees, The Gibson Brothers, George Baker, Brotherhood of Men. Momenteel is hij de vaste saxofonist van de Lou Roman band, een zeer gekende begeleidingsband uit België, en is hij een veel gevraagde gastmuzikant en dirigent in zeer diverse bands en orkesten. Voor meer informatie over Werner Geboers, kijk op www.studiowerre.be.
Werner Geboers speelt exclusief op de Le Monde Satellite Alt- en Tenorsaxofoon in brass uitvoering.
Ben Rodenburg
Ben Rodenburg (1988) werd geboren in Rotterdam en begon op zijn 9e saxofoon te spelen. Na het afronden van de Havo voor Muziek en Dans in Rotterdam, vervolgde hij zijn saxofoonstudie aan de jazzacademie van het Rotterdams Conservatorium (Codarts) Rotterdam. Tijdens zijn studie is hij altijd actief geweest in de pop- en dancemuziek. Van 2009 tot 2011 was hij een vast lid van Waylon (bekend van Wicked Way, The Common Linnets) en had hij vele internationale optredens. Ben Rodenburg is tevens een veel gevraagd sessiemuzikant, hij speelde met artiesten als Alain Clark, Wolter Kroes, Van Velzen, Olivia Lewis, Shirma rouse. Vanaf 2013 was hij de saxofonist van Bakermat (bekend van de internationale hit "One Day") en speelde hij samen met deze DJ vele concerten over de hele wereld, van Duitsland tot Spanje, van Australië tot Amerika. Naast Bakermat werkt Ben samen met vele andere internationaal bekende DJ's zoals Lucien Foort, Roog, Erick E, Shermanology, Jack Thomas, Dimmi en de Hofnar. Momenteel is Ben Rodenburg een van de toonaangevende saxofonisten in de dans- en popmuziek, en wordt regelmatig gevraagd voor studio-opnames en tv-shows.
Ben Rodenburg speelt op de Le Monde Satellite Alt- & Tenor Saxofoon in brass uitvoering.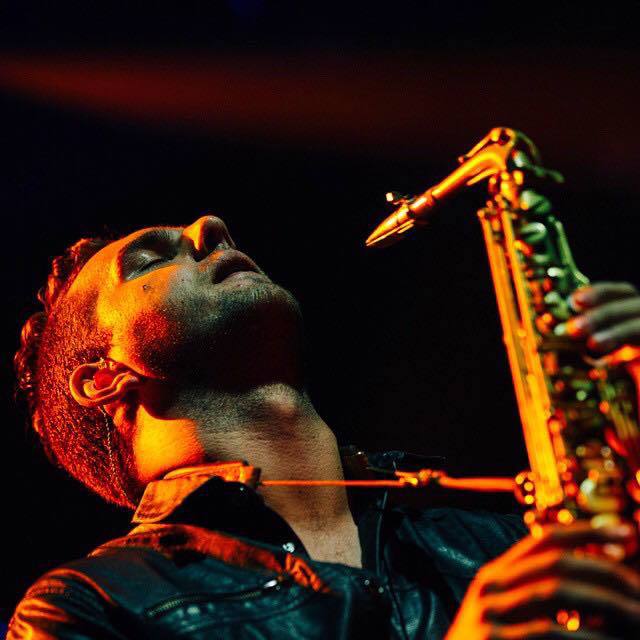 Vera Baadjou
Vera Baadjou is revalidatiearts gespecialiseerd in de behandeling van musici met klachten van het houdings- en bewegingsapparaat.
Vera werkt voor een revalidatiepraktijk voor mensen die als gevolg van een ziekte, aandoening, lichamelijke klacht of door een ongeval belemmerd worden in hun functioneren en daardoor niet optimaal kunnen deelnemen aan het maatschappelijk leven. Zij verricht wetenschappelijk onderzoek met als doel gezondheid van musici te verbeteren, Vera speelt zelf bugel in een Nederlandse fanfare.
Bij muzikanten zijn veelvoorkomende klachten pijn, tintelingen, doofheid of een verminderde controle over spieren. Meest voorkomend zijn klachten van arm, nek, schouders en rug. Vera zal een infosessie verzorgen gericht op de biologie van het spelen: hoe is de lichaamsbelasting? Welke spieren gebruik je en wat is het belang van houding, hand positie, etc? Wat is de huidige stand van de wetenschap wat betreft gezond musiceren? Wat kun je preventief doen om klachten te voorkomen?
Je kunt je voor dit laagdrempelige spreekuur aanmelden via onderstaande link: