Nuno Aroso
Nuno Aroso - Portugal, 1978.
Widely recognized as one of the most creative and active percussionists of his generation, Nuno Aroso's solo activity has taken on a fundamental role in his artistic life. Particularly focused on the percussion repertoire from 20th and 21st centuries, Nuno Aroso actively collaborates with numerous composers from the most varied aesthetic fields and parts of the world.
The result of this collaborations is translated in the growth of a personal and idiosyncratic repertoire that simultaneously contributes to the development of the percussion literature. More then 100 world premieres were held by Nuno Aroso, who first recorded a great deal of this repertoire. Peter Ablinger, Oscar Bianchi, Peter Klatzow, Joao Pedro Oliveira, Kumiko Omura, Luis Antunes Pena, Matthew Burnter, are some of the many composers who wrote for Nuno Aroso. He performs, teaches, and is jury member alongside referent artists, conductors, and composers of our days, in reputed Contemporary Music festivals like Musica Strasbourg, Maerz Musik, Festival Agora - Ircam, Connect Festival, Ciclo de Musica Contemporanea de Buenos Aires, and many others in Portugal, France, Germany, Belgium, Spain, Italy, Slovenia, Brazil, China, Thailand, South Africa, Argentina, Canada, Sweden, Greece, England, Poland, Bulgaria, Croatia, Tunisia, South Korea, Chile, etc. Particularly motivated by the enrichment and renewal of the concept of the concert as an whole experience, Nuno Aroso frequently forms artistic relationships with other disciplines: Dance, Cinema, Theatre, Literature. The commitment with chamber work, as soloist or as group musician leads Mr Aroso to collaborate with many different ensembles, orchestras and artists around the world. Over the past years Nuno Aroso created a series of thematic duets with other instrumentalists. He aimed to highlight the chameleonic character of percussion when together with other musical being. From this project a cd/book with selected scores and texts as well a cd collection and a filmed documentary will appear later in 2017 under the label of the national television: 3'30'', Limine, Timpan et alia, Viscera, Magnet, Lignum.
— Nuno Aroso tells Stories that make up a stunning, interrogative, aural and visual poetic narrative, about what it means to be here, now. Isn't that, after all, the great aim of art? - Jorge Castro Ribeiro
Having completed the percussion course at the Escola Profissional de Música de Espinho at the age of 18, Nuno Aroso pursued his university level studies at the Escola Superior de Música do Porto (20/20 in final recital), and later on at the Conservatoire National de Strasbourg, obtaining the Soloist Diploma. In Paris, he approached the repertoire of the contemporary musical theatre for percussion under Jean Pierre Drouet. During the academic studies, Nuno Aroso was an active participant in numerous masterclasses and seminars, looking for the references in the percussion and contemporary music field. Nuno Aroso is Doctor in Music after concluding his Phd thesis: The Gesture's narrative - Contemporary Music for Percussion, at Catholic University, Portugal. In 2001 he was awarded with the Academic Merit Prize of the Anto´nio de Almeida Foundation and in 2008 he was given a Creators Prize by The National Centre for Culture for the solo cd, Technicolor.
Passionate by percussion education, Nuno Aroso carries out a solid teaching activity. After gathering a solid experience in teaching at higher education level, he is at the present Head of the Percussion Department at Minho University in Portugal. Nuno Aroso extends his pedagogical activity ministering masterclasses and seminars in universities, conservatoires and percussion events in Europe, South America, North America, Asia.
He is researcher at CITAR (Research Centre in Science and Technology of the Arts) - Catholic University and focuses his attention on the research of the Percussive Gesture ´s Narrative. Nuno Aroso appears as speaker, and as scientific committee member in international conferences in Portugal and abroad.
Nuno Aroso Plays Adams Percussion Intruments.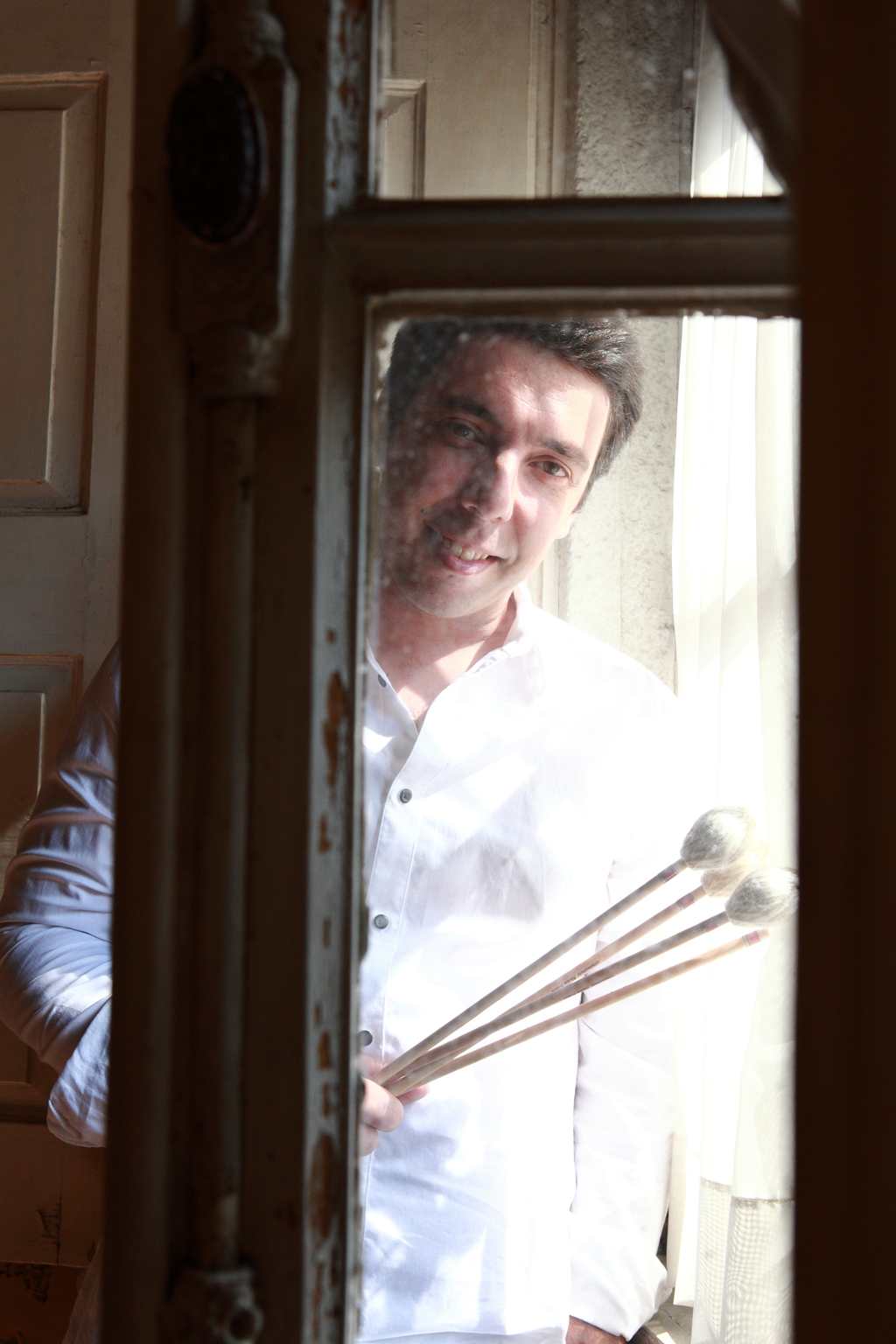 Nuno Aroso teaches matter the privilege of sound and places himself between Man and His great relationship with art in its most inscrutable form, that abstract and thrilling race for music. The result is the emergence of an unforgettable soundtrack for our lives, like a film which we can, thus, also imbue with colour.
— Valter Hugo Mae