Artist Classic Marimba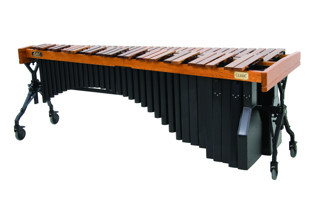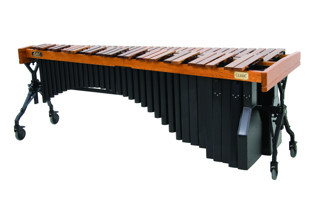 For one of the most reliable marimbas available on the market today, you need to look no further than Adams Classic Series marimbas, with their durable yet beautiful French Oak rails and end pieces are manufactured with the highest levels of craftsmanship and quality materials to meet and exceed the demands of today's top marimba virtuosos. Only hand selected exquisite Rosewood is used to create these outstanding instruments and ensures that every Artist Classic Marimba we produce provides the rich tone and projection that has become synonymous with marimbas bearing the Adams name.
Alpha tuning system
Honduras Rosewood Bars
Octave ranges: 4.3, 5.0 and 5.5
Adams Voyager Frame
French oak wooden frame parts in stained cherry colour
Black powder coated resonators
Tunable Resonators below A2
Includes drop cover and 2 pairs of M13 mallets
Proven quality
Since the inception of Adams marimba production, intonation and clarity of pitch have been paramount considerations. Adams is the only company producing bars meticulously precision tuned though an incredible sixth overtone using the Alpha Tuning System. Each bar is hand tuned and adjusted by skilled craftsmen using this proprietary method. This exclusive tuning process gives our marimbas the most stable pitch, projection and evenness of sound available and allows Adams complete control over all aspects of the marimba's sound.

The resonators found on all Artist Series Marimbas are structurally welded for the utmost in strength and isolation from mechanical noises. Each tube is carefully designed to amplify the fundamental note and give you maximum volume, sustain and clarity. Lower register resonators are tunable and each resonator system is mounted on a rubber isolation system to ensure the maximum resonance and eliminate all possible mechanical noise.

Our patented Voyager frame is far and away today's most flexible and transportable frame offering a height adjustment system second to none. A quick turn of a handle effortlessly adjusts the height and angle of both ends of the instrument to the player's preference.
Artist Series frame design also allows a player to easily upgrade from a 4.3 octave to a 5.0 octave range, without having to buy a completely new instrument. By purchasing the appropriate conversion kit, you can begin with a 4.3 octave instrument and later expand to 5.0 octave instrument. If you begin with a 5.0 octave instrument, you can purchase a kit to convert it to a 4.3 octave instrument when the extended range is not required. You only have to take the instrument you need to each job.