Dave Danford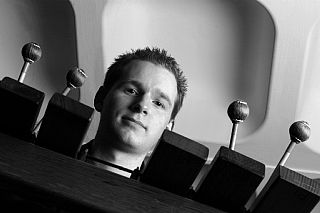 Dave Danford is rapidly building a reputation as one of the UK's finest young soloists. His virtuosic performances from a unique and accessible solo repertoire continue to engage audiences throughout the country.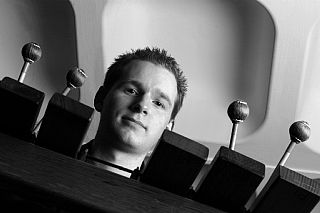 Dave was born in Swansea, South Wales in 1984 and gained his first performing experience with the various ensembles run by West Glamorgan Music Service before progressing to lead the percussion sections of some of the UK's finest youth ensembles including the National Youth Brass Band of Wales and the National Youth Wind Orchestra of Great Britain. Following a few years under the guidance of successful freelance percussionist Graham Bradley, Dave chose to study with Chris Stock (principal percussionist - BBC NOW) at the Royal Welsh College of Music & Drama where his abilities as a soloist were constantly recognized with concerto performances with the brass band, wind orchestra and symphony orchestra and he became the first percussionist to win the college's annual concerto competition.
After graduating from the college, Dave embarked on a career as a full-time percussion soloist. His varied musical endeavors have included concerto performances, solo recitals, studio recordings and master-classes. He has performed as a soloist in many of the UK's finest concert halls including Birmingham Symphony Hall, The Sage Gateshead and St. David's Hall, Cardiff.
Dave's unique solo repertoire is chosen carefully with the intention of being accessible to every concert audience. This wide range of repertoire includes major concertos for orchestra, wind orchestra and brass band, solo percussion items from around the world and new concert-piece commissions from the UK's finest composers.
Outside of the classical music scene, Dave has also had success in the recording studio with a duo of top dance music exponents. He has recorded tracks with international dance producer Darren Tate and is a regular collaborator with BBC Radio 1 DJ Judge Jules.
Adams artist Dave Danford has just released his debut solo album Rhythmic Renaissance.
The album is a unique collection of accessible music for solo percussion. The works included are predominantly the most popular items from Dave's solo recitals over the last few years. Many of the items on the album have been recorded for the very first time, including a new concert-piece from Derek Bourgeois; a contemporary work from composer and producer Jacob Wheeler; a duet for vibraphone and marimba by one of the world's most successful composers for solo percussion, Ney Rosauro; and an arrangement of Vaughan Williams' Violin Concerto, Concerto Accademico.
Dave launched the CD at a special concert in Leeds, England on Saturday 3rd March 2007 and is currently touring to promote the release.


Dave Danford plays an Adams Artist Classic Marimba.