Roel van Wijk
Roel van Wijk studeerde trompet lichte muziek bij Rob Bruynen aan het conservatorium te Maastricht. Roel volgde masterclasses bij onder andere Bob Findley, Bobby Shew en Erik Vloeimans. Hij werkte mee aan diverse projecten met Lee Konitz, Bill Dobbins, Bob Mintzer, Jiggs Whigham en Chuck Findley. Als trompettist is hij momenteel actief bij de Elite Horns, een professionele blazerssectie, bij The Skyline Orchestra, Mo'Jones Bigband en Aachen Bigband, bij Presidents of Antarctica en diverse freelance-activiteiten. Roel heeft meegewerkt aan tal van cd- en tv-opnames. Verder is hij werkzaam als arrangeur, componist, repetitor en geeft hij regelmatig workshops.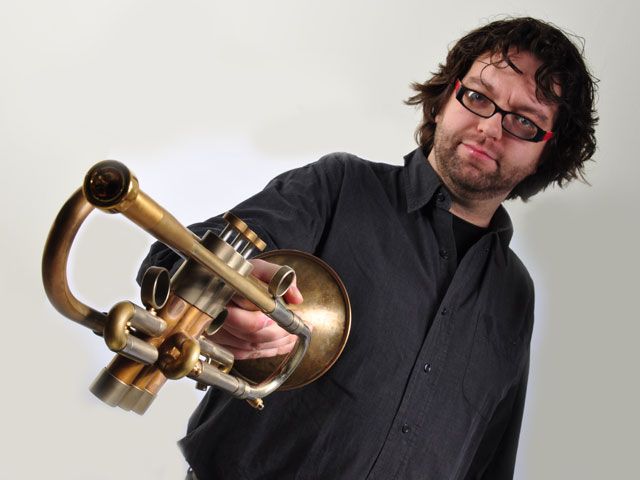 Adams A4
Niet eens op zoek naar een nieuwe trompet, maar nieuwsgierig geworden door verhalen over het "Amik Guerra"-model van muziekcentrale Adams, liep ik op een dag bij hen naar binnen met de vraag of ik dit model, voorzien van een grote beker en eveneens grote boring, eens zou kunnen proberen. Na er drie tonen op gespeeld te hebben heb ik meteen tegen Miel gezegd dat ik behoorlijk onder de indruk en bovendien geïnteresseerd was.
Die eerste drie tonen kan ik me nog goed herinneren: dat was nogal een openbaring. Deze positieve indruk werd later in de praktijk bevestigd: deze trompet kan gewoon alles, van buiten op straat New Orleans-streetparade spelen via intieme dicht-bij-de-microfoon loungebeats opluisteren tot screaming bigband: alles komt er met gemak uit, met de klank die ik al tijden in mijn hoofd heb.
De combinatie van schijnbaar tegenstrijdige eigenschappen is wat mij nu nog steeds elke dag positief verrast: een gemakkelijk te vormen klank, van donker, jazzy naar vet met veel projectie, maar aan de andere kant een overdonderend speelgemak. Ook mijn collega's zijn steevast verbaasd over de zeer lichte speeleigenschappen van deze relatief zware trompet.
Ten slotte is de afwerking alsook de mechanische kwaliteit van het hoogst denkbare niveau: nooit bespeelde ik een trompet met zulke licht lopende en betrouwbare ventielen. Al met al ben ik, sinds ik de Adams A4 bespeel, nooit meer in de verleiding gekomen nog eens naar mijn oude vertrouwde trompetten terug te grijpen. Miel, bedankt!