E3 Euphonium
With the Adams E3 euphonium you get an instrument that is built on the sweet spot between large sound and flexibility. The instrument is the largest euphonium in the Adams Brass range, but thanks to the choice of materials and the distinctive design, the instrument still gives you plenty of room for virtuosity.
In the development of the E3, the ensemble player in a brass band, fanfare or concert band has been taken into account in a very specific way. Compared to the Adams E1 and E2, the instrument gives a little more control and the sound has a slightly wider character.
Specifications E3 euphonium
Key: Bb
Bell & finish: Yellow brass, silver plated
Bell Diameter: Ø 305 mm (12")
Gauge: 0.60
Valves: 4 compensating valves (3+1), stainless steel with nylon guides
Bore: 1st, 2nd, 3th valve: 15 mm/ 4th valve: 16 mm
Trigger: Optional on main tuning slide
Waterkeys: 3
Case: Included (Adams/Marcus Bonna)
Extra: Maintenance kit (micro-fiber cleaning cloth, valve oil, slide grease)
Your choice of mouthpiece is extremely personal and very important for playing pleasure. That is why we do not supply a standard mouthpiece with our instruments.
Alike the E1, the Adams E3 Euphonium has 4 compensated valves and a 305 mm diameter bell. It's unique characteristics are its different lead pipe, bell flare, bracing and bows. Ideal for ensemble players who are looking for a darker sound with great core stability.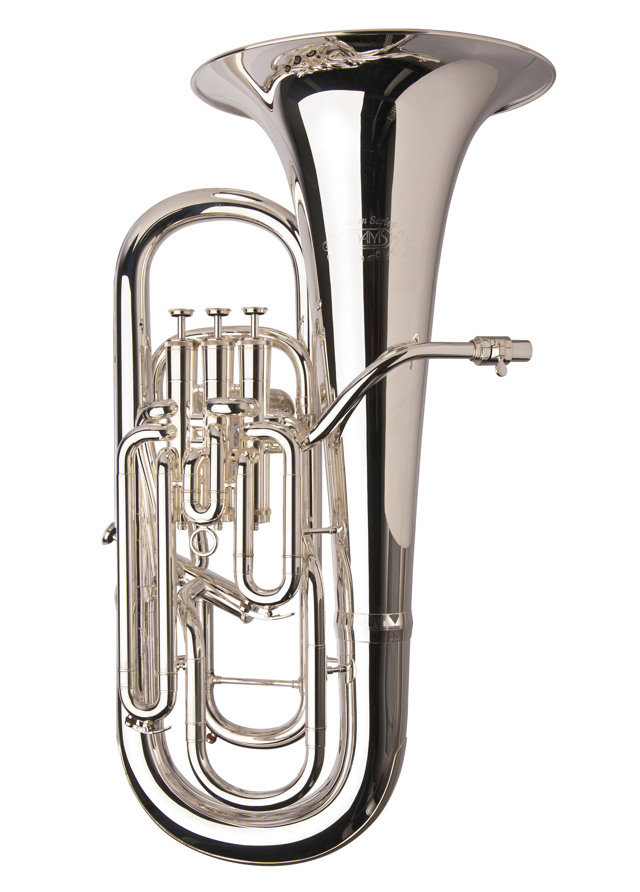 A fully handmade instrument
To claim each instrument is handcrafted is a prodigious understatement. We are proud to be one of the few manufacturers in the world who master this craftsmanship. Driven only by perfection, each part is brought to life by the hands of our incredible instrument artisans.
The bell and body parts of our instruments are carfully made from sheet metal, assuring extreme hardness of the material, besides very thin and uniform wall thicknesses. Qualities that can't be achieved with the hydroforming technique used to produce cheaper instruments found in the market. Do you also opt for quality?
Unparalleled valve manufacturing
Made in the tradition of the legendary Bauerfeind valves, Adams valves are made from stainless steel for fast action and long-lasting durability. All valves begin with hand soldered brass valve ports and are finished on CNC grinding machines to tolerances of .005 mm, the most tight manufactured valve blocks in the industry. Experience the impact of these specifications on your playing comfort.
You are not average
Some people like a warmer sound. Some not. Some people have huge lung capacity. Some have not. Some people like engravings. Some do not. Some people need more playing resistance. Some don't. These are extremely personal factors that can affect an instruments design.
The Adams instrument builders like to go beyond expectations. With an in-house development and production, this means that we can fully customize your instrument. Compiled according to your personal preferences.
Do you want to know more about the Adams Custom instruments? Contact us and discover the possibilities.
More information about Adams Brass?
Adams delivers through an extensive network of dealers and distributors worlwide. Check out who to contact for further assistance in getting your new instrument.