Krystina Marcoux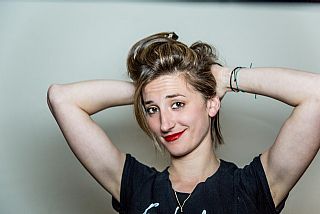 "an exceptionally promising young artist that has a unique contact and relationship with her audience"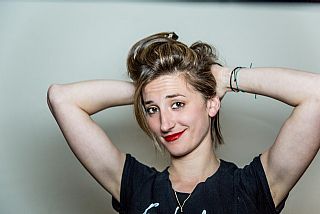 Flamboyant and energetic, Krystina Marcoux is rapidly gaining a reputation for her particular interest in interdisciplinary works. She dedicates her creativity in conceiving shows that combine musical excellence to other artistic disciplines. She strongly defends the idea that a stage is one malleable material that needs bending, curving and playing around, just like plasticine. Allying theater, dance, stand-up comedy, miming, humor or even sports to her percussion playing on stage, Krystina strives to open her musical world to a larger and broader audience.
Winner of many prestigious prizes, such as the First Prize of the Standard Life OSM Competition or the Fondation Banque Populaire de France, she has proven an extremely high musical and technical level. Despite her young age, she has conceived, staged and performs in 5 shows (Mélange à trois, Zeee Match, La Perle, 400 ans sans toi…, L.O.V.E.) while also playing in more conventional musical ensembles such as a tango ensemble and a marimba duo. It is her unique artistic vision that brought festivals such as the "Biennale Musique en Scène" or the Colombian Percussion festival "FOSBO" to commission her shows.
Originally from Quebec, she is pursuing doctoral studies under the guidance of Jean Geoffroy in Lyon, at the Conservatoire National Supérieur Musique et Danse de Lyon, specializing in the relationship between theatre and music. At the CNSMD and in partnership with the Ecole National Supérieur des Arts et Techniques du Théâtre, she has conceived and now teaches a program for musicians and actors, bringing both disciplines together so that they can learn from one another. In her teaching, as much as in her performances or her work as a doctoral researcher, she tries to eliminate artistic borders thus exploring new possible staged combinations, awakening artistic curiosity.
In July 2017, Krystina with Zeee Match! and 400 ans sans toi… will take over the streets of the internationally renowned theater festival "Avignon OFF". It is thanks to her multidisciplinary shows that she can present high musical quality in a theater festival, offering a different vision of the stage to a broad audience (over 1.5 million entries to the festival each year!). In May, June and September 2017, Krystina will share the stage with renown marimba artist Vassilena Serafimova for dazzling marimba duo performances.
In September 2015, Krystina was very fortunate to meet her "twin from another mother" in Bogota, Colombia! Tupac Mantilla, an amazing percussionist and musician, shares a similar vision to Krystina's and their energies are so interconnected it's scary! Together, they are working on the translation to French of the interactive Body Percussion method 'Percbody' and on new approaches to artistic pedagogy with the Percuaction Global Percussion Network.
Her upcoming projects for 2018 include the creation of two new shows, again pushing her own artistic limits. The first will explore and destroy the stereotypes of classical and operatic music while the second show will bring on stage two facets of Krystina: percussion and rock climbing. She is also working with percussionist and composer Jean-Pierre Drouet, to whom she commissioned a new solo work for her doctoral final recital.
She is represented internationally by agent Laure Pichêne and she is honored to be an Adams Artist since 2017.