Fumito Nunoya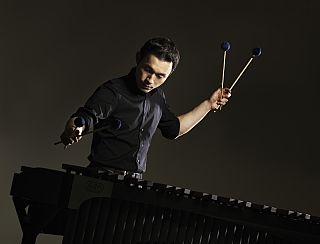 Marimbist Fumito Nunoya is gaining recognition internationally as one of today's leading marimbists. Born in Odate, Japan (a small city in Akita Prefecture), he currently lives in Kreis Herford, Germany. He has taught marimba at the Hochshule für Musik Detmold in Germany since 2009. In addition to performances in Germany and around Europe, he regularly travels to perform in Japan and the USA.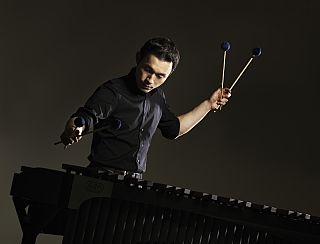 An interview with Nunoya was the cover story of the May 2012 issue of Percussive Notes magazine. He has been described as "magnetic … impressive" (Houston Chronicle) and "agile and terrifically talented" (Boston Herald). His repertoire includes a range of solo and chamber works for marimba, as well as adaptations of Bach, Piazzolla, Japanese folk music, Ennio Morricone and more.
As a concerto soloist, Mr. Nunoya has appeared with the Houston Symphony, Eastern Connecticut Symphony, and The Boston Conservatory Orchestra (USA); the Sendai Philharmonic Orchestra and Atorion Chamber Orchestra (Japan); Bartholdy-Ensemble Rheinfelden (Germany); and Di Repercussio Ensemble percussioni dell'Istituto Peri (Italy).
His solo marimba CD Red Dragonfly was called a "monumental CD" (Percussive Notes) and "an example of artistic music making at its highest level" (PAS—Florida Chapter newsletter). His second CD "The Sower," in which he focused on Japanese pieces, was released in August 2013 from Octavia Records, Japan. In August 2016, Mr. Nunoya released two CDs ("Piazzolla on Marimba" and "Classics on Marimba") from Oehms Classics, and the both CDs received special commendation awards from Record Geijutsu Magazine in Japan.
Nunoya gained considerable attention when he won Third Prize at the 3rd World Marimba Competition (held in Germany in 2002—one of the most prestigious marimba competitions worldwide). He also won top prizes at many other national and international competitions including First Prize at the Ima Hogg Young Artists Competition (2005, Houston, Texas—USA), First Prize at the 3rd Libertango International Competition (2009, centered on the music of Astor Piazzolla—Italy), and Second Prize at Percussive Arts Society International Marimba Competition (2003, USA).
Mr. Nunoya has presented numerous solo performances in the USA, Europe and Japan include Zeltsman Marimba Festival (USA and Amsterdam, the Netherlands); Keiko Abe Lausanne International Marimba Academy (Switzerland); Southern California Percussion Ensemble Festival and Berklee Percussion Festival (USA); and Central Japan Percussion Festival, Kansai Japan.


Mr. Nunoya is Adams Marimba Artist.
Information
---