Wood & Winds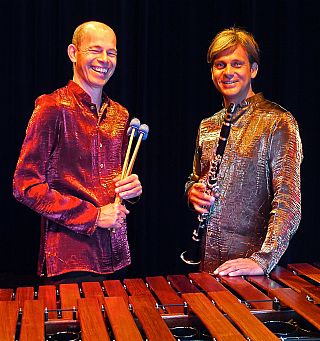 Peter Wilms on marimba and Werner Janssen on saxophones, clarinets and flutes give a lively and broad sound spectrum in their music.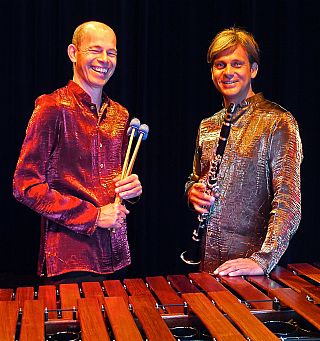 They write their own music expressing their passion for spirituality and love of nature. Their compositions show a variety of characters moving from delicacy to liveliness, from swing to introversion, from serenity to exuberance. They create a musical rainbow that takes you inward on a journey into new realms of sound and unknown experiences.
In their work we find the influence of classical music, jazz, pop and different kinds of world music. Both Peter and Werner have a classical and a jazz background. The synthesis of styles and the different instruments make Wood & Winds a unique ensemble.
In 2012 they released their first CD "Cycles", which was enthusiastically received by the press: "This duo creates a beautiful atmosphere and the subtle virtuosity of both musicians always serves the ensemble playing" (Muziekwereld, NTB), "This intimate and atmospheric album convinces from the beginning to the end" (Forte Magazine).Later this year the release of their second album is expected.

Peter Wilms took his education in Maastricht studying classical percussion with Hay Beurskens and Werner Otten, and drums with Chris Dekker. He did his Masters in Amsterdam with Jan Labordus, Jan Pustjens and Peter Prommel. He was the first student in the Netherlands to recieve his Masters for marimba in Rotterdam studying with Robert van Sice.
He is internationally active as a free lance percussionist. He has performed with the Royal Concertgebouw Orchestra Amsterdam, Netherlands Philharmonic Orchestra, Düsseldorfer Symfoniker and Orquesta Sinfonica de Tenerife amongst others.
He also participated in several ensembles and theatre productions in the Netherlands. As a drummer he appeared in numerous bands and played with great musicians such as Chet Baker.
On marimba he gives recitals, had a duo with Rebeka Konc (piano), was a member of Trio Ernesto Arrendell and played in duo Palissander with Peter Bansberg (marimba) performing a repertoire from classical to jazz.
Since 2009 Werner Janssen (saxophones, clarinets and flutes) is his companion in Wood & Winds.
In want of specific solo repertoire for marimba he wrote a number of solo pieces and currently composes for Wood & Winds.
Furthermore he specialized in West African percussion in the Netherlands and Africa studying with masterplayers like Ponda O'Brian, Billy Konate, Mansa Camio and Sega Sidibe.
He has been teaching percussion, drums and djembe for more than thirty years. He taught, among others at the Maastricht Conservatory, Stichting Buitenkunst, C.K.C. De Meerse in Hoofddorp and De Plantage in Tiel.

Saxophone-player Werner Janssen started playing the soprano saxophone at the age of 5. But only after having finished a master's in Mathematics at the Eindhoven University of Technology, he decided to follow his heart and go the Conservatory. In 2000 he finished his Master's in Jazz Saxophone in Amsterdam.
Nowadays he performs with the Metropole Orchestra accompanying great muscians such as Herbie Hancock, Pat Metheny, Toots Thielemans, Chaka Kahn, Cliff Richard and Bono. His love for Big Band music is expressed by playing with the WDR Big Band, Konrad Koselleck Big Band en Holland Big Band. He particpated in many musicals and TV shows and was soloist with the Noord Nederlands Orchestra.
He composes for his jazzquartet Janssen4! and duo Wood & Winds.
He is also a very enthousiastic teacher and gives clinics throughout Europe.

http://www.woodandwinds.nl/