This content is not available in your language, it is displayed in Dutch.
Gebruikte trombone kopen?
In plaats van voor een nieuwe trombone te kiezen zou een tweedehands trombone ook een optie kunnen zijn. Hier zitten natuurlijk voor- en nadelen aan. Hieronder geven we tips over hoe je een goede tweedehands trombone kunt herkennen.
Overzicht tweedehands trombones
De voor- en nadelen van een tweedehands trombone
Laten we met het grootste voordeel beginnen, het prijskaartje. Een gebruikte trombone zal goedkoper zijn dan een nieuwe van een vergelijkbare kwaliteit. Natuurlijk zijn niet alle gebruikte trombones in een goede staat en wij willen proberen om ervoor te zorgen dat jij een goede tweedehands trombone kan onderscheiden van een minder goede.
Het grootste nadeel van een gebruikte trombone is dat hij gebreken kan hebben. Het is geen instrument dat net nieuw uit de doos is gekomen en nog nooit bespeeld is. Bij Adams worden de instrumenten voordat ze de deur uit gaan technisch in orde gemaakt. Je kunt dus altijd meteen op je nieuwe tweedehands instrument spelen.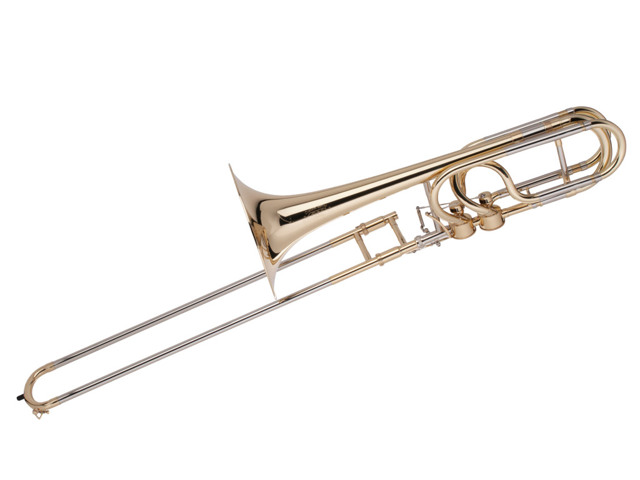 Conditie van een trombone
Maar hoe beoordeel je nu de staat van de trombone die je op het oog hebt? Hieronder hebben we het over de algemene conditie. Daarnaast hebben we het over onderdelen waar je wat extra aandacht voor moet hebben.
Algemene conditie
Het uiterlijk van een trombone geeft je meteen een eerste indruk. Maar het kan je ook afschrikken wanneer dat eigenlijk niet nodig is. Let vooral op kleine rode vlekjes in de bochten en op plekken waar de trombone een groene aanslag heeft. Verkleurd zilver of plekken waar de lak verdwenen is, dit hoeft geen probleem te zijn voor de klank.
Verder raden we ook aan om een gebruikte trombone te kopen van een gerenommeerd merk, zoals Edwards, Bach, King, Conn of Adams. Van deze trombones zijn vaak losse onderdelen te krijgen, zodat ze te repareren zijn wanneer dat een keer nodig is.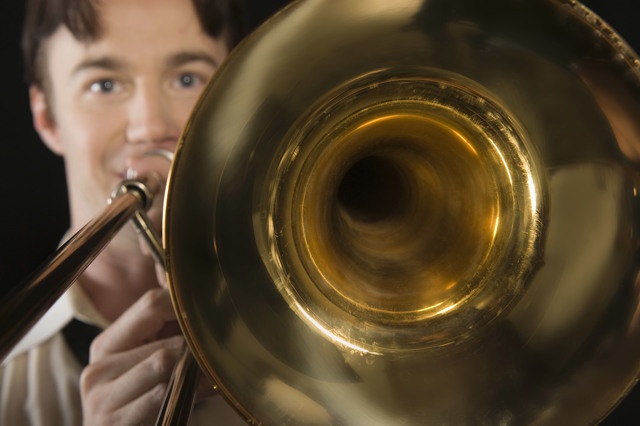 De schuif
Het belangrijkste onderdeel van de trombone is de schuif. Dit is ook het onderdeel wat vaak lastig te repareren is. Het is belangrijk dat de schuif recht is en geen deuken heeft. Verder moet de schuif soepel kunnen bewegen maar mag geen lucht 'lekken'.
Lekken van lucht
Het lekken van lucht is gemakkelijk te testen door de schuif met de rubber dop op de grond te zetten en je duimen op de twee uiteinden te plaatsen. Haal dan het slot van de schuif en til de schuif op, terwijl je je duimen op de twee uiteinden houdt, dan mag de schuif niet uit zichzelf naar beneden schuiven. Doet de schuif dat wel dan zal de schuif lucht lekken.

Is mijn schuif recht?
Om te kijken of de schuif recht is, haal je de twee delen van de schuif uit elkaar. De binnenschuif mag dan niet verspringen zodra je de twee delen uit elkaar haalt. Verder moeten de twee buizen parallel lopen. Je kunt elke buis dus op een compleet vlakke ondergrond leggen en er mag dan geen gat vallen tussen het oppervlak en de buis van de schuif.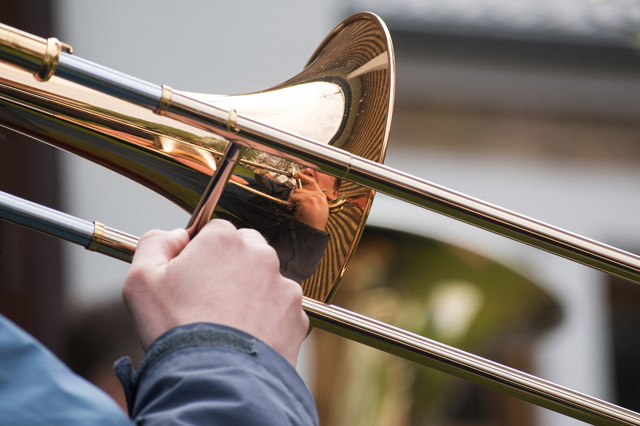 Deuken en krassen
Een gebruikte trombone heeft misschien een deukje of kras. De locatie en vorm van de deuk bepalen de reparatiekosten. Vraag daarom aan de verkopende partij of je het instrument mee mag nemen naar een professionele reparateur, zij kunnen je vertellen wat de reparatie gaat kosten. Via foto's is dit vaak lastig te beoordelen. Verder zijn deuken in de schuif van het instrument vaak lastig te repareren en is danook terug te zien in hogere reparatiekosten.
Bij een kras is het belangrijk om te weten hoe diep de kras is. Een kras die doorloopt tot op het metaal kan later een plek worden waar red rot kan ontstaan.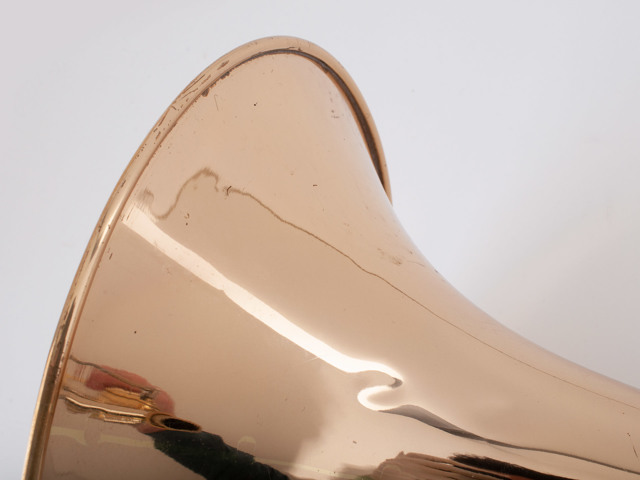 Red rot
Zitten er allemaal rode plekjes op de trombone? Onder andere op de leadpipe, in een van de bochten of waterklep? Dan is het mogelijk dat het red rot is en geen beschadiging van het instrument. In principe betekent red rot dat het instrument is gaan roesten. Dit gebeurt vaker wanneer speeksel lang in het instrument blijft staan. Een klein plekje red rot is niet heel erg. Wanneer het metaal meegeeft op de plek van het red rot als je er druk op uitoefent dient dit onderdeel gerepareerd te worden.
Om red rot te repareren is het vaak nodig om dat stuk buis helemaal te vervangen.
Red rot voorkomen doe je vooral door niet te eten of te drinken vlak voordat je gaat spelen. Blaas alle speeksel uit het instrument wanneer je klaar bent met spelen en olie het instrument regelmatig. Poets het instrument ook regelmatig na gebruik of laat dit periodiek doen door een reparateur.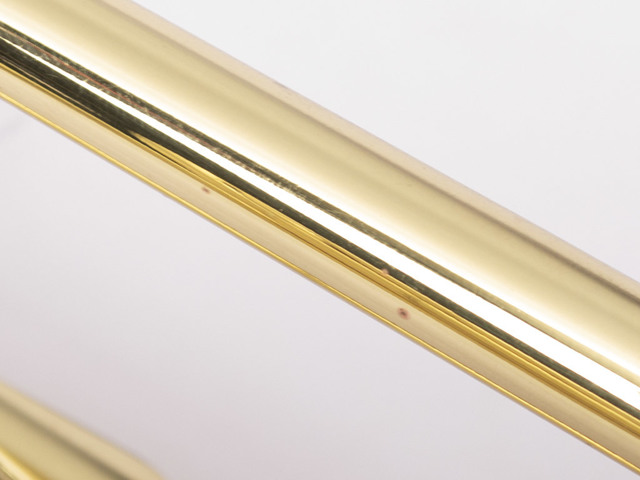 Zilver verkleurd
Zilver verkleurt met de tijd door aanraking met lucht en zweet. Dit is met een zilverpoets zoals UniPol vaak makkelijk weg te poetsen. Laat een verkleurd instrument je dus niet afschrikken met de zoektocht naar jouw perfecte trombone.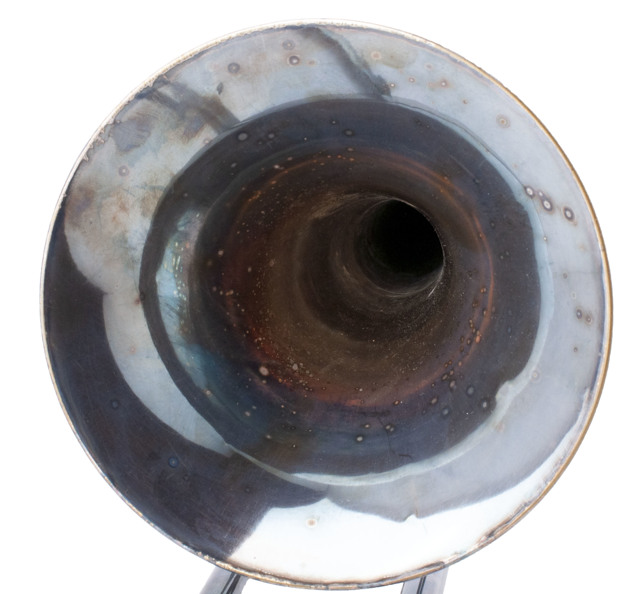 Serienummer
Wanneer je het serienummer en het merk weet van een trombone kun je het instrument op zoeken in onze serienummer-database om te kijken hoe oud het instrument is. Je kunt dan ook controleren of het instrument gestolen is op andere websites. Bij de fabrikant kun je tevens achterhalen welk model trombone dat je voor je hebt.