News of Adams Percussion
Scoops from the Musikmesse Frankfurt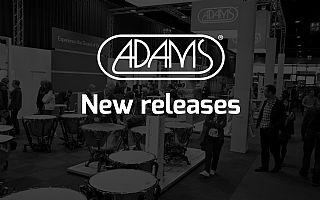 Adams introduced several new instruments during last week's Frankfurt Musikmesse.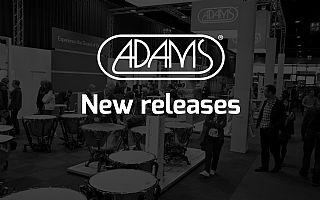 • The German Classic Timpani
• The Bogdan Bacanu signature Marimba
• Alpha Series Vibraphone, 3.5 octave
German Classic Timpani – The New Modern Tradition by Raymond Curfs
Good things take time. For several years, Ramond Curfs worked with us on his ideal set of timpani. The mission was to craft an instrument with a traditional German sound and the latest techniques in a modern, no-nonsense design. The result is stunning and has been well received. We are unbelievably proud of these German Classic Timpani
Bogdan Bacanu Marimba
After earlier successful cooperations between Adams and KesselsGranger DesignWorks, the two companies worked together again in the development of a signature marimba for Bogdan Bacanu. We remember our first meeting with Bogdan, when he mentioned: "Perfection does not exist. It can always be better." With this great challenge ahead, we pushed the boundaries that were explored with the successful Alpha Series design even further. We set out to design an emotional instrument, inspired by objects that are close to Bogdan's heart. The Bogdan Bacanu instrument is definitely a new chapter in marimba design.
Alpha Series Vibraphone – 3.5 octave
Many vibraphonists have requested that Adams make an instrument that extends to a low C, and we have now developed one. With a perfectly balanced Alpha tuned keyboard, this instrument suits repertoire and that requires a lower range.