News of Adams Brass
Musikmesse 2015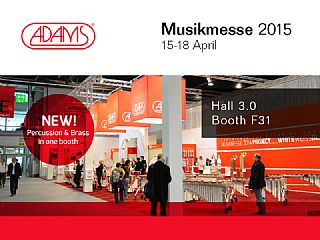 From 15 to 18 April 2015, Frankfurt am Main will once again be the international hotspot for musicians, music lovers and the entire music sector.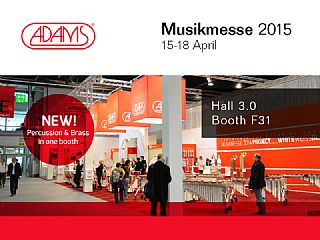 The 2014 edition of the fair welcomed over 75.000 visitors from 142 countries including retailers and wholesalers, representatives of the industry and trade, staff from musical institutes and amateur and professional musicians. It makes the Musikmesse the biggest music exhibition in the world.
This year's exhibition, the woodwind and brass instruments that used to be exhibited in Hall 4.1 will round off the range of products in Hall 3.0. Exhibitors of this product segment will profit from the larger number of visitors to Hall 3.0, the exhibitors of which include manufacturers of percussion instruments and full-range suppliers. A great opportunity for Adams Musical Instruments: We proudly present ourselves as one big family at this year's Musikmesse. Percussion & Brass are together in one big booth for the first time; this is simply a dream come true for us.
We hope to see many of you in our new booth in Frankfurt:

Hall 3.0
Booth F.31