News of Adams Percussion
Kai Strobel wins the Percussive Linz Marimba Competition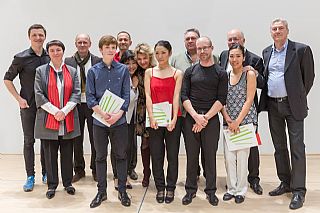 About 50 great marimba players from all over the world gathered in Linz to participate in the Percussive Linz Marimba Competition, held at the new Bruckner conservatory in Linz. After a week of extraordinary great marimba playing, the highly respected team of jury members send three candidates to the final round. All final performances were breathtaking, but in the end the jury acclaimed Kai Strobel as the winner of the competition. The second prize went to Jisu Jung, and the third prize was acclaimed to Airi Kitamura.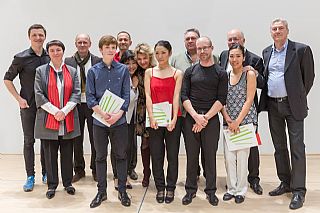 Kai Strobel, who won the 3rd prize in the 2012 competition l, ended up as the 1st prize winner in a spectacular final round of three great talents. All finalists had to play Emmanuelle Séjourné's Concerto for Marimba & Orchestra, commissioned for Bogdan Bacanu in 2005. Kai Strobel received his first percussion lessons under Prof. Marta Klimasara at the age of 6 years. He also studied with her on the conservatory of Stuggart from 2008 to 2011. Meanwhile Kai studies at the Bruckner conservatory in Linz.
Special prizes were given to Kai Strobel (audience award), Airi Kitamura and Elliot Gaston-Ross (Wave prize).
During the Award ceremony, Adams president Frans Swinkels, handed over the first prize to the winner who won a brand new Adams Alpha series marimba.
From this place we would like to congratulate Kai, Jisu, Airi and all other prize winners once again!
1. Prize: Kai Strobel (Germany)
2. Prize: Jisu Jung (Soth Korea)
3. Prize: Airi Kitamura (Japan)