News
Glimmend nieuw koper Ons Genoegen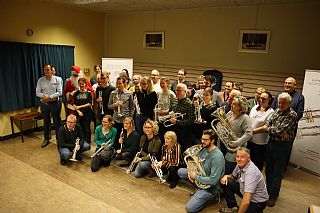 De nieuwe instrumenten zijn er! Voor de leden van de muziekvereniging Ons genoegen was er een grote verrassing: het bestuur heeft maar liefst 15 nieuwe muziekinstrumenten gekocht. En wist dat geheim te houden tot de presentatie.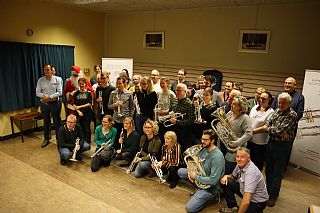 Voor de bescheiden vereniging betekende dit een investering van bijna een halve ton, aldus Ria Ursem. "Dat is echt een enorme uitgaaf. We hebben daarvoor jaren gespaard." De vereniging doet dat onder andere door het ophalen van oud papier, er is een bliksemloterij gehouden. Weliswaar heeft de gemeente Medemblik geld voor de opleiding van jeugdleden, maar niet voor de aanschaf van instrumenten.
Euphoniums
Ons Genoegen heeft het glimmende genoegen om nu te beschikken over het nieuwe koper. Dat beslaat de aanschaf van 9 bugels, 4 trompetten met demper en twee euphoniums of tenortuba's. De muziekvereniging kreeg bij aanschaf ook een bijdrage van 6 mille van het Prins Bernhard Cultuurfonds.
De bestaande instrumenten zijn al 24 jaar oud. Het is vooral de slijtage aan de ventielen van deze blaasinstrumenten die de spelers gaat opbreken. Het is zeker niet zo dat Ons Genoegen de oude bugels of trompetten wegdoet, benadrukt Ursem. "Die schuiven door naar het jeugdorkest, zodat ze daar ook weer een stapje vooruit kunnen maken. Want hun instrumenten zijn nog veel ouder."
De muziekvereniging telt 52 leden in het grote orkest (inclusief slagwerk) en heeft 12 jonge talenten in opleiding. De nieuwjaarsborrel in oefenruimte Het Trefpunt was het moment voor het bestuur om de nieuwe aanwinsten te kunnen presenteren.
De 'Kerstman' kwam met arrenslee naar Wognum om het koper te brengen, net als de leverancier Adams Music Centre uit het Limburgse Ittervoort. Bijna vier jaar geleden heeft de fanfare al het laagkoper vervangen door nieuwe instrumenten, waaronder de grote bastuba's "We kunnen nu weer jaren vooruit", aldus Ria Ursem. De Wognumse vereniging hoopt over twee jaar het eeuwfeest te vieren.
Martin Menger
Foto: Jaap van der Pijll