News of Adams Percussion
Adams wins national business award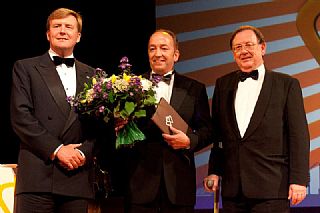 Adams Musical Instruments and Stage Entertainment are the winners of the Dutch King William 1 Award 2010.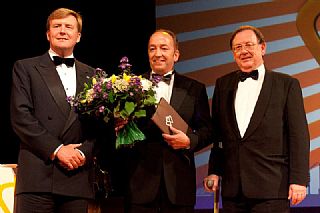 The most important Dutch business Award was received by Adams president Frans Swinkels at the hands of the Dutch Crown Prince Willem-Alexander and was awarded with a big standing ovation of the attendees in the Royal Theatre in The Hague.
Adams Musical Instruments, the winner in the category 'SME', was praised for its unique way of working. A completely in-house research, development and production of musical instruments in very close cooperation with top musicians all over the world. The company exports 98% of their production from their 40.000 square meter factory in The Netherlands.
The jury praised Stage Entertainment, the winner in the category 'Large Business', on the one hand because they achieved fundamental changes in the theatrical scenery and on the other hand because of the courage to invest in the complete package of facilities needed to realise a musicals (buying and building theatres, realising entertainment education).
The exclusive celebration was presented by the Dutch TV celebrity Ivo Niehe. Among the more than 300 attendees were many dignitaries: Mr. Wellink (CEO of the Dutch Bank), the Dutch Minister of Economic Affairs, commissioners of the Queen, and several mayors. Also the top of the Dutch business scene was well represented including many former winners.