This content is not available in your language, it is displayed in Dutch.
News
Blaasinstrumenten en hygiëne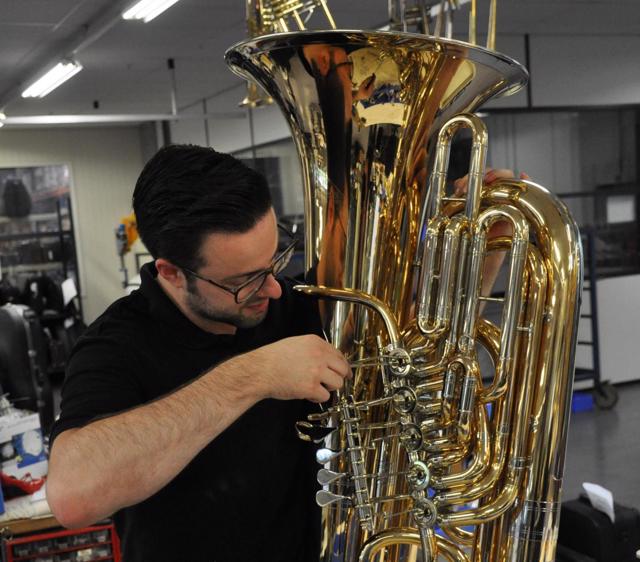 Kristof Thijs, hersteller bij Adams Lummen, wijst op het belang van een goede hygiëne bij blaasinstrumenten. Met alle gebeurtenissen rond het coronavirus is er één ding uit ons leven wel heel erg op de voorgrond gekomen, namelijk hygiëne. Het is iets waar we in onze dagelijkse handelingen over het algemeen heel goed mee omgaan, maar als reparateur merk ik dat dit aspect bij muziekinstrumenten vaak over het hoofd gezien wordt, meestal uit onwetendheid.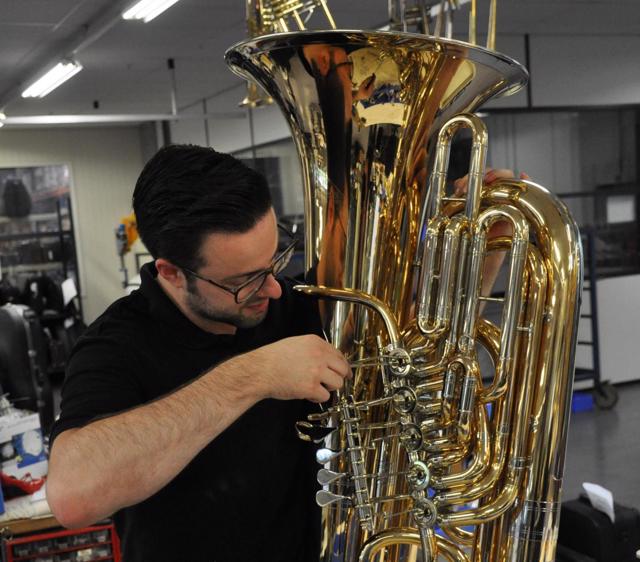 Het probleem
Wanneer we in een instrument blazen, blazen we warme, vochtige lucht. Het vocht in die lucht zet zich af tegen de binnenwanden van het instrument door condensatie. Wanneer we dit niet goed schoonmaken, kunnen zich schimmels ontwikkelen, die we daarna weer verder door het instrument verspreiden door te blazen. Als houtblazer ga je ook vaak het speeksel dat zich tussen riet en mondstuk (of tussen de twee rietjes bij dubbelrietblazers) afgezet heeft terug 'zuigen'. Zo krijg je natuurlijk deze schimmels volop binnen, wat kan leiden tot onder andere longfibrose.
Wat kunnen we ertegen doen?
Alles begint al voordat je je instrument uit de koffer haalt om te spelen. Zorg dat je mond zuiver is. Etensresten en suikerafzettingen kunnen de ontwikkeling van schimmels in de hand werken. Je polsters zullen ook sneller gaan plakken door het suiker in je speeksel. Eet dus tijdens de pauze op de repetitie zeker geen nootjes of koekjes. Ook kies je beter voor een watertje dan een pintje, je dirigent zal je dankbaar zijn! Verder zorg je uiteraard ook voor zuivere handen, om aanslag aan de buitenkant van het instrument te vermijden.
Na het spelen is het belangrijk om je instrument, samen met het mondstuk en riet, goed te reinigen. Hier hebben wij voor ieder instrument en ieder mondstuk de juiste wissers voor op voorraad. Haal altijd je instrument uit elkaar. Laat bijvoorbeeld je mondstuk niet op de hals van je saxofoon zitten, zo kan je namelijk nooit alles mooi droog krijgen. Wat je ook doet, laat zeker het riet niet op je mondstuk zitten. Dit is een broeihaard van bacteriën en schimmels die je bij een volgende speelsessie volop binnen krijgt.
Als je alles goed droog gemaakt hebt, steek dan de vochtige wisser niet bij je instrument! Dit is iets wat veel mensen over het hoofd zien, maar alle vocht die je net uit je instrument hebt gehaald, steek je op die manier er terug bij in een afgesloten ruimte. De meeste koffers hebben een of meerdere zijvakken, dus het is beter om je wissers daarin te steken. Verder is het ook een goed idee om af en toe je koffer thuis een nachtje te laten openstaan, zodat ook die kan drogen.
Het belang van een jaarlijks onderhoud
Bij een onderhoud is een van de dingen die we gaan bekijken hoe het gesteld is met deze 'vuilafzetting' in en op het instrument. Dit zuiver maken is dan ook een van onze kerntaken. Echter, als het te erg gesteld is, dan redden we het niet met een standaardonderhoud en zal het instrument gereviseerd moeten worden, wat uiteraard een grotere kost is. Hou je instrument dus in topconditie door er enerzijds zelf goed zorg voor te dragen en anderzijds je jaarlijkse onderhoud niet over te slaan. Zo zal je heel wat extra jaren kunnen genieten van je geliefde muzikale maatje!
Bron: www.vlamo.be