This content is not available in your language, it is displayed in Dutch.
News
Ton Ronckers na 50 jaar Adams met pensioen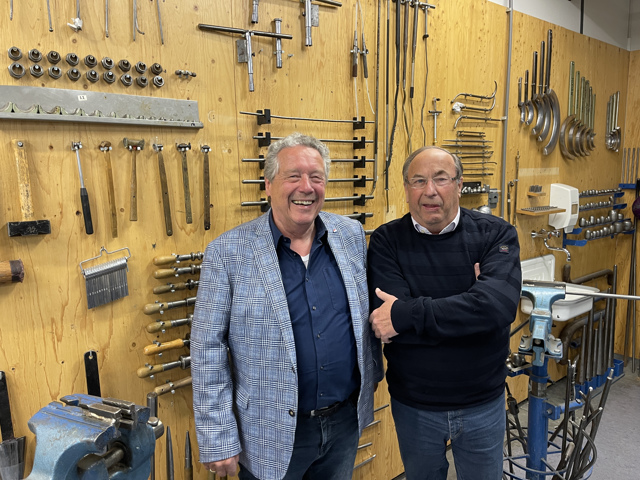 Het was Theo Adams, de broer van André, die Ton destijds aan zijn baan hielp. "Theo gaf les aan de LTS in Heythuysen waar ik mijn opleiding volgde. We stonden samen aan de wieg van het schoolorkest en via hem begreep ik dat zijn broer op zoek was naar mensen voor instrumentenreparatie. Als toelating moest ik een brug van een klarinetklep repareren en dat lukte. Ik werd aangenomen en op maandag 2 augustus 1971 ben ik begonnen".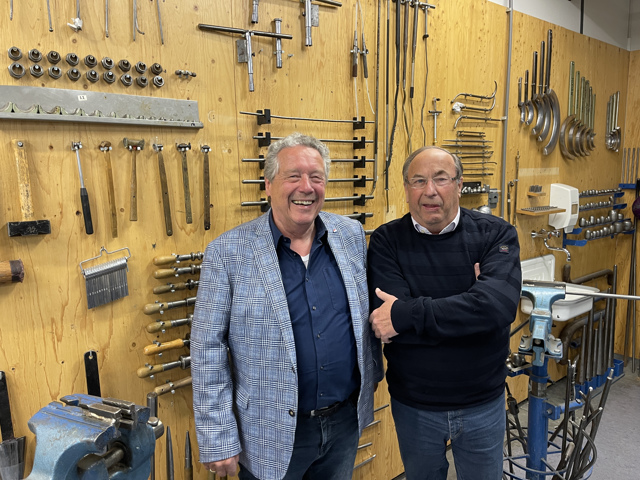 In het schuurtje achter het ouderlijk huis van André hield Ton zich met name bezig met reparaties én werkte hij samen met André aan de ontwikkeling van zijn eerste pauk. Zodoende heeft Ton de enorme ontwikkeling van het bedrijf volledig meegemaakt. "Het klinkt misschien vreemd, maar eigenlijk heb ik dat nooit echt in de gaten gehad. We deden gewoon ons ding , werkten hard en zetten steeds kleine stappen. Pas als je later achterom kijkt, besef je hoe groot het bedrijf is geworden".
Specifieke hoogtepunten in vijftig jaar dienstverband kan Ton ook niet echt aanwijzen. "Het zijn de kleine, alledaagse dingen die het vaak zo mooi maakten. De vriendschappelijke band die ik heb opgebouwd met vele bestuurders van muziekverenigingen en de rol van betekenis die ik voor hun heb kunnen spelen. Daar heb ik altijd ongelooflijk veel energie uit gehaald". Als aan tafel met oprichter André Adams en directeur Frans Swinkels vervolgens herinneringen worden opgehaald, volgt de ene anekdote op de andere. Over ééndaagse ritjes naar leveranciers in Zuid-Duitsland, samen met André in een veel te kleine auto. "Waren we echt een hele dag onderweg om instrumenten op te halen. De grootste lol natuurlijk. De prijs betaalden we echter altijd een dag later, als de reparaties die waren blijven liggen gedaan moesten worden". Of over het vele kattenkwaad dat André uithaalde onder werktijd.
De jaren '80 en '90 worden door Ton gezien als de mooiste jaren uit zijn carrière. "We haalden toen containers vol instrumenten uit Amerika met merken die in Europa niet of nauwelijks verkrijgbaar waren en die veelal opgepoetst en gereviseerd moesten worden. Dat was gouden handel. Bovendien kregen we in die periode echt internationale bekendheid met onze pauk en werkten we aan de Casino in Thorn met een ontzettend hecht team. Een echte vriendenploeg".
Hoeveel mooie verhalen er ook worden opgehaald, uiteindelijk is Ton het meest trots op de waardering die hij altijd heeft gekregen van muzikanten en bestuurders. "De receptie ter gelegenheid van mijn 40-jarig dienstverband heeft wat dat betreft echt indruk op mij gemaakt. Er kwamen klanten en leveranciers uit heel Europa langs om mij te feliciteren. Een dag om nooit te vergeten". In een tijd die wordt geteisterd door de COVID-19 pandemie zit een dergelijk feest er deze keer niet in, maar Ton blijft daar nuchter onder. "Het zit erop en het is mooi geweest. Ik wil iedereen hartelijk danken voor de samenwerking. Blijf muziek maken en loop zo nu en dan eens binnen in de mooiste muziekwinkel die er is."
---