This content is not available in your language, it is displayed in Dutch.
Clarinet Audition Academy
Monday 11 October 2021 | 10:00 - 18:00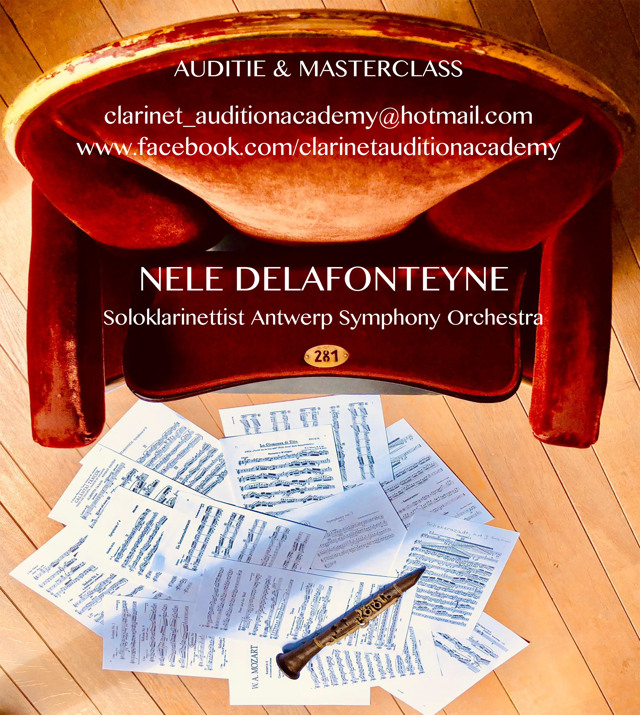 In een professioneel orkest terecht komen is de droom van veel conservatoriumstudenten en afgestudeerde musici. Om deze positie te verkrijgen, moet je het in een auditie vaak opnemen tegen een honderdtal topmusici van over de hele wereld.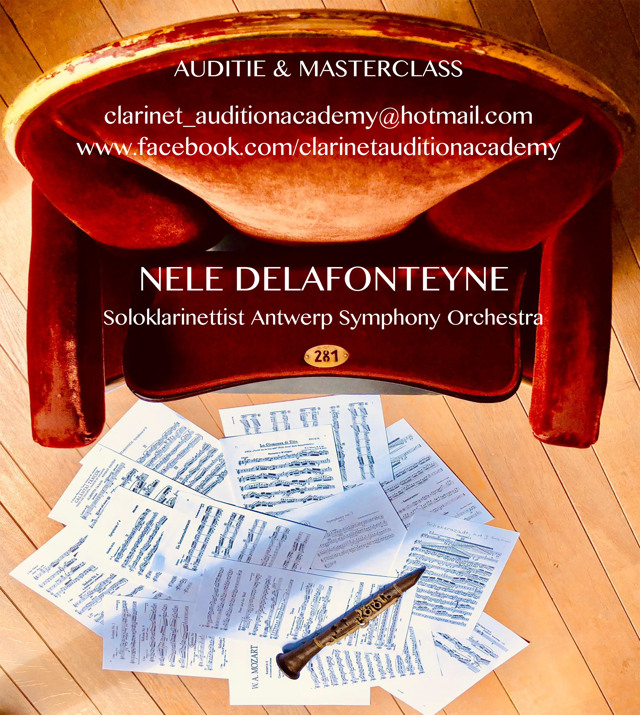 De Clarinet Audition Academy wil daarom een extra mogelijkheid aanbieden om de kunst van het auditeren verder te leren beheersen, ervaring op te bouwen, jezelf beter te leren kennen, stressbestendiger te worden, tips uit te wisselen met collegae en experten, en beter te leren omgaan met moeilijke of onverwachte situaties. Kortom een extra 'tool' in aanloop naar een auditie, en daardoor een grotere kans op succes.
De eerstkomende auditietraining voor klarinettisten zal plaatsvinden op maandag 11 oktober 2021 in Adams Muziekcentrale Lummen van 10u tot 18u. Bij deze editie komt Nele Delafonteyne, soloklarinettiste in Antwerp Symphony Orchestra, haar expertise delen als jury tijdens de auditie en als professor tijdens de masterclass. Deelnemen kan actief spelend, enkel als toehoorder, of een combinatie van beiden. De deelnameprijzen liggen tussen 20 en 50 euro.
OCHTEND: AUDITIE: (achter en voor het scherm)
Ronde 1:
Keuze uit 2 concerti: Mozart Concerto deel 1 of Weber Concerto n°1 deel 1 (met pianobegeleiding)
Orkesttrekken: Beethoven: Symphony n°6, Rimsky-Korsakov: Scheherazade, Puccini: Tosca, Prokofiev: Peter & de Wolf
Ronde 2:
Orkesttrekken: Berlioz: Symphonie Fantastique, Rachmaninov: Symphony n°2, Verdi: La Traviata, Verdi: La Forza Del Destino,
Mendelssohn: Midsummer Night's Dream, Berlioz: Benvenuto Cellini
Ronde 3:
Orkesttrekken: Beethoven: Symphony n°8, Brahms: Symphony n°4, Kodaly: Dances of Galanta, Ravel: Daphnis en Chloe
(Extra) orkesttrek(ken) naar keuze (eventueel op Es of basklarinet)
MIDDAG: AUDITIETIPS, FEEDBACK EN MASTERCLASS
Inschrijven of meer info: [email protected] of +32-479536651 (Michèlle Geerlings). De plaatsen zijn beperkt, dus best niet te lang wachten met inschrijven.
Facebook: www.facebook.com/clarinetauditionacademy