Anne-Cathérine Heinzmann
Anne-Cathérine Heinzmann enjoys an excellent reputation as a multi-faceted soloist, a much sought-after chamber musician and a passionate and successful teacher. We are very happy that she will be a guest at our festival again this year.
The native of Hamburg comes from a long-standing family of musicians and initially studied in the internationally renowned class of Prof. Jean-Claude Gérard (Stuttgart) and was later joined by well-known teachers such as Prof. Jeanne Baxtresser (New York) and Prof. Michael-Martin Kofler ( Mozarteum Salzburg).
She also received important impulses from Aurèle Nicolet and Paul Meisen.
She is a laureate of many national and international competitions (including Kuhlau Competition, Flute-Talk Chicago, International Flute Competition Budapest) and was supported by the Studienstiftung des deutschen Volkes, the Chamber Music Foundation "Villa Musica", the German Foundation Musikleben and the German Music Council.
For many years she gained valuable experience as Deputy Soloflutist at the Frankfurt Opera and Museum Orchestra.In addition to her solo career, chamber music occupies a significant focus. With her ensemble, the Trio Charolca, she has since appeared on numerous concert podiums and is one of the outstanding ensembles of its genre.
The interest in contemporary music and the enthusiasm for new tonal possibilities form the basis of their high-contrast and intelligently designed programs. A lively concert activity at home and abroad led the flutist u. a. in the Laeiszhalle Hamburg, the Semper Opera House in Dresden, the Rudolphinum in Prague, the Schleswig-Holstein Music Festival and the BBC Proms concerts in London, the Alte Oper Frankfurt, the Ludwigsburg Festival, the Heidelberg Spring, the Mozart Festival in Würzburg, the Biennale Munich and MusicaMallorca.
From 2009-2018, Anne-Cathérine Heinzmann was a professor at the Nuremberg University of Music, where she led an extremely successful class.In October 2018, she accepted a professorship for flute at the renowned Folkwang University of the Arts in Essen.(Successor Prof. Gunhild Ott)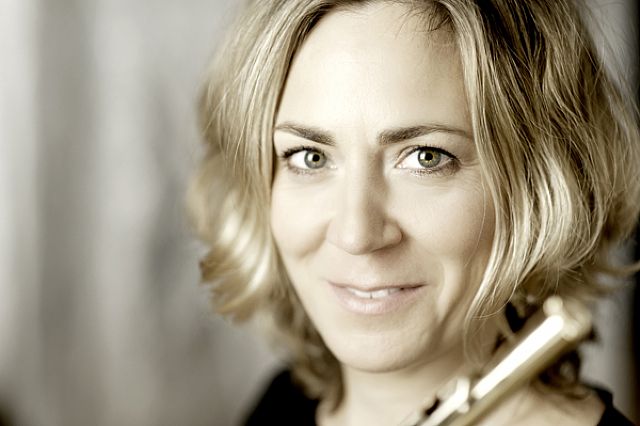 Due to her passion for teaching, she has become a popular teacher at numerous master classes at home and abroad and is a welcome guest on jury committees. Likewise, the flutist is a highly sought after chamber musician.Her chamber music partners include soloists of international orchestras and ensembles. a. with Paul and Gustav Rivinius, Erik Schumann, Caroline Widmann, the Mandelring Quartet, the Jacques-Thibaud Trio, Gerold Huber, Thomas Hoppe and Daniel Behle. A first CD with works by Harald Genzmer, recorded with the trio Charolca, was released in the spring of 2012 by Thorofon, followed by a debut CD with pianist Thomas Hoppe (Audite May 2013), which was immediately nominated for the ICMA (International Classical Music Award) ,An album BACH, arias with obligatory flute (Daniel Behle, tenor) and the partita for solo flute also appeared in March 2013 at Sony Classical and aroused a lot of attention.In November 2015, another CD with works from the Nazi-banned Jewish music literature was published by Audite. This CD was nominated for the Preis der deutschen Schallplattenkritik 2016 and received best reviews.
Anne-Cathérine Heinzmann has two children and lives with her family in Munich.