Sean Brandenburg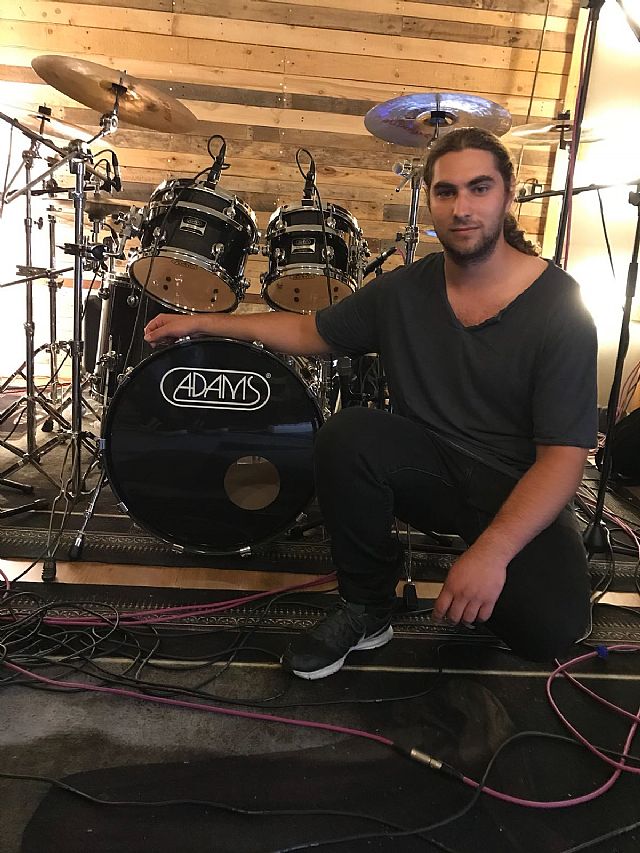 De eerste kennismaking tussen mij en Adams was in 2016 tijdens de opnames van het Powerized debuutalbum "The Mirror's Eye". Vlak voor de sessie zaten we door onvoorziene omstandigheden plots zonder goede studio kit. Bij Adams waren ze echter zeer behulpzaam, en hebben we binnen een mum van tijd een fantastische kit mee kunnen nemen voor de studiosessie.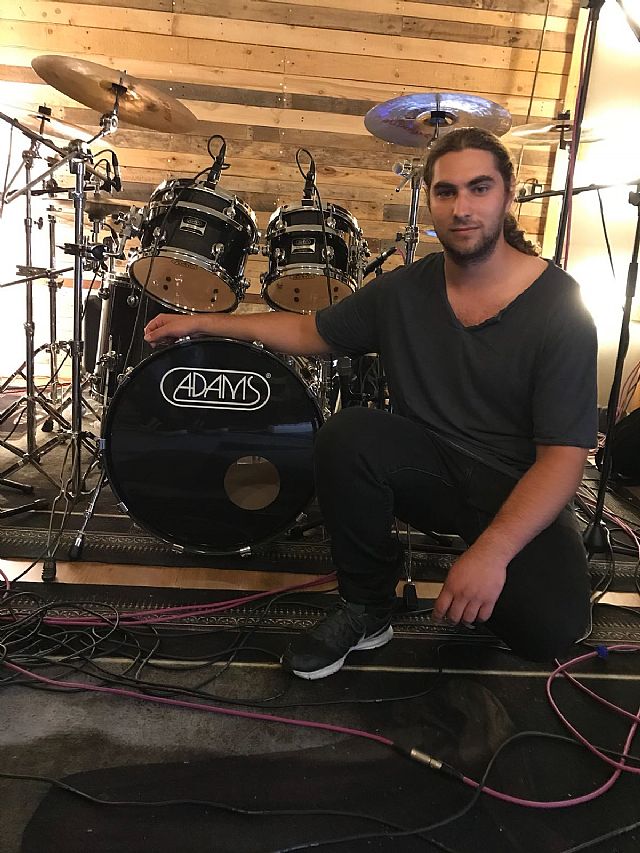 Setup :
Adams 8000 Dpresent Savage 22 Rock (Chrome Hardware, Black Gloss)
- 22" kickdrum
- 14" snaredrum
- 10" racktom
- 12" racktom
- 14" floortom (left)
- 16" floortom (right)

Hardware:een mix tussen Adams, Tama en Pearl.
Pedals: Tama Speedcobra
Cymbals :
Masterwork:
- 8" Troy Splash
- 14" Troy Hi-Hat
- 16" Troy Crash
- 18" Troy Crash
- 18" Custom Crash
- 22" Resonant Ride

Soultone:
- 16" Latin Crash

Litik:
- 20" China cymbal
Stokken :
Pro Mark PW5BW Shira Kashi Oak (wood tip)
Vellen:
Snare: Evans G1 Coated
Kick: Remo Powerstroke 3 / Evans E-mad (Clear + falam slam)
Toms: Evans G1 Clear (studio) / Evans EC2S Clear (live)
Koffers / Hoezen:
Drumset: Een mix tussen Pearl en Adams hoezen.
Cymbals: 22" inch Meinl cymbal bag / 20" Hardcase koffer
Hardware: Tama Powerpad Hardware tas (Large)
Band :
Powerized
Induction
Websites
https://www.powerized.net/
https://www.facebook.com/powerizedofficial
https://www.facebook.com/inductionofficial/
Instagram :
https://www.instagram.com/powerizedofficial/
https://www.instagram.com/inductionofficial/
https://www.instagram.com/seanbdrums/
Favoriete drummer:
Eentje maar? Mijn absolute favoriet is dan wel Dirk Verbeuren (Soilwork, Scarve, Megadeth). Onmenselijk snel en technisch, maar behoud altijd die oh-zo belangrijke groove die veel collega's in het genre vaak 'even vergeten'. Andere favorieten: Gavin Harrison, Mike Portnoy, Anup Sastry, Stef Broks, Ryan van Poederooijen, Branden Morgan, Luke Holland & Eddy Thrower

Favoriete band/artiest
Devin Townsend, Soilwork, Misery Signals, Textures, Linkin Park, Breaking Benjamin, The Word Alive, Porcupine Tree, Pendulum & The Color Morale
Wat eet je het liefst
Je kan mij heel blij maken met spinazietaart!
Waar hou je het meeste van
Alles rondom muziek, mijn bandleden, vrienden, familie en mijn vriendin. En natuurlijk mijn huisdieren!
Wat haat je
Collega-muzikanten die elkaar afbranden. Geef elkaar een kans om verder te ontwikkelen en doe dat zonder te oordelen. Iedereen begint op het laagste niveau, en bereikt zijn/haar top op een eigen manier. Geef mensen waarvan je weet dat ze er nog niet zijn, maar bijvoorbeeld wel veel potentie hebben, ook eens een kans! Vaak kunnen dat de mooiste samenwerkingen worden, en kan je positief verrast worden door elkaar.
Hoe lang speel je op Adams
De eerste kennismaking tussen mij en Adams was in 2016 tijdens de opnames van het Powerized debuutalbum "The Mirror's Eye". Vlak voor de sessie zaten we door onvoorziene omstandigheden plots zonder goede studio kit. Bij Adams waren ze echter zeer behulpzaam, en hebben we binnen een mum van tijd een fantastische kit mee kunnen nemen voor de studiosessie. Tijdens de opnamesessie ben ik steeds meer en meer verliefd geworden op het geluid wat uit deze Adams kit kwam.
Sindsdien heb ik Adams goed in de gaten gehouden. Toen de tijd rijp was, heb ik contact opgenomen met Adams, en sindsdien heb ik niet meer teruggekeken. Een fantastisch merk, toffe mensen en een geweldige sound. Een merk waar ik als endorser graag achter sta. (en zit! (; )