Herveille, Raymond (NL)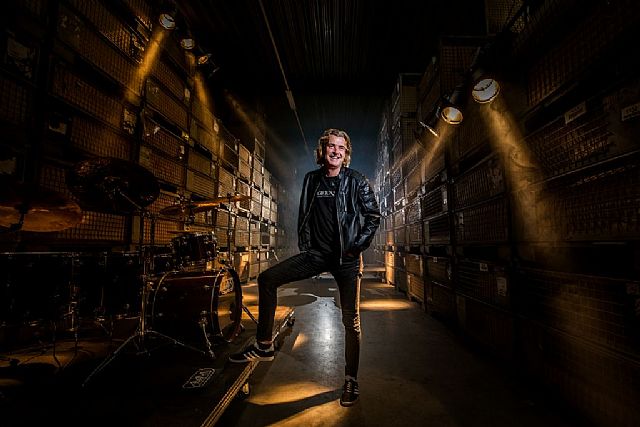 Raymond komt uit een zeer muzikale familie waar vrijwel iedereen een instrument bespeelt. Vader Wiel had al menige podia beklommen als drummer en zijn jodel-, en zangkunsten daarbij ten gehore gebracht. Je kunt dus stellen dat Raymond zijn passie voor het drummen met de paplepel heeft ingebracht gekregen. Reeds op jonge leeftijd begon Raymond dan ook met het uitproberen van de klanken van het drumstel. Speelde met zijn favoriete popgroepen mee en ontwikkelde daarbij een uitermate goed gehoor. Aanvankelijk is hij op zijn gehoor te werk gegaan en heeft daardoor een goede techniek en gevoel voor orchestratie ontwikkeld.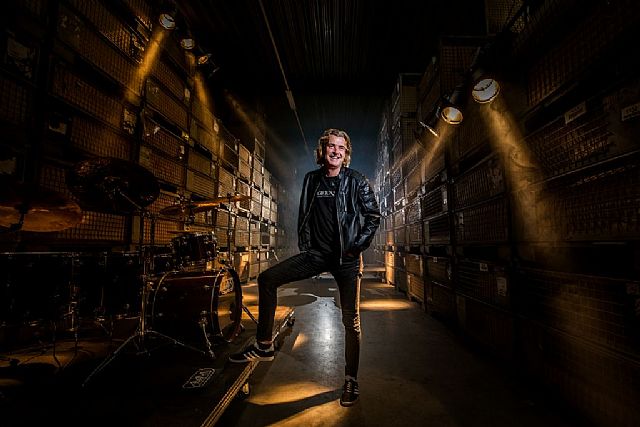 Echter pas op latere leeftijd is Raymond intensief gaan ontwikkelen op velerlei vlakken. Heeft zich in een spoedcursus het solfège eigen gemaakt en lessen gevolgd bij o.a. Fred van Vloten, Rene Cremers,en niet te vergeten JOE PORCARO, wereldbefaamd jazzdrummer (hierover verderop iets meer), drummers van niet bepaald kleine omvang en impact.Raymond draaide als 18-jarige reeds volop mee in het zgn. Top-40 circuit bij de band Con Amor uit België. Daar leerde hij alles over harmoniën en zang. Hij leerde daar veel kneepjes van het vak van doorgewinterde muzikanten. Dit verklaart ook zijn passie voor harmoniën. We kunnen stellen dat hij daar zijn basis heeft gelegd voor hoog niveau zang- en koorwerk waar inmiddels menig band en productie gebruik van maakt. Raymond levert dan ook een knap staaltje zangwerk in o.a. zijn eigen studio waar hij bands begeleid in dit traject waar het bij hen ontbreekt aan de kennis en mogelijkheid van invullen.
Na Con Amor volgden o.a. : the Game, Mannheim, Zinatra, Rene Shuman, Manilla, Anderkovver, Extrema en ga zo maar door. Tevens begeleidde Raymond ook het zang en CD-werk van vele artiesten waaronder: Zinatra, Rene Shuman, Long Tall Ernie & the Shakers, Helmuth Lotti, Lisa Del Bo (B). Kortom een lange CV.
Ook voor de insiders is de relatie van Raymond en zijn vrouw met de familie Porcaro (TOTO) reeds lang geen geheim meer. Gedurende een jarenlange vriendschap en contact heeft Raymond mogen "meepikken" op het Musicians Institute (MI) in Hollywood en Los Angeles Music Academy (LAMA) in Passadena. Scholen met wereldfaam en internationaal gericht. Met name Joe Porcaro is daar een van de ontwikkelaars van drummerstechnieken c.q. drummersequipment. Denk daarbij maar eens aan de wereldbekende "Powertips" en de sponsoring en samenhang met Adams Muziekcentrale te Thorn. Ook Raymond geniet daar een sponsordeal en drumt bijna jaarlijks mee op de drummersmeeting te Diest in België. Van Joe Porcaro, de heer en meester in de jazz, heeft hij al mogen profiteren tijdens privelessen en lessen op 2 van 's werelds meest bekende instituten.
Raymond heeft met recht al sporen verdiend door zijn uitgesproken stijl, beheersing en expertise op het vlak van drums en zang. Een ware muzikant op alle aspecten die het vak omvat. Nog steeds hard timmerend aan de weg. Met name in zijn eigen studio waar hij als producer menig product naar climax mixt. Nog steeds ook bestrijkt hij met Anderkovver, vele podia. Een band die ongetwijfeld de POWER heeft om grenzen eindeloos te verleggen. Een band van 6 absolute POWERfull people met nagenoeg dezelfde ideeën over muziek en het brengen daarvan. Een vlam die door geen storm te blussen is.
Op het moment bespeel ik 3 sets :
Adams 8000-7000 en een 6000 set.
De 8000 wordt veelal gebruikt voor studio Sessie`s in m`n home studio en op lokatie.
De 7000 en de 6000 set zijn m`n live sets.
Maten :
22" kick
14" snare
10" tom
12" tom
14" tom
16" tom
beide sets zijn voorzien van een gongdrum 20"
Alleen de 8000 studioset heeft een 24" kick.
---