Eddie Claessens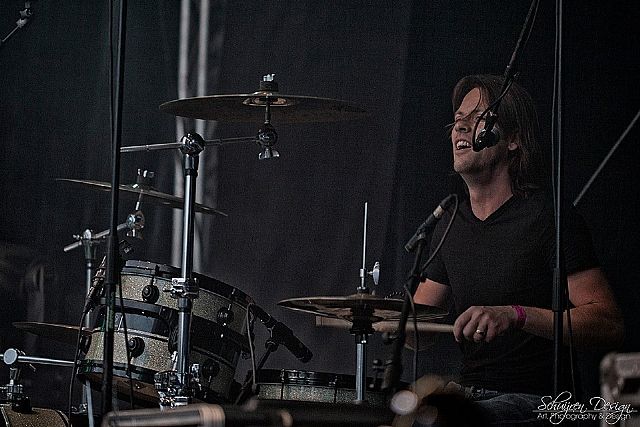 Ik drum sinds m'n 8e jaar; veel autodidact, later met professionele begeleiding door diverse docenten. Na toelating aan het conservatorium Maastricht toch Engels gestudeerd, dat leek een betere keuze, later zou blijken dat drummen toch terugkomt... ;-) Ik heb veel verschillende dingen gedaan, van kinder- en jongerenkoren tot een Slayer Tribute. Naast het spelen van covers ben ik ook eigen werk gaan spelen en schrijven. En dat drummen kwam terug, want sinds 2012 run ik mn eigen drumschool in Roermond, Drums4Fanatics! (www.drums4fanatics.nl) Op dit moment speel ik met Mad King Thorn (Hardrock/Metal), Klabanga (Latin/akoestisch) en Vandale (Nederlandstalige hardrock www.vandale-band.nl) In 2015 komt het nieuwe album van Vandale uit, dat ik ingespeeld en meegeschreven heb. Ik leer nog iedere dag en ben erg dankbaar dat ik mn passie kan delen met drummers/leerlingen en in bands!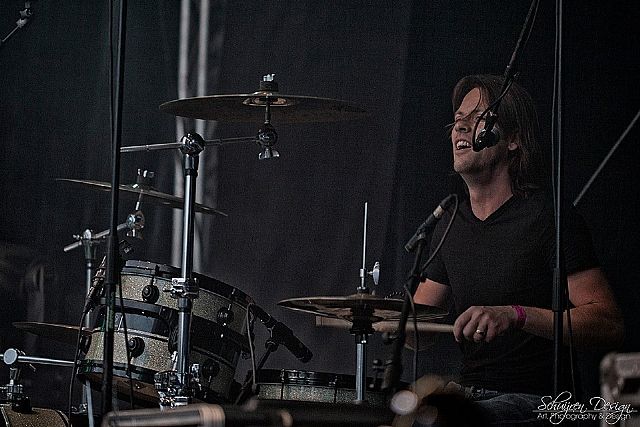 Set Up
1. Adams 8000 Dpresent Extra Savage 22 Rock (Maple/Esdoorn)
Finish:
Silver sparkle to black racing stripe
22x18 bassdrum
13x9 tom
16x16 floortom
18x18 floortom
14x6,5 snaredrum
2. Adams 7000 birch fusion set (2X)
Finish:
Cranberry fade & White
22x18 bassdrum
10x8 tom
12x9 tom
14x14 floortom
Diverse snares; Lignum, Star (60's), Yamaha, Pearl
Cymbals
Sabian Ride/Crashes/Hats
Istanbul Crash
ufip splash
Stokken
Los Cabos red hickory 5B
Vellen
Remo powerstroke 3
Bands
Vandale
www.vandale-band.nl
Mad King Thorn
https://www.facebook.com/madkingthorn
David Readman Band
Favoriete bands
Dit wisselt steeds, ik heb een heel brede smaak en kan moeilijk kiezen.. ;-) Als t goed en met energie gespeeld is, vind ik 't gaaf. Dit kan zowel stevige muziek zijn, als een akoestische ballad. Foo Fighters blijf ik te gek vinden, maar ook 80's rockbands, en …en…
Favoriete drummers
Taylor Hawkins
Steve Gadd
Wat eet je het liefst?
Risotto con funghi e tartufo... en als 't maar uitgesproken is...
Wat haat je?
Ik haat niet ;-) Geloof in respect, overtuiging en passie. Dan is er weinig reden tot haat, probeer 't!
Hoe lang speel je op Adams?
Sinds 2013 in m'n drumschool, live sinds 2014.
Projecten
Percussieworkshops bij scholen, bedrijven en als freelance drummer bij bands/muziekgezelschappen.
Drums4Fanatics is gevestigd in De MuziekLoodZ
Dr. Philipslaan 25E
6042 CT Roermond
Wat zou je onze klanten adviseren?
Kijk naar je budget en je wensenlijst, kies voor een merk waarbij je keuze hebt in houtsoorten, hardware en finishes en waar je de ruimte krijgt om verschillende drumkits uit te proberen. Door het juiste advies kom je wellicht bij een andere set up uit dan je dacht, maar die beter bij je (en je spel) blijkt te passen. Adams is een dergelijk merk en winkel; de drumkits -in alle prijsklassen- klinken te gek, finishes zijn er legio en men is altijd bereid je iets uit te laten testen. En speel! Veel! Oefen! Nog meer! Have Fun!!
---