Bram Peters (NL)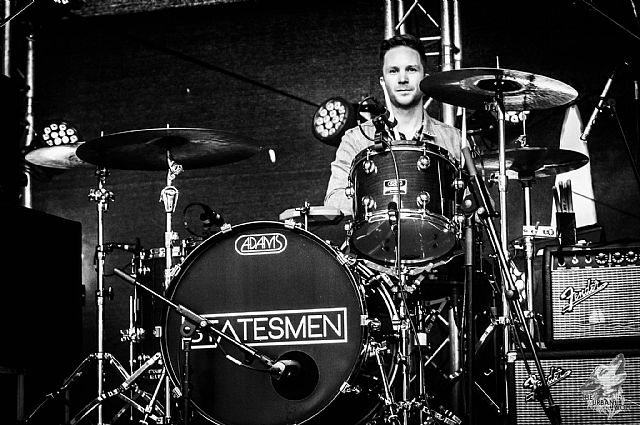 Adams Endorser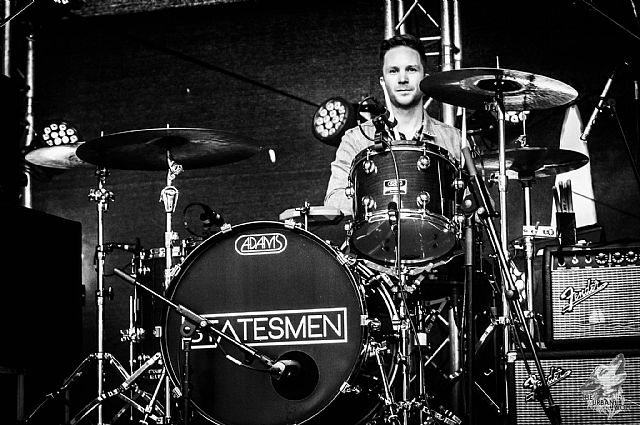 Setup:
Adams 8000. 22" kick, 16" en 14" floor, 12" tom, 14" snare.
Cymbals:
Zildjian K light ride 22"
Zildjian K light hi-hat 15"
K dark crash thin 20"
K custom hybrid crash 18"
Stokken:
Vic Firth extreme 5a en Vic Firth 5b
Vellen:
Remo coated Powerstroke 3 op kick
Remo ambassador coated op snare, clear ambassador reso-vel
Remo pinstripes op toms, clear ambassador op reso-kant
Koffers / Hoezen:
Protection Racket
Band:
STATESMEN
Websites:
www.statesmen.nl
Favoriete drummer:
Keith Carlock, Chris Coleman, Gil Sharone, Aaron Sterling, Abe Cunningham, Zac Farro, Ilan Rubin, George Daniel, Luke Holland, Ronnie Vannucci, Ruben Mesika en nog veel meer!
Favoriete band:
Teveel om op te noemen! Een greep uit mijn onlangs beluisterde artiesten op Spotify (mei '17): Paramore, Chris Stapleton, the 1975, Kings of Leon, City and Colour, The Killers, Bring me the horizon. John Mayer, Mac Demarco.
Wat eet je het liefst:
BBQ, burgers, kip ajam paniki, sushi, tapas, bacon, pizza. Niet te vaak uiteraard ;)
Waar hou je het meeste van:
Mijn familie, vriendin en vrienden.
Wat haat je:
Ik ben niet zo'n haatdragend persoon. Maar de dingen die ieder weldenkend mens haat zoals onrecht, racisme en homofobie haat ik ook!
Hoe lang speel je op Adams:
nu ongeveer 6 maanden, en het bevalt uitstekend!
Historie:
Bram kreeg zijn eerste drumstel op zijn zevende verjaardag en had meteen het drumvirus te pakken. Na enkele jaren menig uurtje in het oefenhok en op de muziekschool te hebben doorgebracht vormde hij met drie vrienden van de middelbare school zijn eerste bandje. Hiermee heeft Bram meegedaan aan Kunstbende. Na een erg leuk en leerzaam traject hebben ze het tot de regiofinale weten te schoppen.
Een aantal jaar later voegde Bram zich bij de band Wake up! Met deze band heeft Bram een aantal leuke optredens gedaan. Zo heeft Wake up! samen met onder anderen Triggerfinger en Kinkobra een kleine tour gedaan langs zalen als 013, LuxorLive, Patronaat en Solar Festival.
In de zomer van 2015 heeft Bram met een aantal studiegenoten de popband "Statesmen" opgericht. De band heeft in korte tijd vele successen geboekt (getekend bij Innercore Music, boekingsdeal bij Agents After All en vele optredens door Nederland en Duitsland) en is op dit moment bezig met het opnemen van een debuutalbum. Voor een uitgebreidere biografie over Statesmen zie "bio Statesmen".
Naast het spelen in Statesmen, speelt Bram nog in de Americana band Martinus en wordt hij regelmatig geboekt voor sessie- en studioklussen.
Bram is recentelijk afgestuurd aan de Rockacademie, met als specialisatie "drums". Op de Rockacademie heeft hij een groot deel van zijn muzikale netwerk opgebouwd en les gehad van vele bekende namen uit de Nederlandse muziekscene.
Hiernaast geeft bram bandcoaching-workshops aan leerlingen van middelbare scholen en drumles aan leerlingen van verschillende leeftijden en niveau's.