This content is not available in your language, it is displayed in Dutch.
Roland Baak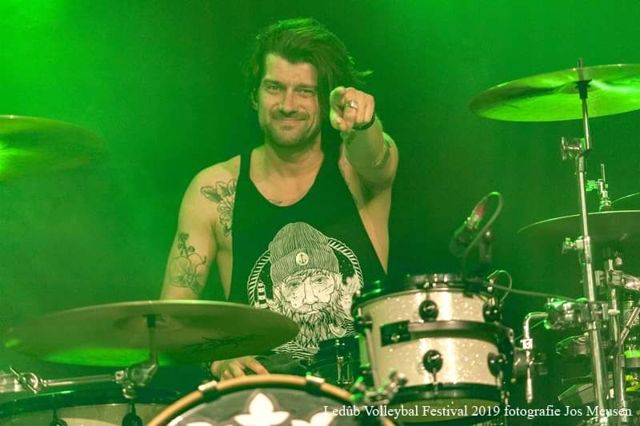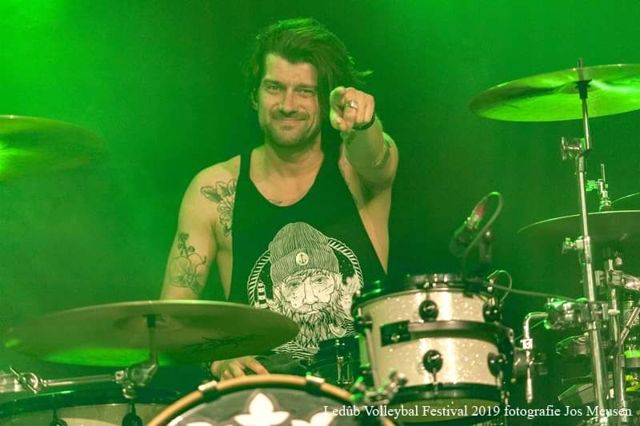 Setup:
Adams 8000 drumkit (white sparkle, zwarte hardware):
22" kick, 10" + 12" toms, 14" + 16" floortoms
Adams 5000 drumkit (black to grey fade):
22" kick, 10" + 12" toms, 14" + 16" floortoms
14" x 5" Adams 8000 snare
14" x 6,5" Yamaha maple custom snare
14" x 8" Ludwig Black Magic snare
Bekkens:
Amedia
17" Fusion crash
18" Fusion crash
18" Classic crash
20" AMD china
10" Thrace splash
Zildjian
14" New Beat hihat
21" A rock ride
18" A custom EFX crash
18" K cluster crash
18" K custom dark crash
Stokken:
Balbex 5B
Vellen:
Evans: Emad2 (kick), EC2 clear (toms), HD dry (snare)
Koffers / Hoezen:
Adams, Hardcase, custom flightcase
Bands:
Royal Beat (coverband voor grote tentfeesten en festivals)
Cherry & the Sugarstuds (coverband voor bruiloften, bedrijfsfeesten etc)
Chapter7 (eigen werk rockband)
Come As You Are (Nirvana coverband)
Websites:
www.rolandbaak.nl
www.royalbeatmusic.com
www.cherryandthesugarstuds.nl
www.chapter7band.com
Favoriete drummer :
Brad Wilk (Rage Against The Machine, Audioslave) - Zijn timing en energie vind ik te gek. Mede door zijn kunst van het weglaten zijn zijn grooves een enorme inspiratie voor mij.
Dave Grohl (Nirvana, Foo Fighters, Eagles of Death Metal) – Veel energie en creatieve partijen.
Roy Mayorga: (Stone Sour, Soulfly) – Hij inspireert mij vooral met zijn dubbele bassdrumgebruik. Daarnaast speelt ook hij met een mega energie en gave uitstraling.
Favoriete band:
Joe Bonamassa, Alice In Chains, The War on Drugs, Pearl Jam, The Avener
Wat eet je het liefst:
Italiaans
Waar hou je het meeste van:
Cliché antwoord, maar het is toch echt zo: met mijn band Royal Beat voor een paar duizend man spelen die helemaal los gaan. (...en dan het liefst diezelfde dag én de dag er na met mijn vriendin iets leuks doen haha. Cheesy but true ;))
Wat haat je:
Ik haat niet zo veel ;) Als ik iets écht moet haten dan zou het bekrompenheid (rascisme, homofobie, etc) zijn.
Hoe lang speel je op Adams:
Sinds 2010. Bij mijn afstudeerpresentatie voor de Rockacademie wilde ik een professionele kit aanschaffen en kwam ik op Adams uit. Ik speel nog altijd op dezelfde kit en ben er nog steeds verliefd op!
Historie:
Drumcarrière
18 September 1984 was de dag dat ik in Geertruidenberg geboren werd. Toen ik vijf was kreeg ik van Sinterklaas een speelgoeddrumstel. Mijn moeder zag dat ik hier zo veel en zo lang plezier in had en het gevolg was dat ik op achtjarige leeftijd naar de muziekschool in Middelburg ging om daar drumlessen te volgen.
Nadat ik na acht jaar alle diploma's van de Zeeuwse Muziekschool had gehaald ging ik de vooropleiding Popmuziek volgen bij het conservatorium in Rotterdam. Daar heb ik twee jaar les gehad van Juan van Emmerloot. Mijn doel was toch om een volwaardige Rockacademie opleiding te volgen dus ging ik daarna (2004) naar de Rockacademie. Hier heb ik de opleiding met succes afgerond, met 'Docentschap' als afstudeerrichting.
Vanaf mijn twaalfde heb ik in veel bands gespeeld variërend qua stijl van jazz tot pop en van metal tot hiphop. Met deze bands heb ik uiteraard de kleinste kroegen gezien, maar ook de grotere podia zoals Paradiso, Patronaat en de Grote Zaal van 013. Ook heb ik met mijn huidige bands in landen als Marokko, Engeland en Oostenrijk gespeeld. Daarnaast heb ik gefigureerd in videoclips (Gino Vannelli, Chapter7) en tv-optredens (o.a. Esmée Denters en Ronan Keating).
Momenteel speel ik in de bands Royal Beat, Chapter7 en Cherry & the Sugarstuds.
Drumles
Toen ik zestien jaar was begon ik met zelfstandig drumles geven in Middelburg. Twee jaar later verhuisde ik naar Oosterhout en ging ik ook daar thuis lesgeven. Omdat ik ervaring op wilde doen bij een professionele grote drumschool ging ik bij Drumschool Mark Eeftens in Breda lesgeven en nam ik ook zelf les. Dit heb ik twee jaar gedaan, maar hiernaast bleef ik ook thuis lesgeven.
Sinds mijn 21e woon ik in Tilburg en daar geef ik nu zelfstandig drumles in een eigen ruimte. Op de Rockacademie heb ik twee jaar drumles gegeven als bijvak voor andere studenten.
Naast drumlessen verzorg ik ook workshops "Trommel op Rommel" en coach ik de sambaband Divertimento.
---