James H. Williams III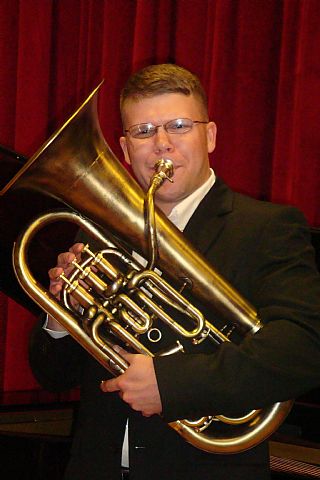 James H. Williams III was born in Brookhaven, MS in 1987. He began his musical studies at the age of 10. Under the instruction of Cecil Trantham, he began playing tuba, trombone, and euphonium. Five years later, his focus had shifted entirely to euphonium and he began studying with Zachary Harris and Gail Freeman. During his senior year of high school, he auditioned and was selected for the Mississippi All State Lions Band and traveled to Hong Kong. It was there that he contributed to this band winning the International Lions Club Convention Parade of Nations for the third year in row competing with bands from 120 countries. Upon graduating high school, he was recruited for the Marine Corps fleet band program and after initial military training, he reported to the Armed Forces School of Music in Norfolk, VA. In July of 2006, he reported to his first band, the 2nd Marine Aircraft Wing Band in Cherry Point, NC, where he became a featured soloist.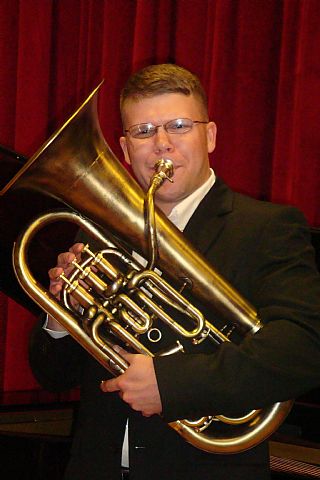 It was while in his first band that he became interested in conducting. He began learning conducting with the Enlisted Conductor, Master Sgt. Mitch Martin, ret. He also studied euphonium with Tom McCaslin of Eastern Carolina University. In March of 2009, he reported to Marine Corps Band New Orleans, in New Orleans, LA, where he was a featured soloist and the Assistant Enlisted Conductor. In 2012, he attended the Naval School of Music for further study. In 2013, he became a member of the Marine Forces Pacific Band in Kaneohe Bay, HI. There he worked as the Assistant Enlisted Conductor, Low Brass Commander, and soloist. He was selected to become the Euphonium Instructor at the Naval School of music in 2015. He has studied euphonium with Dr. Joe Skillen of Louisiana State University, Michael Brown former member of the Louisiana Philharmonic Orchestra, Steven Mead, International Soloist and clinician, and Dr. Joe Hebert of Loyola University and former member of the New York Philharmonic Orchestra. He has studied conducting with Gary Green of the University of Miami, Dr. Catherine Rand of Florida International University, Dr. Roby George of Indiana State University, and Dr. David Ragsdale of the University of Alabama - Huntsville. In addition to performing as an instrumentalist, James has conducted bands for concerts and military ceremonies and currently serves as conductor and instrumentalist for the Symphonic Artistry Community Band. He is working towards completing music degree studies at Wayland Baptist University in Plainview, TX.