Adams Philharmonic Light Timpani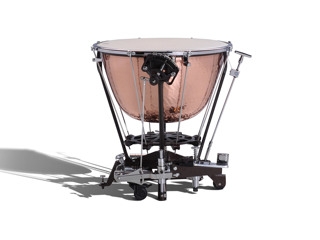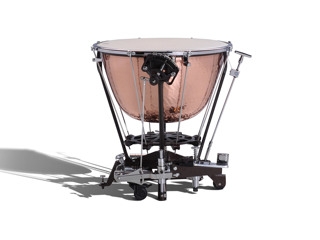 Adams Philharmonic Light Timpani feature the original and industry standard ratchet-free pedal system.
The Philharmonic Light's Ratchet-Free Pedal System has no intermeshing teeth, allowing the player to pinpoint any pitch without restriction. Numerous advancements established the Philharmonic Light as the benchmark for innovation in timpani manufacture—the original, adjustable split rocker arm, the adjustable length transfer bar, foot and tilting stabilizers, adjustable foot pedal resistance, and a tuning gauge positionable to the player's exact viewing angle. Deep drawn bowls are suspended on long bronze struts for a full, open, and ringing sound. The frame construction and features create timpani that will not distort or go sharp as the player increases volume. From whisper soft to the loudest end of the dynamic spectrum, Philharmonic Light Timpani project beautifully and are virtually impossible to overplay.
The Adams Philharmonic Light timpani are available in the following (kettle) sizes: 20" - 21" - 23" - 25" - 26" - 28" - 29" - 30" - 32"
The Adams Philharmonic Light Timpani are available with a Dresden or Berlin Pedal Mechanism, both ratchet-free and clutch operated.
1.1 mm cambered hammered copper kettles
Adjustable Transfer Bar for Calf and Plastic Heads
Aluminum base, bronze supporting struts steel support ring
Available with Super Kalfo Heads or Remo Renaissance Heads (Hazy with Aluminum Insert Rings)
Ratchet-Fre Clutch Pedal System available either in Berlin or Dresden Pedal Systems for silent pinpointing of any note.
Floating Spider assists in distributing head tension and decreasing pressure on the frame.
Pedal Tension Spring for Fine Tuning Pedal Resistance
Unique Split Rocker Arm decreases pressure on the frame.
Fine Tuner has incredibly smooth action without increased resistance in the upper register of each drum.
Foot Operated Stabilizer has one touch positioning for stability and playing angle. A quick release lowers the timpani back to its wheels.
The Philharmonic Light tuning gauge is adjustable to the player's exact viewing angle
As an add-on to the standard Philharmonic Light Timpani. the Marinus Komst Philharmonic Light Model is available with polished bronze struts and calf heads with clamp system.
A Tuning Key is standardly included, coming in a small bag.
All Adams Timpani come with a black felt mute.