Adams Philharmonic Classic Timpani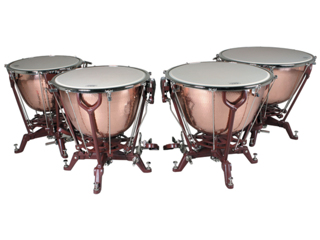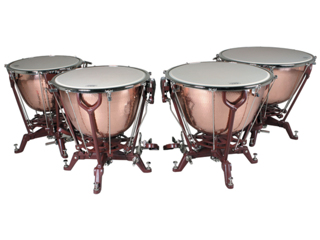 Adams Philharmonic Classic Timpani bring modern innovations and production consistency to the timeless sound and styling of vintage timpani from the mid twentieth century.
The Classics feature a traditional ratchet and pawl foot mechanism, Adams patented split rocker arm, fine tuner, and styling with durable powder coat and bright nickel plating. The deep drawn cambered hammered bowls are suspended on strong steel support ring and struts for excellent fundamental response.
The Adams Philharmonic Classic timpani are available in the following (kettle) sizes: 20" - 23" - 26" - 29" - 32"
Available in both Berlin and Dresden PedaMechanism, the pedal action responds with the traditional increased resistance near the top of the range.
1.1 mm Cambered Hammered Kettle
Solid aluminium base, strong Steel Struts and Suspension Ring provide exceptional fundamental tone and projection.
Available with Super Kalfo Heads or Remo Renaissance Heads (Hazy with Aluminum Insert Rings)
Newly Updated Ratchet and Pawl mechanism with 25% more points of adjustment than previously available.
Adams Patented Split Rocker Arm decreases pressure on the frame.
Floating Spider assists in distributing head tension and decreasing pressure on the frame.
Responsive, accurate tuning gauge.
Vintage styling with classic nickel plated hardware and durable powder coat finish.
Available with or without wheels.
Adams Classic Timpani standardly come with a Tuning Key in a small bag.
All Adams Timpani come with a black felt mute.