Adams Concert Series Marimba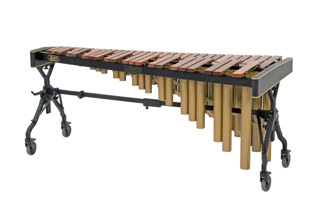 Get used to playing on a wide bar instrument for an affordable price. Available in Honduras Rosewood, Padouk, and synthetic Zelon on a Voyager- or Endurance Field Frame, there is a Concert Series Marimba for the requirements of professionals, universities, schools, and outdoor ensembles.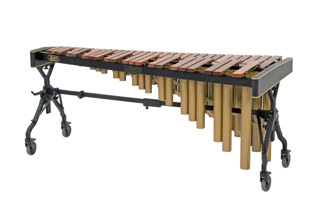 At Adams all instruments are made with the same passion for performance than the most high-end instruments such as the Alpha series. Wether you are a beginning student or a professional player, we believe playing becomes more cheerful on a good instrument. The Adams Concert marimba is the perfect combination of quality and affordability.
Adams Soloist Series Marimbas feature the choice between select Honduras Rosewood bars or extremely economical African Padouk wood bars. Padouk bars offer an excellent alternative to Rosewood by producing a beautifully warm, woody sound at a fraction of the cost. Unlike other student model marimbas, all of the bars within the Soloist Series are graduated in width and slightly narrower than the Artist Series bars, enabling easier mallet spreads for beginning percussionists.
Moving your instrument mostly isn't easy for a percussionist. Therefore the both the rails and resonators of the Solist marimba fold in half, allowing the instruments to easily fit in the trunk of almost any car. Besides that, the Soloist Series resonators are welded for strength and noise-free dependability and styled with a durable powder-coated finish.
Keyboard
Whether you choose Rosewood, Padouk, or Zelon, each bar is painstakingly hand-adjusted through the sixth overtone using a proprietary computer assisted method at the hands of a highly skilled Adams craftsman. This precise tuning and voicing process ensures the instrument's sound is balanced perfectly throughout the entire range.
Honduras Rosewood
Adams Honduras Rosewood is the most resonant material for marimbas, and is specially sourced and handled to get the most out of every bar. Full fundamental, and clean projecting sustain is the hallmark of Adams Rosewood Marimbas for professional and every perforamance situation.

Padouk
Padouk is a natural material with a similar tonal response to rosewood, with a slightly shorter sustain. Players find mallet choices and playing technique like roll speed and dynamic control is nearly indentical to that of rosewood with a lower cost, making it an ideal bar choice for a personal practice instrument or an ensemble.

Zelon
Field tested by today's top drum and bugle corps, our specially designed Zelon synthetic bars offer the highest quality tone and projection available, in conjunction with unmatched durability to the sun and heat of even the most forbidding outdoor performances. Zelon has a bright timbral response that maximizes projection and sustain to fill even the largest of spaces.
Frame
Adams Concert Series Marimba end caps and rails are finished in a durable Black Tolex vinyl covering that has a classic look on stage or from the field. Our Patented Voyager height adjustment system is an elegant design that allows for quick, precise adjustments. No other marimba on the market is as easy to transport as the Adams marimbas.
Voyager Frame
The Adams patented Voyager Frame System offers great durability and effortless adjustability to a wide range of playing heights. This feature is perfect for educational situations requiring use by many different size players. This same ultra smooth height adjustment system can also be found on the Endurance Field Frame.

Endurance Field Frame
The Endurance Field Frame was designed for maximum strength and durability, allowing you to transport your Concert Series Synthetic Marimba over grass, turf, parking lots, or anywhere your marching band might venture to take it. Its extremely large, easy rolling locking wheels, and precision height adjustability, make it easily the most durable, best designed frame system on the market today. A full length accessory rail on the frame provides a great place to clamp cymbals, bells, and even drums, adding a wider range of sounds and greater flexibility to your percussion performance.