This content is not available in your language, it is displayed in Dutch.
Soorten dempers
Een demper voor een instrument verlaagt het volume en verandert de klankkleur. Hoe de klank verandert verschilt per soort. De meeste dempers klemmen in de beker met hulp van kurk of een ander zacht materiaal om de demper op zijn plek te houden. 
Dempers worden af en toe gebruikt in klassieke muziek, het meeste in stukken uit de 20ste en 21ste eeuw. Igor Stravinsky, Gustav Mahler en Paul Hindemith zijn componisten die vaker gebruik maken van dempers. Jazz ensembles en Big Bands gebruiken vaak trompet en trombone dempers. Dit helpt met het samensmelten van het geluid met de andere muzikanten, vooral in kleine jazz ensembles. Koperspelers gebruiken ook vaak een demper in samenspel met een vocalist.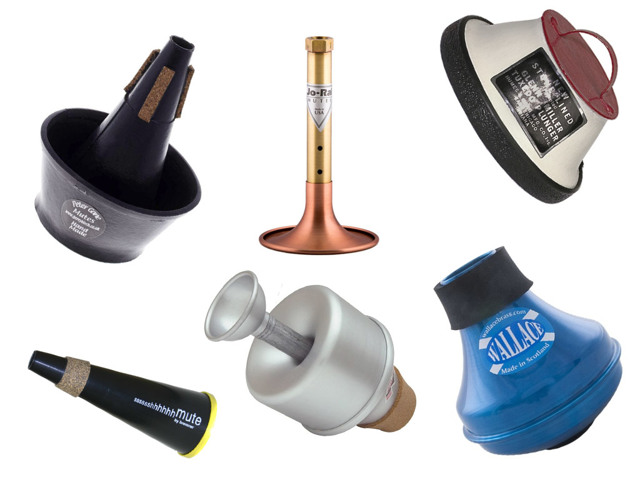 Straight mute
De meest voorkomende demper is de straight mute. Deze dempers hebben een conische vorm met een dop op het uiteinde. De demper wordt op zijn plek gehouden met drie verticale strepen kurk. Straight mutes worden gemaakt van verschillende materialen en de verschillende materialen bieden verschillende klankkleuren. Een aluminium demper klinkt fel en helder terwijl een kartonnen demper 'dompig' klinkt. Deze dempers zijn verkrijgbaar voor alle koperinstrumenten.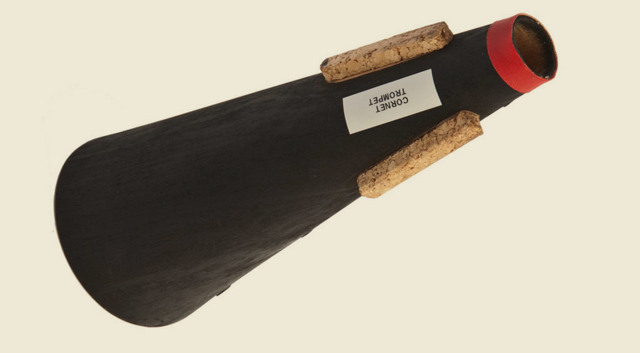 Oefendemper
Een oefendemper wordt normaal gebruikt om een instrument te dempen zodat je kunt oefenen of opwarmen zonder iemand te storen. Een oefendemper wordt bijna nooit gebruikt in optredens. Deze demper lijkt op een straight mute maar in plaats van 3 strepen kurk hebben oefendempers een ring van kurk en zijn ze gevuld met foam om het geluid nog verder te dempen.
Yamaha heeft elektronische oefendempers ontworpen, de silent brass range. Deze dempers hebben een 3mm jack en een microfoon. Dit betekent dat je kunt oefenen zonder iemand te verstoren terwijl u het geluid van het instrument beter hoort.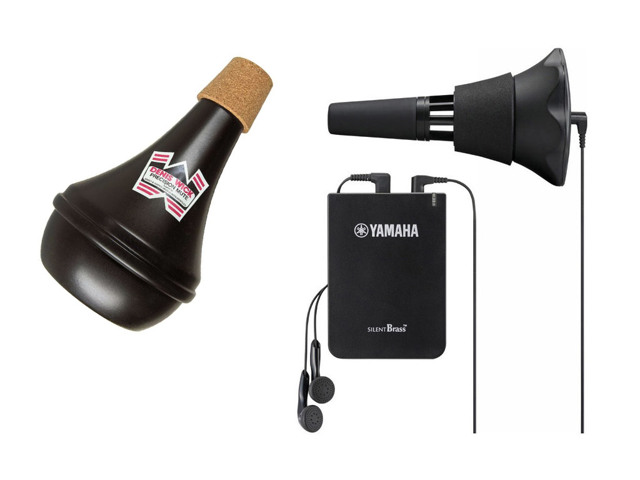 Cup mute
Cup mutes lijken op straight mutes maar hebben een komvorming uiteinde waardoor het geluid gereflecteerd wordt tegen de beker voordat het naar voren geprojecteerd wordt. Dit creëert een gedempt en donker geluid. Deze dempers worden gemaakt uit metaal, plastic en fiber materialen. Sommige cup mutes hebben een verstelbare cup die dichter of verder weg bewogen kan worden om de klankkleur nog verder te beïnvloeden.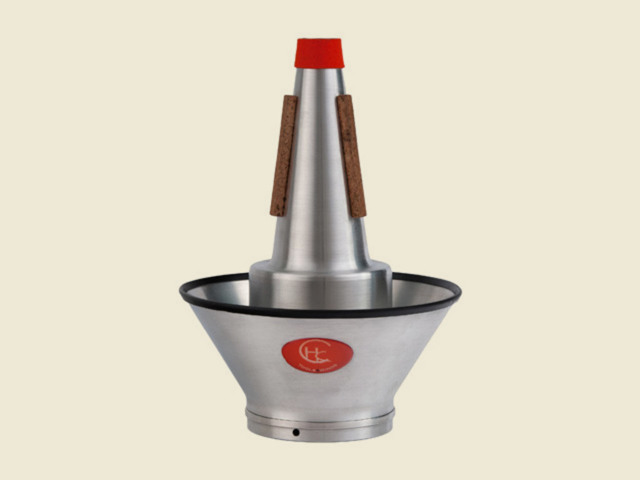 Solotone
De Solotone demper, ook wel een "cleartone" demper of mega-mute genoemd, heeft de vorm van een lange straight mute. Geluidsschermen aan de binnenkant van de demper accentueren hoge frequenties. Voor de solotone wordt vandaag de dag bijna niet meer gecomponeerd maar deze demper was populair tussen 1930 en 1950.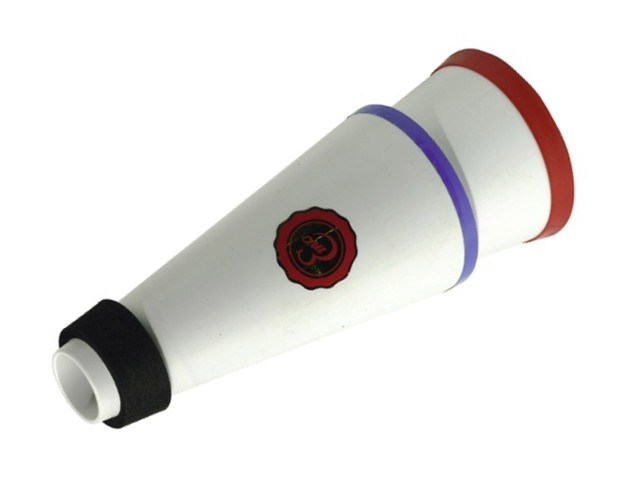 Wah-wah
De wah-wah mute, ook wel bekend als een Harmon mute, is een holle en bolvormige demper in twee delen. Deze demper sluit de beker helemaal af met een ring van kurk zodat al het geluid door de demper moet. Aan de voorkant zit een bol met een staaf erin, ook wel een steel of stem genoemd. Deze steel kan in en uit de demper glijden of er volledig uitgehaald worden. Wah-wah dempers creëren een schel, oppervlakkig geluid dat veranderd kan worden door de steel of de kom te bewegen. Deze dempers worden meestal alleen gebruikt op trompetten en trombones.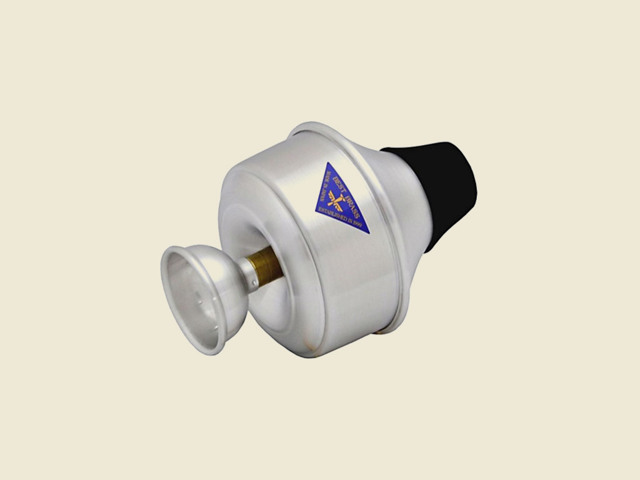 Plunger
Plungers zijn in principe ontstoppers zonder houten steel. Er zijn muzikanten die gaten snijden in het rubber om het geluid aan te passen. Plunger dempers worden vaak voor de beker bewogen. Een "gesloten" plunger klinkt ongeveer hetzelfde als een straight mute.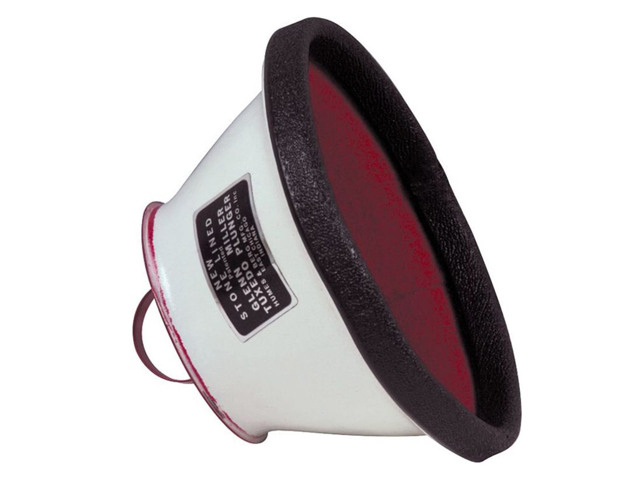 Bucket mute
Bucket mutes worden aan de rand van een beker vastgemaakt en bevatten katoen, foam of een vergelijkbaar materiaal. Deze demper verwijdert de hoge frequenties en creëert een zachte, gedempte toon. Sommige moderne bucket dempers zijn ontworpen als extra grote straight mutes gevuld met katoen, met grote gaten aan de zijkant. Moderne flexibele bucket mutes maken het overgaan tussen demper en geen demper snel.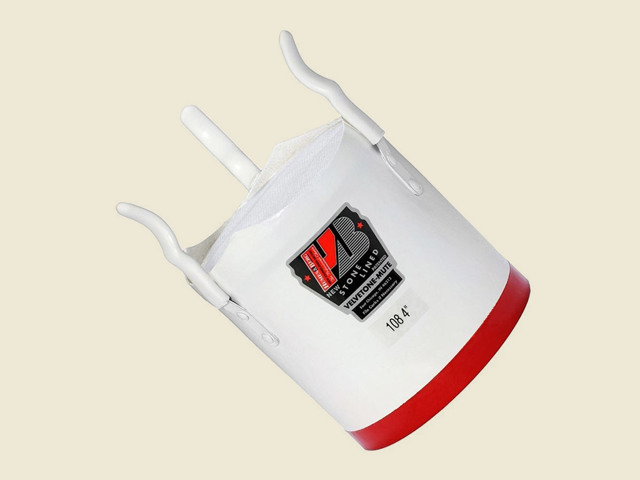 Stopping
Stopping is een techniek die vooral gebruikt wordt door hoornisten. Ze gebruiken hun hand dan om het geluid te dempen in plaats van een demper. Wanneer ze een hand volledig in het instrument steken creëren ze een stiller en nasaal geluid. De techniek werd halverwege de 18e eeuw ontwikkeld en gepopulariseerd door Anton Joseph Hampel. Gebr. Alexander hebben hiervoor ook een speciale stopping demper ontwikkeld. deze zie je hier rechts en is te koop in onze online shop.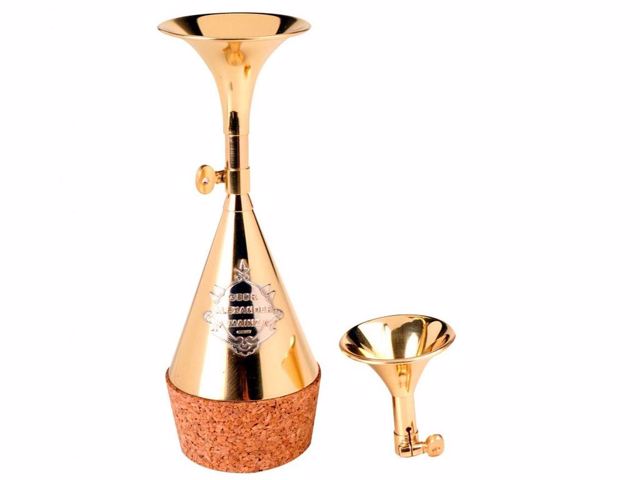 Vanwege de manier waarop houtblaasinstrumenten werken is het niet mogelijk om traditionele dempers te gebruiken. Dempers bij houtblaasinstrumenten zijn er puur om het geluid te veranderen, niet om het echt te dempen.
Saxofoon dempers
Voor tenor en alt saxofoons bestaan de Best Brass mutes. Dit is een kast die om de hele saxofoon past, met twee gaten voor de handen en een voor de hals van de saxofoon. dit is nodig omdat het geluid van een saxofoon niet alleen uit de beker komt, zoals bij een trompet of trombone.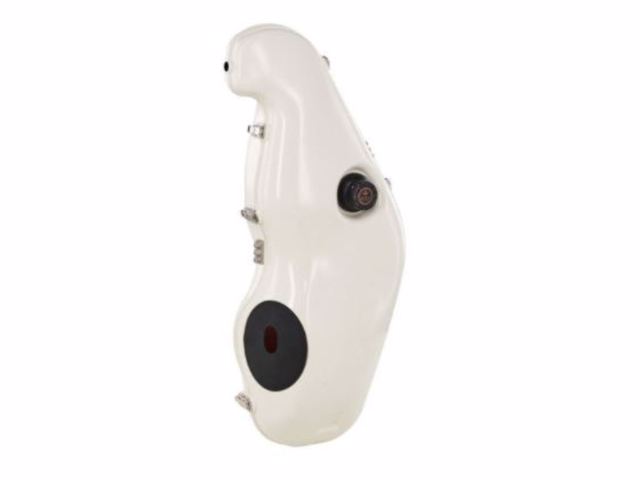 Stoffen doek
Door een stoffen doek vervorm je het geluid van een houtblaasinstrument licht, wat het geluid oppervlakkiger maakt. De lage tonen maak je hiermee oppervlakkiger. We raden aan om hier een microvezel doek voor te gebruiken.
Verkeerskegel
Er zijn ook artiesten die een verkeerskegel gebruiken als demper voor saxofoons. Met name voor de bariton en tenor saxofoon. De geluidsverandering is lastig te omschrijven daarom hebben we er een filmpje bij gezet.