This content is not available in your language, it is displayed in Dutch.
Mondstukken van koperblaasinstrumenten
Hoe werkt het mondstuk van een trompet, trombone of bastuba? Je weet misschien al dat hier de trilling wordt gestart door de lippen die uiteindelijk voor het geluid zorgt, maar wat verschilt er onderling in mondstukken? Hieronder bespreken we verschillende onderdelen van een mondstuk, zoals de cup, de boring en rand van het mondstuk, en de invloed van deze onderdelen op de klank.

De cup
De cup is het kommetje aan de ingang van het mondstuk. De vorm van de cup bepaald de klankkleur van het mondstuk. Een ondiepe cup geeft een hard, fel geluid en is gemakkelijk om hoog te spelen. Een diepe cup geeft veel volume en een mooi gelijk geluid, maar maakt hoge noten lastiger. De meeste spelers beginnen op een medium cup die een balans is tussen beide werelden.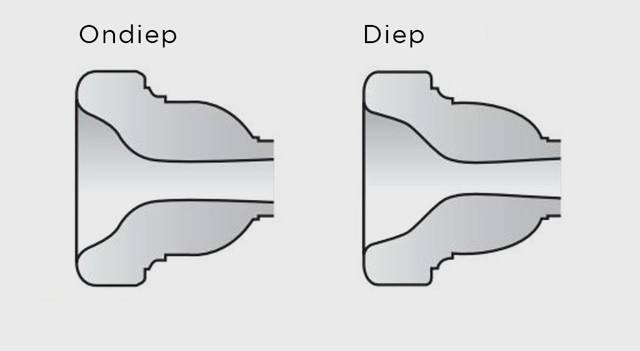 Cup-vorm
Verder is er ook nog verschil tussen een cup met een V vorm versus een cup met een U vorm. Een U maakt in het algemeen een helderder geluid en het is makkelijker om hoge noten te raken. Een V maakt in het algemeen het spelen van lage noten juist makkelijker en maakt het geluid donkerder. Sommige hoorn mondstukken gebruiken een "dubbel cup" ontwerp. Dit is een combinatie van twee vormen om het spelen te makkelijker te maken in het complete bereik van de hoorn.
De cup diameter bepaald geluidskwaliteit maar ook het gemak van spelen. Een grote diameter is moeilijker te bespelen en klinkt het breedst, dit omdat een groter oppervlak van de lippen in de cup past en dus meer spieren rondom de mond moeten werken om te kunnen spelen, maar dit zorgt wel voor dat de spieren eerder moe worden. Een kleine diameter is gemakkelijker om te bespelen maar geeft minder mobiliteit. De cup diameter die het beste bij iemand past hangt ook af van fysieke eigenschappen van een speler; de plaatsing van de kaak, tanden, ademtechniek en spiersamenstelling in de lippen spelen hier een rol in.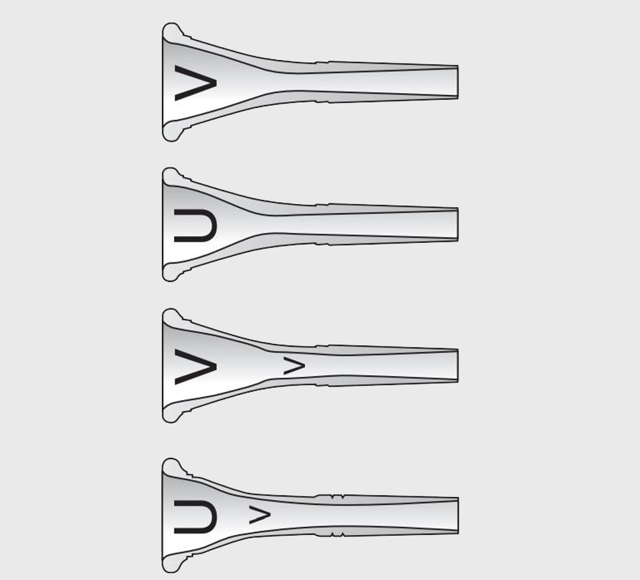 Cup-rand
De dikte van de rand van de cup heeft invloed op de mobiliteit van de lippen en het gemak van tong technieken gebruiken maar ook op het comfort van spelen. Hoe dunner de rand hoe meer flexibiliteit en controle. Een dikkere rand geeft meer comfort maar het maakt het lastiger om flexibel te spelen. De meeste spelers beginnen op een rand van gemiddelde dikte.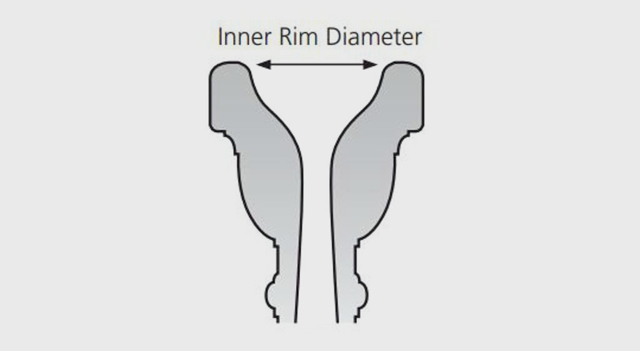 Boring
De boring van het mondstuk beïnvloed de ontwikkeling van het geluidsvolume in het instrument. Een smallere boring helpt met het halen van hoge noten op een instrument door meer weerstand. Verder klinkt het feller. Een grote boring helpt juist met het bereiken van lage tonen en klinkt donkerder.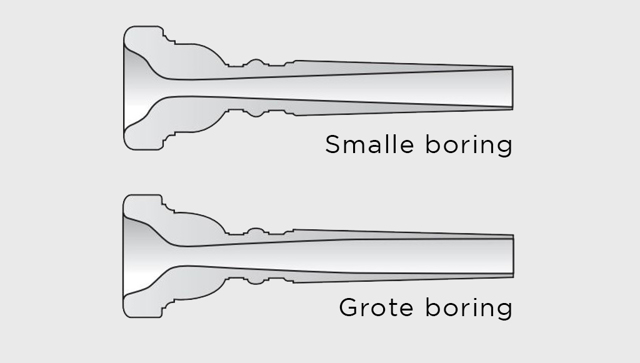 Tot slot
Tot slot is het belangrijk om te onthouden dat een mondstuk kiezen persoonlijk blijft. Wat werkt voor de ene persoon zal niet werken voor een ander. Je bent altijd welkom in onze winkels om mondstukken te komen testen. Wil je een bepaald mondstuk uitproberen? Neem dan eerst contact met ons op, dan kunnen wij je vertellen of dit mondstuk aanwezig is op één van onze locaties.