News von Adams Percussion
Marco Pacassoni Group "FRANK and RUTH"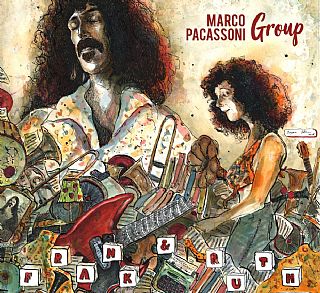 A vibes and marimba tribute to the music of Frank Zappa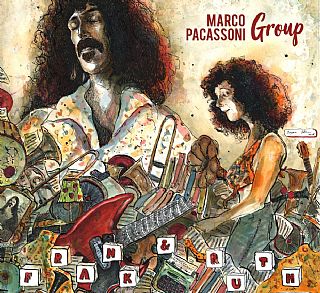 I cannot exactly remember when the idea of this album is born in my mind. What I am sure is that this project has always been the same: To realize a vibraphone and marimba tribute to the music of my favorite musician and composer: Frank Zappa
I met Marco Pacassoni about 6 years ago. I called him because we were looking for a vibraphonist for a tour with the artist Bungaro. We immediately developed a strong friendship and when I told him about my idea and my fascination for Ruth Underwood, sustaining that for me the best Zappa albums were the ones on which she played, he admitted that he knew only a part of that music but that he would have loved to learn more. So I began to feed him with tunes to listen to, sharing with him ideas about an imaginary track list. When Marco really decided to go for it (about 2 years ago), his first statement consisted in saying that it was impossible NOT to include Peaches en regalia and The black page in the album. This made me very happy because there are two of my favorites and because there was no better way to acknowledge the technical challenge behind this adventure. Marco studied Ionisation of Edgard Varèse when he was in Conservatorio Rossini of Pesaro, so even before he graduated in percussion in Berklee. It was strange for me that he could know more about Varèse than about Zappa! I liked his idea to play The black page alone at the marimba, just adding for the beat, the footsteps of an imaginary listener turning him around. Who could it be?
My very first wish was to include Pink napkins with Zappa's guitar solo played at the vibraphone. Marco worked on Steve Vai's score for guitar to do this incredible adaptation. It was planned to link with Black napkins as they are actually the same tune but then Alberto Lombardi came on board, his unique guitar fingerstyle offered us the opportunity to add Sleep dirt that has often been also called "Sleep napkins". I thought it was nice to call the arrangement: Sleep, Pink and Black (the napkins suite).
Since the very first time that we talked about the musicians it was very clear for Marco to propose to Lorenzo De Angeli on bass and Enzo Bocciero on keyboards to join. They are both talented musicians and members of his quartet. I agree that they would have perfectly fits. Then, we both wanted a guitarist and this is a very courageous decision for a tribute to Zappa. I worked with Alberto Lombardi on another album and I was convinced that he was both technically and artistically perfect for such a project.
I discovered Gregory Hutchinson playing drums with Joshua Redman in 2000 and since then he is one of my top of mind drummer. He is so incredibly inspired and rich of nuance and musicality. When I called him, I was just about to excuse myself: "…but I have to tell you that this will be a tribute to Frank Zappa music". His answer was something like "hey man, what's the problem?". I felt blessed that he accepted to join the group.
The first arrangements that Marco made was Blessed relief and soon after Edchina's arf. Both are revisited and that was the exact purpose of our project. No "copy-paste". No doubt that if Zappa was still alive he would have permanently rearranged his music as he always did.
Marco also wanted to pay tribute to Ruth. That's why he wrote For Ruth. I love it. I hope she could one day listen to it.
The Zappa songbook represents more than half of the music that he has published. It would have been illogical not to include at least a couple of songs. Alberto has made 2 albums as a singer. He liked very much The idiot bastard son. We felt very enthusiastic with Marco because we had this tune in our short list.
I had also in mind to convince Petra Magoni to feature on the album. She is one of my favorite Italian voices and in my opinion Petra sings in a perfect mode for Zappa music. She is not Rock, Pop or Jazz or classic but she is so versatile that she can be randomly all of that. That's why she is an inimitable talent. We met and talk about the meaning of the lyrics of Planet of the Baritone women. Well… meanwhile in Wall street… I proposed this absolutely free improvisation with Marco's marimba in the middle of the tune. I am so happy about the result. It all happened here.
We had 3 days to record the album. At the end of the second, we were ahead on the planning so we decided to record one more tune at the end of the third day: Stolen moments. We all adored the cover that Zappa did in "Broadway the hardway". The last day did not run as smooth as we thought but even if we had very few time left, we tried to record the tune anyway. After few bars of rehearsals we did only 2 full takes. The version that you'll hear is Take 1 with no edit.
There is no word to thank Marco, Alberto, Enzo, Lorenzo, Greg and Petra. What they have given to the album is magic.
The preparation of this project has been for me a fantastic occasion to deep dive again in the music that has changed my way of listening music. I feel a bit sad that all is done now but happy at the same time that people will listen to it. I hope that many Zappa fans (but not only) will have the same fun that we had.
Hope to see you during Marco Pacassoni group's concerts . Playing live this music will be, I am sure, a fantastic experience.
Music is the best.
Baltimore, 19 April 2018
Album concept by Pierre Ruiz and Marco Pacassoni Executive Producer: Pierre Ruiz for Esordisco Produced and mixed by Alberto Lombardi All songs arranged by Marco Pacassoni
except: "Sleep, Pink and Black (the napkins suite)" by Alberto Lombardi
Vocal arrangement of "Planet of baritone women" by Petra Magoni
MARCO PACASSONI GROUP Marco Pacassoni: vibraphone and marimba Alberto Lombardi: electric, acoustic and classical guitars Enzo Bocciero: piano and keyboards Lorenzo De Angeli: bass Gregory Hutchinson: drums Special Guest: Petra Magoni on "Planet of the Baritone Women"
Booking & Management: Rosario Moreno – Jazz Agent Phone: +39 0185364500 – Mobile: +39 3355257840
[email protected] www.blueartmanagement.com
Marco Pacassoni plays ADAMS vibraphone and marimba Alberto Lombardi plays Taylor guitars Enzo Bocciero plays KORG keyboards
---