News von Adams Percussion
Adams PASIC 2014 artist roster highlights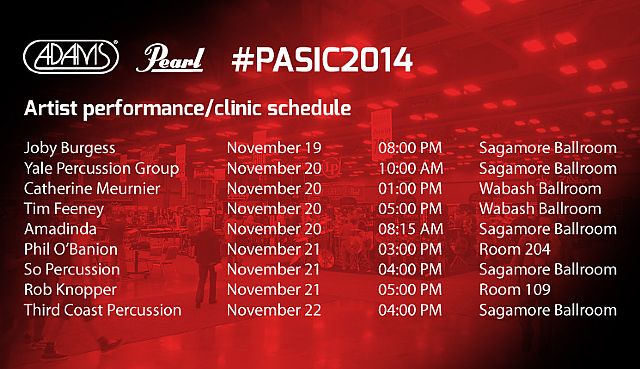 The Percussive Arts Society International Convention (PASIC) is the largest percussion event in the world, featuring over 120 concerts, clinics, master classes, labs, workshops, panels and presentations. Adams Musical Instruments and Pearl Corporation have a number of artists giving feature presentations or performances at this year's convention. Among this PASIC's highlights: a featured concert by Amadinda in celebration of their 30 year anniversary.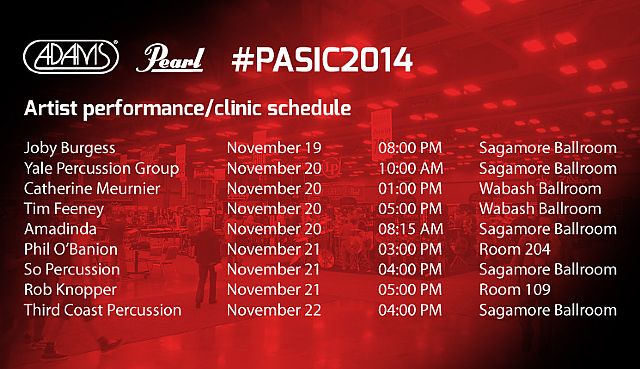 Joby Burgess
Nov 19th at 8:00 PM until 9:30 PM
Innovations in Notation: "Pioneers of Percussion: Piece for Tape by Conlon Nancarrow
King of Denmark by Morton Feldman
Psappha by Iannis Xenakis"

One of Britain's most diverse percussionists, Burgess is best known for his virtuosic, often lissom performances, daring collaborations, extensive education work, and regularly appears throughout Europe, the USA, and beyond. Burgess spends much of his time commissioning and recording new music with Ensemble Bash, New Noise and most notably the audio visual collective Powerplant. Recent highlights have included extensive tours with Peter Gabriel's New Blood Orchestra and the premiere of Gabriel Prokofiev's Concerto for Bass Drum and Orchestra. He regularly performs, records, and collaborates with artists including Stewart Copeland, Murray Gold, Joanna MacGregor, Peter Maxwell Davies, Nitin Sawhney, and Eric Whitacre along with many of the world's leading chamber ensembles. Each year Burgess gives masterclasses and leads numerous creative workshops focusing on rhythm, composition, and improvisation.


Yale Percussion Group
Nov 20th at 10:00 AM until 10:50 AM
International Percussion Ensemble Competition Winner Showcase Concert

Founded in 1997 by Robert van Sice, the Yale Percussion Group has been called "something truly extraordinary" by composer Steve Reich. It is composed of talented and dedicated young artists who have come from around the world for graduate study at the Yale School of Music. In recent seasons, the YPG has performed in Zankel Hall at Carnegie Hall, Galapagos Art Space, and the Kennedy Center. The ensemble won the Percussive Arts Society competition in 2009. A concert in 2012 called "75/100″ celebrated the birthdays of Steve Reich and John Cage. The Zankel Hall concert was part of the Yale in New York concert series;
Members of the YPG have gone on to form groups such as the acclaimed quartet So Percussion and the new ensemble Sandbox. YPG alumni have also performed with ensembles such as Lincoln Center's Chamber Music Two, the Carnegie Hall Academy Ensemble, the Oslo Philharmonic, and the Orpheus Chamber Orchestra.


Catherine Meunier
Nov 20th at 1:00 PM until 1:50 PM
Percussive Topology (Concert C): "diastemas by Alcides Lanza"

Catherine Meunier was the first percussionist to win the prestigious Prix d'Europe. Her debut CD Night Chill has received critical acclaim; and she has been a guest soloist with the Montreal Symphony Orchestra, the Orquesta Sinfónica Nacional of Mexico, the Orchestre symphonique de Sherbrooke, and the Orchestre symphonique Longueuil. Meunier completed her doctoral degree in music performance at the Université de Montréal. She also holds degrees from the Peabody Conservatory, McGill University, and University of Sherbrooke. Meunier currently teaches percussion at the Crane School of Music SUNY (Potsdam).


Tim Feeney
Nov 20th at 5:00 PM until 5:50 PM
World Premieres (Concert E): "The Deformation of Figures by Seth Cluett"

Tim Feeney has performed as an improviser with musicians including cellist/electronic musician Vic Rawlings; the percussion trio Meridian, with Nick Hennies and Greg Stuart; pianist Annie Lewandowski; tape-deck manipulator Howard Stelzer; saxophonist Jack Wright; and the trio ONDA. Additionally, Feeney has performed as founding member with So Percussion as well as with the duo Non Zero with saxophonist Brian Sacawa and the ensemble LotUs. He has toured throughout the United States, including notable performances at Boston's Institute of Contemporary Art, the Center for New Music and Audio Technology at UC-Berkeley, the Stanford Art Museum, Mills College, and Princeton University. He has recorded for labels including Accidie, Full Spectrum, Sedimental, Homophoni, and Brassland/Talitres. Feeney is currently Assistant Professor of Percussion at the University of Alabama.


Amadinda Percussion Group
Nov 20th at 8:30 PM until 10:00 PM
Evening Concert: "Amadinda 30"

The Amadinda Percussion Group has created a unique repertoire enchanting audiences for 30 years, on 4 continents, and in 33 countries. Amadinda was established in 1984 in Budapest, Hungary by four musicians who had just graduated from the Liszt Academy of Music. In addition to performing significant pieces from the classical percussion repertoire, the group has commissioned new works. World-renowned composers who have written works for Amadinda include John Cage, György Ligeti, and Steve Reich. Having added their own compositions, traditional music and transcriptions, Amadinda has collaborated actively with such artists as Andras Schiff, Peter Eötvös, Paul Hillier, Eva Marton, György Kurtág, Zoltán Kocsis, James Wood, NEXUS, Bob Becker, Gordon Stout, and Robert van Sice. Current members of the Amadinda Percussion Group are Zoltán Rácz, Zoltán Váczi, Aurél Holló, and Károly Bojtos.


Richard Weiner
Nov 21st at 10:00 AM until 10:50 AM
Clinic/Performance: "The Snare Drum in the Concert Hall and at Auditions"

Richard Weiner, appointed by George Szell in 1963, was a member of the Cleveland Orchestra (TCO) for 48 years serving as its Principal Percussionist for 43 years. Upon his retirement in 2011, he received the TCO Distinguished Service Award. He can be heard on over 175 CD recordings. Weiner received a Master of Music degree from Indiana University and was the first percussionist to receive the Performer's Certificate Award. His former teachers were Charles Owen and George Gaber. Weiner has presented symphonic percussion clinics and labs at PASIC, has served as the Symphonic Percussion Area Editor and Contributing Editor for Percussive Notes, and has been a member of PAS Symphonic Committee. Weiner is the author of Etudes for Snare Drum and Perpetual Motion for 4 Diverse Snare Drums.


Phillip O'Banion
Nov 21st at 3:00 PM until 3:50 PM
Symphonic Accessories Lab

Phillip O'Banion is Assistant Professor of Percussion and Director of Percussion Studies at Temple University. Professionally, O'Banion often performs with the Philadelphia Orchestra and other symphonies, plays drumset and percussion with theater companies and choruses, and appears as chamber musician with groups such as Network for New Music. He remains active as a recitalist, clinician, and soloist with orchestras, wind ensembles, chorus, and percussion groups. O'Banion serves on the PAS Symphonic Committee and as an officer in the PAS Pennsylvania Chapter. His current season includes performances in five states, Canada, and Argentina and as conductor or soloist on eight premieres and commissions including works by Marc Mellits, Adam Silverman, Gordon Stout, Ivan Trevino, Patrick Long, Lane Harder, Rolando Morales-Matos, and Donald McCullough.


So Percussion
Nov 21st at 4:00 PM until 4:50 PM
Daytime Showcase Concert: "American Patterns"

Formed in 1999, So Percussion has cultivated a unique repertoire of new music for percussion that focuses on the work of American composers. In order to enrich percussion group literature, So Percussion has commissioned composers such as Steve Reich, David Lang, Paul Lansky, and Steve Mackey and has released fourteen recordings to date. The group has worked with jazz musicians Dave Douglas and Bobby Previte; electronic artists Matmos and Dan Deacon; rock musicians Glenn Kotche and Bryce Dessner; and the New York City Ballet, Eliot Feld's Ballettech, and Shen Wei Dance Arts. The group also composes music together collaboratively. Recent commissions include "Imaginary City" (2009) and "Where (we) Live" (2012). Since 2011, So Percussion members have served as co-directors of the percussion department at Bard College, and 2014 will be the sixth year of the group's annual Summer Institute at Princeton University.


Rob Knopper
Nov 21st at 5:00 PM until 5:50 PM
Symphonic Keyboard Lab

Rob Knopper plays percussion with the Metropolitan Opera Orchestra. Since joining the orchestra in 2011, he has been featured on the Grammy-winning recording of Der ring des Nibelungen, 60 Minutes with the Met Orchestra, and in The Met: Live in HD movie theater presentations worldwide. Knopper's debut album, delécluse: douze études for snare drum was released in October 2014. Knopper has also performed with the New World Symphony, All-Star Orchestra, the Detroit Symphony Orchestra, the Pacific Music Festival Orchestra, and as the timpanist of the National Repertory Orchestra. As an educator, he is on the faculty at the Stellenbosch International Chamber Music Festival and has presented clinics and masterclasses at the Juilliard Summer Percussion Seminar, Aspen Music Festival, Boston University Tanglewood Institute, National Repertory Orchestra, and the Interlochen Center for the Arts.


Third Coast Percussion
Nov 22nd at 4:00 PM until 4:50 PM
Daytime Showcase Concert: "New Music from the Third Coast"

Hailed by The New Yorker as "vibrant" and "superb," Third Coast Percussion explores and expands the extraordinary sonic possibilities of the percussion repertoire, delivering vibrant performances for audiences of all kinds. Founded in 2005, this ensemble has performed hundreds of concerts across the country, offers groundbreaking cross-disciplinary residencies, and has commissioned dozens of new works by composers including David T. Little, Timothy Andres, Ted Hearne, and Augusta Read Thomas. Third Coast Percussion is the Ensemble-in-Residence at the University of Notre Dame's DeBartolo Performing Arts Center.

---