Sacramento Mandarins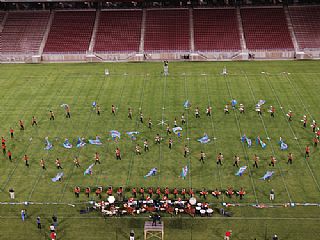 In February 1963, Roy Wong, Frank Lim, Thomas Fong, and Yuk Fong met to discuss the possibility of forming a drum and bugle corps for youth. One month later, a letter was sent to the Sacramento Chinese Community, asking for support to establish a boys and girls drum and bugle corps.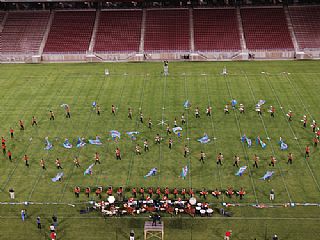 With the numerous festivities and parades taking place annually in Sacramento and neighboring locales, certainly the Chinese Community, with all of its native traditions and color, could exhibit representation which it could claim as its own. A youth drum and bugle corps would be a wonderful symbol of community interest, civic consciousness, and cultural pride.
The initial meeting was held on March 23, 1963, at the Sacramento Confucius Church. On that rainy, dreary day, eleven youngsters attended, along with a few parents and others interested in the project. The goals seemed hopeless, but this group went to work anyway, using reconditioned equipment and some instruments furnished by the Chinese Benevolent Association. Uniforms cost $5.85 each, and were short-sleeved white shirts, white continental trousers, black shoes, black Chinese hats, and a magenta sash.
By July 1963, the new 47-member Ye Wah Drum and Lyre Corps was ready for its first performance, the Oak Park 4th of July Parade.
Expansion and Competition

By August 1964, the Corps had performed in over seventeen parades and official receptions. A Color Guard was added that year, bringing Corps membership to about 75 members. Staff and parents held a successful fund-raiser for a new Ye Wah Drum and Bugle Corps, to keep pace with present trends and encourage competition with other drum and bugle corps. By December, the Ye Wah was on its way to becoming the "new Corps on the block."
Gradually, the Corps improved in quality, and was highly regarded for fine performances. The Color Guard joined the California Color Guard Circuit in 1965, beginning competition with other units throughout the state. They became a worthy competitor, winning a Circuit Championship and numerous other awards. The organization's name was changed to the Mandarins Drum and Bugle Corps in 1967. By now, the Corps was well-recognized in community performances, and began to make itself known in drum and bugle competitions. The Mandarins continued to progress, performing in events throughout Northern California, and gave their first Southern California performance in 1970.
Awards and Recognition

The Mandarins have performed around the world, representing the City of Sacramento and the State of California well. They played for Taiwan's 1972 and 1978 presidential inauguration ceremonies. In 1974, they marched in Hawaii's King Kamehameha Parade, and in 1975 began performing in the Pacific Northwest and Canada. Their first "major league" competition was at the 1978 DCI Championships in Denver, Colorado.
In 1983, Corps Director Ray Mar and his assistants Nanci Jan, Phyllis Mah, and Linda Fong began the Mandarins' transformation to a nationally-recognized organization. Since that time, Ray has continued as Director, earning the corps a reputation for consistent quality and excellence. Competitors and audiences admire the Mandarins, which have been featured in numerous newspaper and television spots.
Other units point to the Mandarins as an example of a successful, well-run organization which have been finalists in countless competitions, and has won numerous first place awards, including Drum Corps International (DCI) Division III World Champions in 1987, 1988, 1992, 1996, 1997, 1998, and 1999; DCI Division II World Champions in 2001; DCI Member Corps in 1996, 1997, 1999, 2000, 2001, 2002, and 2006; DCI Pacific Division III Champions in 1996, 1997, 1998, and 1999; and DCI Pacific Division II California State Champions in 2000 and 2001. Additionally, the Mandarins are two-time recipients of the prestigious Spirit of Disney Award, signifying outstanding achievement and excellence in educational and entertainment programs for youth.